The refinement and prestige of a genuine anaconda leather accessory will surely exceed your every expectation
When a bag is destined to become the favorite accessory of all the models hanging in a wardrobe, winning every woman's heart, very carefully and meticulous choices are necessary, not just at the precise moment when you are purchasing the new bag, but more importantly when the same bag is being created and starts taking its shape. The most important thing is that it should reflect the many faces and infinite needs of the women who will wear it.
This is why the release of every new collection is always a source of enthusiasm and satisfaction for the whole Gleni staff, even more so when it meets with great appreciation from the customers.
The idea that gives birth to a new collection can come from anywhere: from everyday life, from a sensation, from a particular view...in short, from the reality surrounding us and from the careful observation of real people, capturing their essence, in order to reproduce it afterwards.
Only when a bag encapsulates both the right commercial qualities and characteristics, and at the same time the more artistic and creative ones, can we consider the model perfect:  market analysis and a deep knowledge of our clients is fundamental, so that we are always ready to anticipate trends and new ideas, without forgetting to keep an eye on style from every aspect and point of view.
This constant inclination towards perfection, together with the search for elegance blended with practicality and sophistication, which has characterized Gleni's production from the beginning, has convinced us to open the doors to another kind of exotic leather, up to now excluded from our leather chart: anaconda.
Every respective collection is characterized by the absence of any imperfections, gaps and underestimations, but beyond this it should also enchant and thrill the buyer: in all this, the choice of the right leather is really important.
From the first time we came in contact with anaconda leather, we have considered it the perfect leather to express richness and preciousness, a sophisticated sense of luxury and refinement. It guarantees fantastic results with models of bag that suit women who love a classic style that goes never out of fashion, but is also appreciated by dynamic and self-confident modern women: in short, a woman who, even at times requiring great elegance, still wants to highlight her personality and her character, always looking radiant and spontaneous.
---
But, let's have a deeper look at the many qualities and characteristics of this precious and sophisticated exotic leather.
Anaconda is considered one of the most impressive species in the reptile category, well known for its length and weight, so that it is probably the longest snake in the world. Although adult anaconda can reach up to 8 meters in length and weigh over 200 kilograms, we should emphasise that they seldom exceed 6 meters and larger dimensions are just a rarity.
Anaconda are primarily found throughout tropical South America, Central America and the east Andes, mainly in the Amazon and Orinoco basins. Their natural habitat is made up of swamps, marshes and slow-moving streams. They spend a lot of time in water, where they prefer to let the river's current carry them downstream, although they are agile swimmers, but they also spend time on land sheltering in shallow caves.
While the anaconda species is varied in size and color, two main groups have been identified:
Green anaconda – whose scientific name is Eunectes Murinus – and Yellow anaconda, scientifically known as Eunectes Notaeus. The distinction is mainly based on their specific skin colors: green anaconda is dark green in color and camouflages the snake well in the dense vegetation of its habitat, showing black oval patches on its back; Yellow anaconda on the other hand is mostly yellow in color with little black spots here and there that are randomly scattered, unlike the well-defined and homogeneous pattern of the many python species.
---
Starting from this point we can begin to analyze some relevant and substantial differences between anaconda and python leather.
On a coloring and dyeing level, while python leather suits the reproduction of the natural pattern of the animal, with a combination of vivid and bright tonalities or more classic and sober ones, with anaconda leather this particular visual effect –enhancing the sinuous and embracing image of a reptile – is not possible, because the animal skin surface lacks a well delineated pattern.
This is why it's not unusual to see anaconda leather entirely bleached, its natural pattern, however minimal, removed, after which it undergoes a process to obtain generally uniform and homogeneous tonalities, both in the matt and glossy versions.
It's the extraordinary tactile and sensory qualities that make this kind of leather especially unique and irresistible: let yourself be caressed by the soft and delicate touch of anaconda and any form of stress and agitation will be washed away, making space for intense sensations of pleasure, sweetness and gentleness that will last for many years thanks to the resilience and strength of the leather itself.
All these leather qualities, combined with the skills and mastery of expert Italian artisans who encapsulate the true meaning of the Made in Italy in their creations, allow us  to use this material in any design of bag, from the most structured and rigid, to the slouchy and soft ones, highlighting, in both cases, the uniqueness of the material.
Customers' eyes will be particularly struck by the presence of homogeneous scales all of the same size, uniformly disposed over the whole area to produce an enchanting geometrical effect.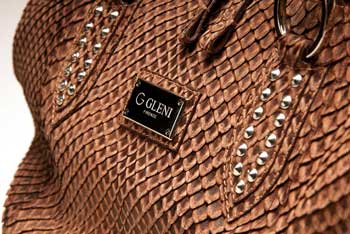 Unlike python leather, with anaconda there is no contrast between the larger and more elongated scales, that tend to open naturally, delineating the central section of the animal, and the smaller round scales along the edges of the leather: anaconda is characterized by identical scales both in shape and size, with the edges of each scale lifting just a little to create that pleasing tactile effect while caressing it.
In short, there isn't the choice offered by python leather between Back-cut or Front-cut, i.e. larger or smaller scales for our accessory; with anaconda leather there is only one option: a leather that exudes absolute elegance and character.
The refinement and prestige of a genuine anaconda leather accessory will surely exceed your every expectation. It is already such a difficult material to obtain in the market, as its sale is limited to a very restricted number of licenses allowed per year: this is what makes anaconda leather so rare and a luxury item.
In order to regulate the commerce of this species of reptile, anaconda too is subject to strict Cites controls, and is accompanied by specific documents, which are fundamental for the export of such items to non-European countries, to pass all the custom checks.