A Handbag is the Perfect Gift for Christmas
*********************************
Have you been stressing about what to give that special person in your life? What can you give an elegant woman who seems to have everything she needs?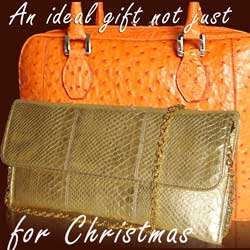 There is one thing, in our experience, that is a winner for stylish women everywhere: one of our beautiful and exclusive exotic leather handbags. This gift is at once thoughtful and romantic, showing how much you value her and how much she means to you. It's an ideal gift not just for Christmas, but at any other time of the year too: Valentines Day, her birthday, Mother's Day or just because you want to show you care, and it is something that she will use and enjoy year round and remember you all the time!
She is worth the best so make sure you buy her the best. Our handbags are handmade in Italy in genuine top quality exotic leathers by skilled artisans who imbue their creations with passion, as they lovingly hand stitch each detail with the utmost care.
Choosing such a personal item as a handbag as a gift for someone can be tricky if you don't yet know them well enough to know their tastes instinctively. Here is a guide to a few types of handbag from our Gleni Boutique that are sure to be received with joy.
A clutch with a detachable chain. Clutches are extremely fashionable at the moment and even more so those that have a fine chain so that they can be worn over the shoulder. A clutch is perfect for those evening parties that you will be taking her to over the holiday season, but she will also be able to use it for the rest of the year, as the fashion for them is set to continue for a long time. Choose a simple and elegant style and you won't go wrong. A metallic color like silver or gold is an excellent choice, as they are both glamorous and fashionable. Or you could play safe with classic black.
An extravagant big bag in luxury ostrich leather will really wow her and show how serious you are about her. Go for a classic style that she will be able to use for many years. Observe her favorite colors – you could play safe with black or a neutral, but bright colors are very fashionable this year, so if you know she loves pink or orange, look for a bag in that color in sumptuous ostrich leather and see her eyes light up on Christmas morning!
Metallic colors

.

Gold and silver have been all the rage this year and are set to be in favour for a long time. They look great in summer time and add brightness and sparkle to dull winter days. A gold bag of any dimensions, whether a small clutch for the evening or a luxurious big tote in exotic python leather has an air of celebration about it that makes it the perfect gift. It is a color that flatters and suits any woman whether young or older and will go with most colors and styles of clothes, so is a great bet if you aren't sure of her favorite colors!
Whichever handbag you decide to buy her she will instantly recognize its quality and craftsmanship and fall in love with it the moment she peeks into the wrappings. She will understand how much you care and appreciate your wonderful gift as so much more than just a handbag, being also the ultimate expression of your love and admiration.
Don't lose any time: choose one now, so that it will reach you in time for Christmas!
If you are a woman reading this article and would like to give a gentle hint to your partner, so he knows what your perfect Christmas gift would be, just e-mail him the link to this article and perhaps a link to your favorite bag in our Boutique and you won't be disappointed this Christmas!