A very special 2010 Handbag Horoscope
Which handbag perfectly fits your personality?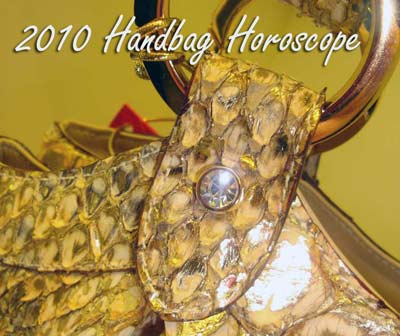 The year 2009 has just gone by and a long-awaited new one, 2010, has finally arrived, full of hopes and good intentions. Talking with people, especially the customers of our Gleni Boutique, we have noticed that there are a lot of different ways to welcome the new year 2010!!

There are some people who have already decided to put behind them all the bad experiences and little personal irritations which might spoil their memory of 2009, despite its positive aspects. There are other people, on the other hand, who already started making plans in the last months of the old year, and have jotted down new ideas hoping to fulfill them during the new year: they might be goals for their personal life and relationships or, maybe an extremely important work decision which could lead to a crucial economic upturn!! Finally, there is also one last category composed of all those who, either for luck or to avoid disappointment, prefer not to take any decision or make any predictions, simply accepting what life and destiny offer them day by day!!
What about you? Which category do you feel more comfortable in? Or do you have a totally different point of view?? To be sure, having a crystal ball which can predict our future would be very helpful for the majority of us: who wouldn't like to know what 2010 has in store for all of us? Who isn't curious to know whether he or she is going to get promoted in their present job, or maybe will get a better and higher paid work position elsewhere, or will fall in love with the person of their dreams, or…..anything else!! We are sure that, should it exist, this crystal ball would be very busy giving us all answers. Unfortunately, we at Gleni don't have one, so what can we do to be of any help? Reading the astrological predictions that fill so many magazines and newspapers at the beginning of the new year 2010 could be an alternative!!
Even though lots of people don't believe in horoscopes, thinking that it's all fiction, something invented just to be read and believed by gullible and naïve persons, we do believe that there is some secret connection between the Zodiac sign and the person who was born under that sign; every sign of the Zodiac has its own well-defined personality which is reflected in the individual who, during his/her life, reflects all or just some of the many shades and characteristics of his/her own sign!!
It works more or less in the same way with our handbags: every woman always looks for the perfect handbag which perfectly reflects and expresses her personality, her character, her way of seeing things and the whole world. You may own as many as 7, 8 or 10 handbags, but there will always be just one that has captured your heart and which you can't be parted from, never leaving it forgotten into your wardrobe!!! Do you agree??
Since we are certain that all of you do agree with us, we have tried to find, for each of the 12 signs of the zodiac, a style of handbag that encompasses all (or almost all) of the dominant characteristics….of course, it's just a game, but, aren't you curious to see what the new year 2010 has in store for you in terms of handbags??? So, have a look at our 2010 Handbag Horoscope!!
ARIES: With plenty of self-confidence and great enthusiasm, the presence of an Aries almost always marks the beginning of something energetic and boisterous. With their tendency towards a youthful attitude but always preferring to wear comfortable clothes and accessories, the perfect handbag for this sign will be a shoulder bag, expressing the best in terms of practicality and dynamism, with a touch of vivid and intense color.
___________
TAURUS: An extremely sensual and highly creative sign, which loves everything that is fine and beautiful, particularly enjoying the best of hand-made, refined objects. It would be unthinkable for a Taurus to live without a classy genuine python handbag, maybe in the Iride color, such as our wonderful 3814 model from Gleni Boutique, which enhances your feminine charm and natural elegance.
_____________
GEMINI: Expressive and quick-witted, this sign can be communicative and ready for fun but also very contemplative and serious. So, given the versatility of the women born under the sign of Gemini, what better solution to express their personality than that offered by a luxury ostrich handbag with comfortable short handles and a long detachable strap? Every color will suit you perfectly!!
________________
CANCER: The main characteristics of this sign are a strong artistic sense and a fun loving nature. A colorful and fashionable handbag is perfect so that you never go unnoticed and so that you'll always look stylish and gorgeous wherever you are!! So, what do you think about our pretty genuine python handbag 3762 from our latest collection? You can't do without this handbag, as you will find it the very essence of luxury and comfort.
___________________
LEO: Just like the King of the Jungle, people born under this sign love to sit on a throne and be surrounded by elegant things and gorgeous accessories. Only a real alligator handbag, with its softness, elegance and resilience, can represent the warmth, regal manner and power of this zodiac sign, because, when the mighty Lion enters the stage, its charm can be almost impossible to resist!!
__________________
VIRGO: Generally gentle and delicate, this zodiac sign is also very discerning, showing a particular attention to detail. For this reason they can perfectly reflect their image in a prestigious and luxury python leather handbag, completely handmade with the best leather selected by skilled artisans. Don't you know where to find such a refined item? Easy, look at the wide range in our Gleni Boutique. Your image is sure to appear stronger and much more self-confident wearing such a handbag.
_______________
LIBRA : This sign encapsulates all those elegant and refined personality traits, graceful and gracious and, moreover, very sociable. Libra people aren't likely to be alone for long since partnerships are very important to them: so, why don't you go straight for an amazing pochette, maybe in shining colors such as gold and silver, that you can be proud of when wearing it at one of your numerous evenings out?
________________
SCORPIO : Really passionate and determined, people belonging to the sign of Scorpio like any situation that offers them power or that provokes strong feelings. For this reason, it doesn't matter what kind of handbag you decide to have by your side, the important thing is the color, which should be just as strong and bold as your character. So, choose from electric blue, crimson or an acid green: you will look great!!
______________
SAGITTARIUS : This zodiac sign is well-known to be inquiring and energetic, with an extraordinary broad-minded approach to life which motivates them to wander far and wide looking for the meaning of life. Only a wide and prestigious travel bag can satisfy their need to be always departing on their travels: you can be sure that, carrying such a refined and high quality item from our latest collection, you will not go unnoticed while queuing at the check-in.
________________
CAPRICORN : Professionalism and traditional values are keywords for this zodiac sign. Extremely responsible and self-controlled, they possess an independence that allows considerable progress both personally and at work. How could you be as impeccable as you wish without one of our highly refined and genuine python professional handbags?
_________________
AQUARIUS: Shy and quiet, but also original and energetic, this versatile zodiac sign needs to take time out alone and away to rejuvenate itself. For this reason, a wide and comfortable tote bag, maybe made of cocco Ligator leather, to enclose and organize all the necessary objects, is the perfect item to represent the Aquarius personality.
______________
PISCES: Understanding is the most appropriate keyword for this gentle and affectionate sign. They hardly ever forget their first love and when they trust a person, they do so completely. So, how can you do without a classic black shoulder bag, always impeccable and perfect with your every outfit?
__________________
Here is our 2010 Handbag Horoscope: what do you think of it? Did you find our handbag associations with each of the 12 Zodiac signs appropriate? We really hope so, but in case we haven't guessed right for you, we invite you to visit our online shop at www.gleniboutique.com where you will certainly find that amazing bag that perfectly fits your own personality!!!