Press release: Affordability and Luxury Come Together in Gleni's Exotic Leather Handbags
Recession or not, fashionable women still want to buy luxury handbags. Gleni brings an affordable range of hand-made Italian exotic leather handbags to the online luxury market, offering women an elegant alternative to expensive designer labels.
San Benedetto del Tronto, Italy (PRWEB) April 8, 2008 — Luxury bag aficionados, who face cutting back on their designer handbag purchases with the threatened recession, can now look directly to Italy for affordable, top quality, luxury handbags. Gleni is launching their new web site www.gleni.it , an online project for their hand-made, exotic leather handbags, making them available to individual customers, as well as wholesalers, world-wide.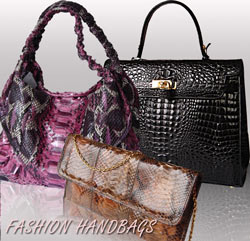 Fashion handbags
Exotic leathers continue to be a major fashion trend this year and Gleni's genuine python, crocodile and ostrich bags provide Italian design and quality luxury at affordable prices, without the premium that designer labels add just for their name.
Gleni's handbags are 100% hand-made in Italy by their skilled Italian artisans. They insist on every stage of production being carried out in Italy, from the design and the tanning of the exotic skins, to the hand-stitching and finishing of the bags. "Our Made in Italy label is very important to us," said Gleni director Arben Qoku. " It is a guarantee of the highest quality, made possible by the wealth of traditional skills and expertise accumulated by generations of skilled Italian artisans, which has made the Italian leather sector world renowned for centuries."
Customers seeking instant gratification can buy from Gleni's ready-made collection at their Online Boutique . Fashionistas will be pleased to discover Gleni's custom made service, Craftsman Laboratory where they can choose from a multitude of handbag designs, select the leather and color that appeal to them and have a unique handbag created especially for them.
Luxury and affordability rarely go hand-in-hand and genuine crocodile skin never comes cheap. Those who love the elegance of crocodile, but find the cost puts it out of reach in the current economy, can find the solution in Gleni's Ligator croc range of handbags (cocco Ligator in Italian). This leather is made with genuine natural fibers of crocodile skin and is processed to give a resilient leather with all the good looks and distinctive patterns of crocodile at a fraction of the price.
"The secret of true luxury lies in the excellence of the materials and the skill and passion of the craftsmen creating the handbag", said Tatiana Miroshina, the mastermind behind Gleni's development and success. "Our years of experience in working with exotic leathers and rigorous quality control are also important, but the magic ingredient comes from the love and care that italian artisans put into each handbag that they make."
For more information on Gleni's luxury exotic leather handbags visit http://www.gleni.it