Alta Roma fall-winter 2010/2011 fashion week
Ecology and luxury: the key words of the Italian collections
Once the Paris haute couture fashion shows drew to a close, celebrating many Italian designers working for French fashion houses, including Riccardo Tisci, Maria Grazia Chiuri and Pier Paolo Piccioli, the spot light turned to Rome for the wonderful Alta Roma Alta Moda fashion show, the famous fashion event that takes place amid the stunning Roman scenery , every year and sees the  participation of some historic brands of Italian style showing their magical creations for the coming season.
The show, which took place in Rome a few days ago, from Saturday 10th July until Wednesday 14th, was characterized this year by two key phrases: luxury at its purest level and respect for ecology (with a particular focus on waste recycling). This theme was positively embraced by many Italian designers taking part in Alta Roma Alta Moda, who accepted the proposal of the event's director, Ilaria Venturini Fendi, to send the models down the catwalks wearing handbags made of recycled material from Kenya's and Uganda's  landfills such as scraps of safari tents, scraps of refugees' tents or any other traditional African fabric.
"Nothing should be thrown away" was the leitmotiv of the whole collection created by Carmina Campus who called her recycled shopping bags, "Message bags" as these items should not only be glamorous and comfortable, but should also disseminate an important message around the world: the importance of recycling to protect the environment.
However, high fashion is also synonymous with luxury, an aspect excellently represented by all the designers presenting their fall winter 2010/2011 collections at Alta Roma Alta Moda. Just as we already saw at the recent Paris haute couture shows, the image of a dynamic, sensual woman, lover of refinement and elegance at its pure level is the focus of the Rome catwalks too. She wants to be at her ease whatever the situation, at work and in her private life, without relinquishing the class and luxury characterizing Italian high fashion.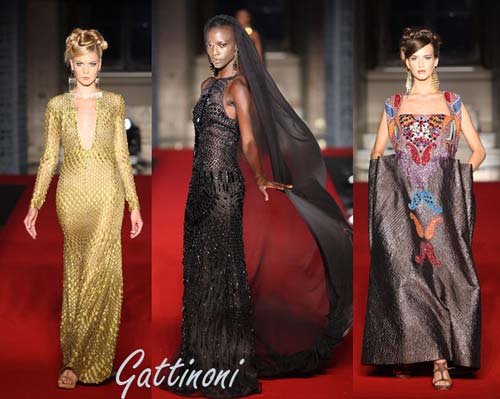 Suits and skirts are carefully detailed, embellished with decorations or refined finishing like the ones proposed by Gattinoni, portraying a cosmopolitan woman who travels all over the world, secure in her undisputed sensuality and beauty. Evening dresses are ankle length or above the knee, but always incredibly chic and glamorous, made of shiny fabrics and enriched by sequins, or of sheer tulle which defines the sensual silhouette of the woman, revealing hips and shoulders uncovered, as proposed by the Italian Fausto Sarli or skirts slit to the thigh with flowing trains, as suggested by the young designer Giada Curti.
Raffaella Curiel sees the high class woman of the fall-winter 2010/2011 season, deeply connected to the Orient and in particular to Japan. Most of her creations in fact are influenced by Japanese traditions, with entirely hand painted kimono-like dresses.  Double-face fabrics, cashmere wools and pashminas, velvets and brocades are decorated with printed designs representing blooming trees, slender reeds, rocks and volcanoes.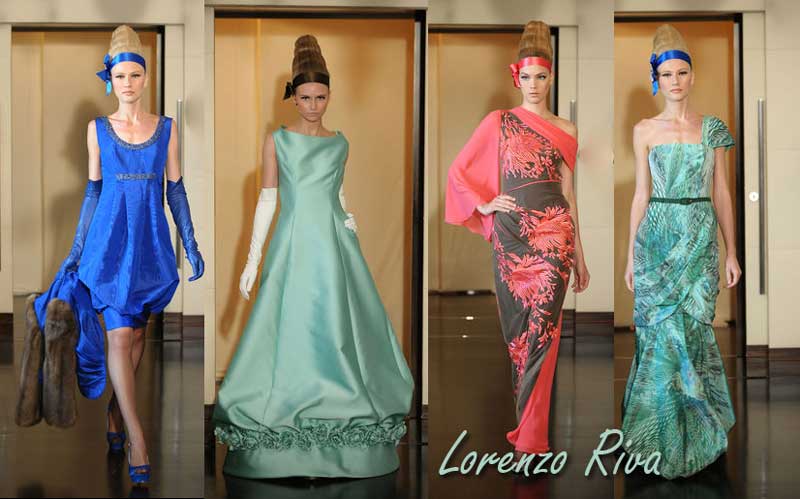 Lorenzo Riva transforms woman into an exquisite princess, dressing her in sophisticated clothes made of costly and intricate fabrics. Through this collection Riva wants to display all the elegance which has always characterized this label, carefully working at even the tiniest detail to create a dream look.
Renato Balestra creates his collection with the image of a sophisticated, seductive and glamorous woman in mind. He gives her a sinuous silhouette, with elegant dresses cut on a spiral design .
Jackets are made of python leather and worn over chiffon dresses decorated with Swarovski crystals. Fabrics are shiny and luminous with sheer sections or gold inserts.
Accessories such as belts and handbags are much used by Italian designers in these latest haute couture fall-winter collections. Raffaella Curiel proposes obi belts with antique coins as buckles, while Tony Ward accompanies most of his creations on the catwalk with refined small pochettes, as precious as the evening dress, which can be either clasped in the hand or held by the small chain strap for a more youthful look.
And what about the colors? Which are the trendiest tonalities of winter 2010 2011 according to Italian high fashion?
White and black keep their positions as the must-have colors, being easily matched with other tonalities but, especially because they both represent pure elegance and glamour (a black evening dress will never be out of style).
However, Italian designers too, like the French ones, agree on the use of dynamic, vivid colors in winter too, focusing most of their creations on strong tonalities such as emerald green, pink, fuchsia, yellow, red, turquoise, acid green and electric blue.
Classic winter colors such as grey, brown, camel, ivory, beige and bordeaux will be fashionable next season too, above all for the evening look, given that they are all very sensual and elegant, while purple, which has been side-lined for a while, seems destined to enjoy a new lease of life next winter.
What do you think about the proposals of our Italian designers at Alta Roma Alta Moda? Do you like them or do you prefer the collections presented by French designers some weeks ago in Paris?
Leave us your comments here below!!!