AltaRoma – AltaModa: all the charm of pure craftsmanship
After Paris, the world of Haute Couture descended on the Italian capital to present its magnificent and luxurious designs for spring/summer 2012: from January 28th to 31st we had the opportunity of watching four full days of fashion parades dedicated to Made in Italy tailoring, with the aim of evaluating and appreciating the craftsmanship and attention to detail that this concept epitomizes, and for which Italy is renowned all over the world.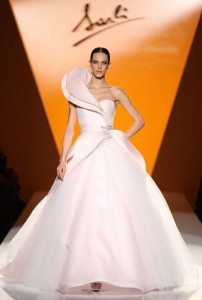 AltaRoma is an important stage, where traditional grand masters meet emerging young talents, creating an event that attracts the attention not only of fashion experts, national and international press and buyers, but of all those who appreciate and recognize the value of tradition, often enriched by a breath of fresh air from new ideas.
The President of the event herself, Mrs. Silvia Venturini Fendi, gave a 360-degree visibility to the event, offering a new approach,  which targets both the historical heritage of Made in Italy – which has a wealth of experience in Rome– and its value, hence the promotion of creative young designers who find it hard to get seen in a market and fashion system that is monopolized by large luxury groups.
There were many of the usual participants from past editions, from Sarli to Gattinoni, Curiel and Balestra, while Marella Ferrera decided not to take part in this important luxury event this year, firstly due to the economic  crisis, but also as a choice dictated by the awareness that institutional aid for this sector of skillful handwork and craftsmanship, doesn't exist anymore.
But, discovering the real essence of the many collections proposed by the big names in fashion, we found out how they were offering many new ways to present ideas and niche collections that highlight the combination of fashion, art and craft.
At Gattinoni, the designer of the fashion house – Guillermo Mariotto – brought all the beauty and many new ideas inspired by Renaissance art into his new haute couture collection, which was shown at Santo Spirito di Sassia. His concept results in symbolic dresses worn by models representing the historical female figures of the Renaissance: soft, graceful and romantic dresses, inspired by the colors and details of the Renaissance masters, from Leonardo to Botticelli and Piero Della Francesca. But this Renaissance is seen as a general rebirth, as the fashion show was opened by Gattinoni's "Monti dress", symbolizing the rebirth of the Italian economy: a cloud of organza printed with euro banknotes of all sizes. The colors are in the delicate palette of light pink, lilac, pearl-white, beige and violet, that we find on chiffon and organza.
Rich fabrics reminiscent of furnishing brocades, extreme attention to detail, such wearable clothes that are even paired with flat shoes – rarely seen on the catwalks: all this is Marta Ferri, a talented young Italian fashion designer from Milan, who came to our attention at the last edition of "Who is on Next?" contest where she received a special mention.
Fashion with a flavor of the Orient is what we find at Fausto Sarli, who enchanted the audience with a collection inspired by ancient Indian palaces. Amazing princess dresses in beautiful sunset hues, with the embroidery, crystals, architectural cuts and drapes so dear to master Sarli, who died two years ago, but whose lessons are carried out by the creative team composed of Rocco Palermo and Alberto Terranova, who reproduced the key themes of the fashion house, enhanced by fresh details. Extremely well received was the soft rustling dress in orange and red, as well as the wedding dress at the end, a mix of white and pale pink with sculpted bodice and a skirt like a soft cloud.
A visit to the frescoes at the "Sala degli Scrittori", once the entrance to the Sistine Hall, made a big impression on the Italian designer Raffaella Curiel, who proposed 58 splendid designs whose colors were inspired by the paintings of the 1500s: the many dresses, with well-shaped construction and micro-geometric patterns, are in scarlet red, bright yellow and apple green.
These are just some of the many proposals offered during the 4-day Roman high fashion event: what do you think about them? Leave us your comment, we are more than happy to hear all your opinions.