Are you ready to visit us in our new Boutique?
Dearest readers and Customers,
it's with great pleasure and honour that we want to invite all of you to visit us in our new and amazing Boutique, at Via Risorgimento, 43 in San Benedetto del Tronto (AP) – 63039 – Italy.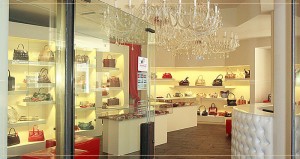 Constantly surrounded by a sense of luxe and prestige, just as our extremely refined items always remind us, we have thought for a very long period of giving an appropriate image to our activity, the one that it deserves, so to allow our customers to feel and personally experience the sensation of diving into a sea made of gorgeous materials, high quality exotic leathers and wonderful colors.
And now, after a long period of hard work, the moment has finally arrived, and we are ready to open the doors of our new Gleni Boutique!! Yes, dearest readers, you have well understood: Gleni has changed its own image, turning the old one into a magnificent new place in a different building, where our professional staff is ready to welcome all of you.
Inside an intimate and comfortable place, which tastes of luxury and harmony, you'll feel at your ease while testing with your own hands our top quality handbags, properly placed on shelves painted in warm cream shades, contrasting the dark grey of the stone floor, and illuminated by individual LED lights.
For any doubts or requests, our assistants are always ready to give you the right answer, helping you to find what you are looking for, and providing you with useful suggestions in matter of colors and shapes. If you don't believe their words, you can always try on the items you most appreciate and look at the gorgeous image of yourself reflected in the mirror: the plays of light which two stunning chandeliers – made of precious materials – create in this space, will allow you to look like a queen or princess of a fairytale, while adorned with soft and irresistible luxury handbags and accessories.
So, take your decision and fix a date on your agenda to visit us in our new Boutique, situated just in the centre of San Benedetto del Tronto, a lovely town on the Adriatic coast, in the Marche region of Italy, an historic summer destination attracting many visitors from all over the world.
Here's our new address:
"Gleni – exotic leather handbags and accessories"
Via Risorgimento, n° 43
63039 – San Benedetto del Tronto
Italy
We are looking forward to welcoming you!!!