ART 2009 – ARTS AND CRAFTS EXHIBITION
Just a few days ago, on the occasion of the 64th anniversary of Liberation Day (an important Italian patriotic holiday), we recommended some interesting events and places to visit for all those who were wishing to spend some joyful and enjoyable days here in Italy with us. Now, hoping you are interested in these things, we would like to give you more detailed information on an important event that opened in Florence a few days ago.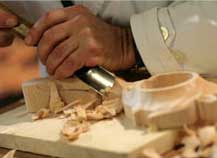 Italy has long been renowned world over for its fine traditions of craftsmanship, and has been the source of countless unique masterpieces over the centuries. Italian manufacturers have a fine reputation for their excellent taste, which reflects in their products, and have never stopped producing top quality luxury goods, using the skills and expertise passed from generation to generation over several centuries.
In accordance with this tradition, from April the 25th to May the 3rd, Florence, the capital par excellence of the arts and of the most refined production of "handmade" goods, is hosting an outstanding event for all you insatiable lovers of the authentic "Made in Italy" quality:  ART 2009 – Arts and Crafts Exhibition, which is in its 73rd edition this year. (http://www.mostraartigianato.it/)
Housed at the Fortezza da Basso, Florence, in the attractive exhibition areas of FirenzeFiera, despite the changes in the times, this event, has become one of the most prestigious shop-windows of high quality artistic crafts, both on a national and international level. ART 2009 is a unique meeting place for people who love all that  is beautiful, for those who value creativity, and for those who absolutely wouldn't miss the chance of a close encounter with the history and tradition of Florence and Tuscany: a shop-window of innovative ideas and projects for professionals working in this field, and for consumers, whose tastes and needs are constantly changing.
If you want to get up to date with the latest in exclusive and high-quality artisanship, you will have ten full days at your disposal to visit this exceptional event which brings to the marketplace the innovative culture and traditional products linked to the various crafts, and successfully achieves a fruitful meeting and exchange between "Made in Italy" – with its innate creativity and originality – and multiculturalism.
Interior Scenes, Territories, Visions, Harmonies of Well-being, Fashion Scenarios, Craft and Surroundings, Taste: these are the some of the themes of the 73th International Craft Fair. This year,  the event will meet all possible requirements, with beautiful pieces which will be displayed to the best possible advantage, and the finest craft masterpieces will be available within the different sectors of the Fair. The exhibition stands out because of the greatest attention to detail, attractive design and decoration and its many valuable objects: a real artistic tour which will welcome many thousands of visitors, who will admire the intricate details of high quality craft, the work of the top artisans, and the richness of culture and art.

The numerous pavilions will be transformed, almost magically, into a beautiful living space where quality, taste and artistic tradition will meld with traditional tastes, modern pleasures and timeless beauty. You will be able to find the past, the present and the future encapsulated in unparalleled products created by the hands of master artisans who are artists in every respect.
Since we already know how much our readers love all kinds of handmade products, like the beautiful handbags that we have been  providing you with for so long, we are sure that you won't want to miss the opportunity for a wonderful journey into the artisans' world.
Did you find this suggestion interesting? Do not hesitate to let us know what you think!!!