Artisan skills, high-quality materials and infinite news
Artisan skills, high-quality materials and infinite news: Milan Fashion Week for Spring/Summer 2012 is on stage!
Change, surprise, amuse and reassure: fashion does all of this giving us a new line, without the extravagant frenzy of the past few seasons. The times demand new rules, consumers are more reflective but also freer, even from the dictates of style.
Vintage, from sheer and simple whim, becomes almost a necessity when ones clothes budget is becoming more and more restricted.
In short, change is in the air but that doesn't mean that the fashion world lacks the creativity, innovation and desire to impress that has always characterized it.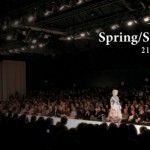 This is the atmosphere that enlivened the heart of the world's most fashionable Italian city, Milan, from 21st to 27th of September, presenting the new trends and fashion dictates, that will characterize women's collections for next Spring-Summer 2012, to the large audience of buyers, press, professional of the fashion sector and others.
After the anticipation of New York and London, and before Paris, Milan opens its doors to the new and beautiful, and seems to confirm the trends of bourgeois respectability and hippie chic that are already in vogue for this winter.
Printed fabric with lots of patterns, romantic floral motifs or artistic geometrics, the mixing of genres, lace used as a second skin, even as a cosmetic or refined tattoo: this is what the most renowned designers and artists of the Italian catwalks offer in general.
As usual, there are numerous initiatives and events which are not to be missed because, as always, they turn Milan Fashion Week into something unique and charming – an unforgettable experience: a bright fuchsia carpet laid through the heart of the city guides visitors from one location to another, while Fashion hub in the Palazzo Giureconsulti will host the young talents, who are always close to the heart of the President of the Chamber of Fashion, Mario Boselli, who has been involved in the launch of young Italian designers for many seasons.
Fashion is a huge economic resource for Milan and the entire country in general, a chic business card introducing Italy to the world, with names such as Armani, Cavalli, Versace, Krizia, Ferragamo and many others, who inspire nothing but positive feedback when talking about Italian products.
So here we see reiterated the fundamental concept of Made in Italy, by which we refer to the substance, the rediscovery of artisan tailoring, the purchase of accessories such as shoes and bags that combine quality and function, without giving up that dose of luxury and refinement that all of us need: and nowadays luxury is increasingly synonymous with harmony, elegance achieved through high-quality manual labor, where craftsmanship, research and innovation find the right balance.
Harmony should be the dominant key in any wardrobe, for clothes and outfits that make women feel good while wearing them, preferring all that enhance their figures and make them feel more confident of their charm.
With 3 great spaces dedicated to the feminine fashion sphere getting the top international buyers more and more involved, and over 170 collections focusing on interesting experimentation and re-elaboration of classic style, Milan Moda Donna for the coming Spring/Summer 2012 also offers the novelty of NOT JUST A LABEL, the most important online platform dedicated to the support and promotion of new fashion pioneers, working to convince and encourage buyers to purchase online.
Gucci, celebrating the 90 years of its history, as well as opening the Fashion Week in Milan with its fabulous collections, is also launching a personal museum of about 1700 square meters, entirely dedicated to the brand, its iconic products, the pictures that turn the brand into a myth, especially with its legendary leather processing. Then there is also Braccialini, a well-known brand of handbags, which celebrates 50 years of creative excellence, bringing to the catwalk the best of its leather articles and high creative craftsmanship, which have made this Florentine brand one of the most exclusive fashion houses in the world, offering the public a dream show, with plenty of magic and imagination.
These are just a few things to look forward to during the long awaited Milan Fashion Week. This highlight of the fashion calendar, where the product is sacred and businesses are carried out, offers a multitude of excellent, top-quality collections, with designers engaged in a game of skill and intuition, research and imagination that knows no limits.
So, are you curious to find out what the most renowned Italian fashion designers and creative directors – world-renowned and envied – have proposed? If you wish to know all the details and curiosities of the individual collections presented on the catwalks, don't miss our next article!