At Milano Moda Uomo it's a triumph of the masculine image
The curtains just closed on the Pitti Uomo stage and attention has already moved to Milan, for the Milano Moda Uomo event from June 23rd to 26th, which breathed new life into the heart of the Italian pret-a-porter fashion system, with plenty of enthusiastic ideas and innovations that were much appreciated by the numerous visitors and national and international press.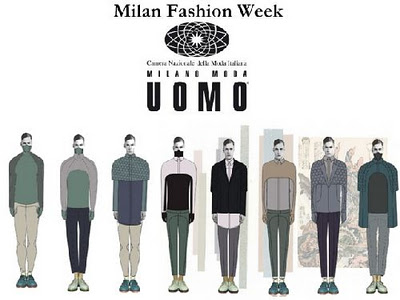 The event, organized by the Italian Camera Nazionale della Moda, consisted of four full days of presentations, with 41 fashion shows and 27 parades in different showrooms.
Among almost 9,000 fashion professionals from all over the world, a place of honor was given to the many fashion bloggers with their valuable and immediate on-line contributions on collections and trends, parade after parade.
A visibly moved Jil Sander opened the Milan fashion catwalks, back after many years of absence with an interesting collection that bears her name, ,taking back the reins after one of her pupils, Raf Simons, was contracted by Dior to become the new creative director of the maison at Avenue Montaigne. Jil brought to the catwalk pure white wide shirts, her inimitable jackets with oversize sleeves, and puffy shorts over classic squared-toe shoes: a new minimal concept very much appreciated by the contemporary man.
Carlo Pignatelli finally saw his debut at the Olympus of the male image, with the experience of his Turin atelier, where in the past he has tailored jackets for the great Marcello Mastroianni. This time the designer took inspiration from the Charles Dickens' novel "Great Expectations", telling the story of a bride who will never get married, and he re-interprets English elegance through the lens of a very refined ethnic style, with typical Indian fabrics and all the preciousness of that amazing civilization. An Indian groom closed the show in a white silk tunic and jacket, calf leather sandals and a golden bracelet at the ankle.
Among the new entries at Milano Moda Uomo we should note Siviglia, a renowned brand that already won acclaim during this year's Pitti Uomo: for its main line the brand proposed an interesting mix of sportswear and tailoring.
An absolutely breathtaking show was proposed by Dolce&Gabbana who presented 73 models chosen from normal people as a homage to their true Sicilian origins. They picked people between 12 and 42 years old, for their faces and personalities, according to the normal canons of beauty. The young boys came out on the catwalk wearing shorts and t-shirts with the temples of Siracusa printed on them, while the adults showed perfect jackets in chiffon doubled with cashmere and very fresh and sheer silk over high-waisted trousers and the typical interwoven shoes that their fathers used to wear. As the two designers stated "everything that is fake nowadays has no more value, now it's the time of truth, of the real world, of real people".
For its collection, Corneliani fashion house put their money on light and pierced leather for jackets to wear with shirts in a wide palette of colors. Always looking for an elegance that also speaks of sobriety and refinement, Ermenegildo Zegna, praising silk as one of the most noble and eternally modern materials, created fantastic pieces in excellent tonalities together with tropical palm prints for trousers and shirts.
The man conceived by Donatella Versace is a strong and powerful gladiator, who wears briefs decorated with golden Greek key borders, launching in this way her underwear line as well.
A complete celebration of Made in Italy, sports victories and the beauty of sport itself: this was how Giorgio Armani decided to present his collections during this year's Milano Moda Uomo edition. Among many other commitments, he designed the official uniforms for the Italian team at the London Olympic Games. In an apotheosis of emotion and applause, it's quite clear how important national pride and Italian creativity are for the designer. He dedicates his new men's collection for next summer 2013 to a fit man who dares to show his legs under short pants in very 50s style bermudas. The unstructured jackets are stunning, as well as the light t-shirts or the short parkas for a fresh and safe elegance.
Miuccia Prada preferred the two-tone effect, with essential clothing in very clean lines and with a very strong nod to sport: the only revolution the bands of contrasting colour on the inside leg of the trousers, which become a leitmotif for a more comfortable style for next season.
The main theme at Trussardi's is the journey, represented by a path that leads the young man from his family home to the beach: models show a very sophisticated look,  polished in every single detail, with lots of tailoring and Italian flair, for a brand that develops a genuine image for Italy abroad.
Frida Giannini for Gucci proposes classic loafers and surrounds man with vivid tonalities, from yellow to red and green, as a chic vacation message. In this way, man looks very refined with his passion for abstract floral foulard-shirts and strong matching jackets woven with raffia that give a classic playboy attitude.
Very beautiful knitwear was presented by Iceberg – the true DNA of the company: the parade was characterized by a man who loves real fashion that entertains him with geometric designs and colors as a touch of fun. Obsessive care was given to the treatment of the pieces, especially by washing the garments in tea to give them a gently lived-in look. Almost as obsessive was the care given to the fabric processes, especially the washing where the fashion house again used tea to give a slightly worn look.
So, what do you think about the new trends and fashion ideas for you men?