August 29, 2008
3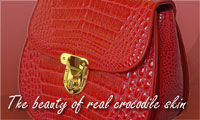 Our customers really want to understand what they are getting – they often can't believe how affordable our Ligator croc bags are and how good they look, so they want to make certain that they actually are getting the top quality that they expect from our products.
By
admin
August 27, 2008
0
Is Gleni the perfect match for your Bag Personality?
Read the following results to see whether you are our perfect customer!
By
admin
August 26, 2008
1
Looking for some positive light for Italy's future image Giannini turned to the Consorzio 100% Italiano…
In the luxury leather industry much of the work is carried out by hand using traditional skills, in order to achieve the best quality. An example of a good handbag made by these methods was estimated to have cost 90 euros in labour and, with fine materials, a total of 300 euros to produce, which makes its retail price of 500 euros a fair and reasonable figure, though these high standards don't give anything like the profit margin that the illegal workshops do for those who use them..
By
admin
August 25, 2008
4
The world looks to Italy for the prestige of its luxury fabrics and the renowned skill of its artisans. Sabrina Giannini's investigation gave her severe concern that the luxury fashion market is losing sight of the value of this aspect of their Italian heritage.
By
admin
Gleni – Italian Luxury Handbags

via Risorgimento, 43, 63074,
S. Benedetto del Tronto (AP), Italia
Gleni S.r.l.
P.IVA 02245320441
Tel (+39) 0735657565
Fax (+39) 0735657565
Whatsapp (+39) 3737206057

Recent posts

SEO Powered by Platinum SEO from Techblissonline