August 22, 2008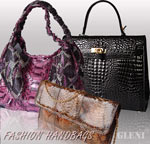 60% of women own more than 10 handbags and 3% have at least 25, according to international statistics recently published! Are you one of them? Or do you have a different approach to handbags?
The Gleni staff has used our experience of the world of handbags to put together a light-hearted look at different philosophies of bag ownership.
Try this fun quiz to see which bag personality sounds most like you, then turn to the results below to see if you and Gleni are a perfect match!
August 20, 2008
Is the fashion world really as glamorous as it seems? What lies behind the glitter of the catwalk? Can Italy hold on to its heritage of making world renowned luxury goods? We look at an Italian TV report that rocks the foundations of the fashion world and exposes its darker secrets.
August 19, 2008
The main difference which distinguishes our two online shops for our private customers is the different delivery time of the product. In our Gleni Boutique, you will find all the items that are ready made and immediately available for delivery, while in our Craftsman Laboratory, the item you select has to be ordered and the…
August 1, 2008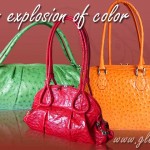 A new selection of luxury ostrich handbags just in at Gleni's showroom, gives wholesalers an opportunity to purchase some of these sought after bags for immediate delivery. The hand-crafted bags made with prestigious ostrich leather from a renowned Italian tannery are much in demand by fashionable women world over.

San Benedetto del Tronto, Italy (PRWEB) August 1, 2008 — A new selection of exclusive ostrich leather handbags has just arrived at Gleni's showroom and Gleni are now making them available to their wholesale customers as well as their private customers.

SEO Powered by Platinum SEO from Techblissonline