Bags for Men – A Fashion Revolution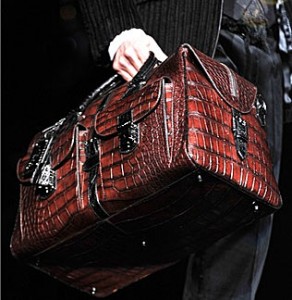 It wasn't very long ago that men were expected to keep everything they needed in their pockets. Keys, wallet, phone: all would have to find a home in a jacket or trouser pocket. The only permitted accessory for work was a uniform briefcase or attaché case, boxy, boring and black or brown. For casual carting around of equipment a sports bag with a sporting logo showed its manly purpose with no style achieved or intended.
Yet in 2009 it now seems that men have almost as much choice as women when it comes to bags: messenger bags, tote bags and there were even some men's clutches shown on the catwalk by top designers for autumn/winter 2009/2010. How did fashion evolve so quickly to break down long held stereotypes around gender and handbags? Do real men now carry handbags or is it just a fashion that you see on the catwalks?
In continental Europe men's bags have been commonly used for a long time, but there is still resistance to the idea in more conservative areas of the English speaking world. Men have got used to carrying laptop bags and backpacks in America and Britain now, but anything resembling a shoulder bag is often still considered girly and unmasculine, particularly outside the cosmopolitan cities, where fashions are slower to change.
However, if you think about it, many men have been using messenger bags (or courier bags) for years, especially younger men, who wanted an alternative to the conservative briefcase. They are both practical and adaptable, functional enough not to be mistaken for a ladies handbag and fulfilling a real need for urban men who rely on public transport and don't have a car to stow all their extra stuff in.
In recent years fashion has picked up the messenger bag, redesigned it and marketed new versions of them as 'man bags'. With men's fashion promoting a slimmer silhouette, fitted jackets and slimmer cut trousers, and the demise of the convenient cargo pants with their multitude of pockets, men no longer have so much space to stash all their essentials on their person. Trouser pockets bulge in an unsightly manner when crammed with keys, phone, coins, wallet and all the rest and there are no more loose jackets to cover them up. So the stylish man has to find other solutions and the man bag seems to be the answer.
Not surprisingly it tends to be younger urban men who have taken to carrying bags most easily, those at the forefront of fashion who are keen to be elegant and stylish and who keep up with the latest trends. Now that the messenger bag for men has made it into the mainstream of fashion, with more and more men adopting them, top fashion designers have become more adventurous, looking for ways to give fashionable men more choice. The recent men's fashion collections in Milan, showed more bag options for men than ever, with luxury totes in gorgeous crocodile leather being carried in a manly style down the catwalks and even a few clutches, up till now the ultimate in feminine chic, now redesigned in a masculine mode for the more daring of trendsetting men.
It is a little ironic that while the press is shouting about women's bags being replaced by pockets, implying that bags for women are becoming less essential, men's bags are taking off in a big way. Perhaps it is just that women have been carrying their men's things in their handbags for them up till now and it is now time for men to return the favor!