Bags for Men – What to look for
Men's bags are taking the fashion world by storm this season – no longer are they a dull and purely practical accessory, but men are being given choices of style, materials and design that have never existed before. Stylish young men at the forefront of fashion will know exactly what will suit them and what to avoid, but how does a man, who has never until now though of carrying any sort of bag beyond a briefcase or a backpack, know what to choose?
Here is a guide to help men find a bag that is practical and masculine, as well as being stylish.
If you live and work in a cosmopolitan city or in continental Europe, bags for men may already be accepted as useful accessories. After all a courier or messenger bag is something that men have been using for decades, especially younger men who don't carry a briefcase but still need something to carry all their essentials in to work or on the weekend.
It is the new label 'man bag', thought up in the last decade to market bags to men, that has brought attention to the trend of men looking for more stylish alternatives to the conventional and often dull briefcase. It often has the reverse effect as many men find the 'man bag' label off-putting.
However bags for men are here to stay, so if you are ready to move on from the briefcase, but are worried about getting it wrong, here are some pointers to help you find a bag that works for you without any danger of it being mistaken for a ladies handbag!
Choose a simple structured style. Look for clean straight lines and avoid curvy shapes and gathered materials.
Choose a bag for its functionality. Look for internal pockets that will take all the gadgets that you need to carry.
Go for a plain color, avoid patterns and fancy decorations. Black or brown are best to start off with until you have the confidence to become more adventurous.
Choose a good quality leather, which will wear well. Nylon bags and backpacks are not at all stylish and shouldn't be combined with work or formal wear. Canvas is a good option for casual use.
Try starting off with a traditionally male bag style, like a messenger bag, or a fishing bag, satchels with shoulder straps that are stylish without being too cutting edge. When you are comfortable with the idea, if you want to, you can then move on to trying out the men's totes and carryalls that are all over the fashion shows right now.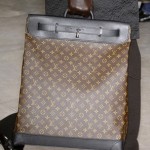 So what are you waiting for? Your pockets no longer need to be stuffed with your wallet, phone, headset, business cards, penknife, camera and all the rest, which ruin the stylish line of your clothes, you can transfer it all into your bag and never worry about losing your flash drive to the washing machine again!