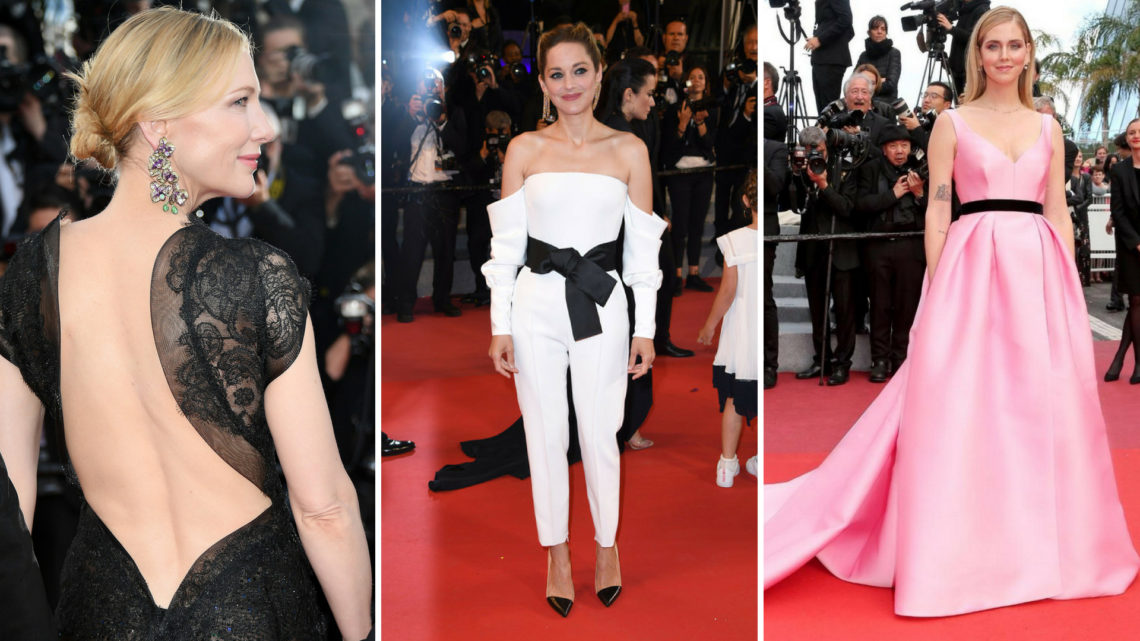 Cannes 2018: the best Made in Italy looks
The 71° Edition of Cannes Film Festival came to a close, leaving not only important rewards – such as the best actor award won by the very Italian Marcello Fonte – but also many unique red carpet looks to admire!
What did celebrities wear during this edition? What were the most beautiful looks?
In this article we will celebrate Made in Italy and show you the best dressed celebrities who chose Italian designers!  
---
Obviously, we had to start with her: she was the president of the jury of this edition. Elegant and refined, she brightened the red carpet with her fabulous choices. One word: divine!
While attending the opening gala night, she wore a stunning Giorgio Armani Privé black lace embellished gown. The beauty of this dress was not the only thing everyone noticed: Cate recycled this dress! In fact, this dress was created for her back in 2014. She admitted it without hesitation and took a stand against fashion waste. Who wouldn't want to wear a Giorgio Armani dress like that over and over? She was more sophisticated than ever!
Can we just take a moment to appreciate that deep back cut? We definitively love this look!
The talented actress chose Made in Italy more than once during the Festival: for the Chopard Trophée event, she opted for a Giorgio Armani white gown embellished by a precious and colourful Prada necklace. The dress was structured, and it wrapped her body perfectly, underlining her beautiful figure.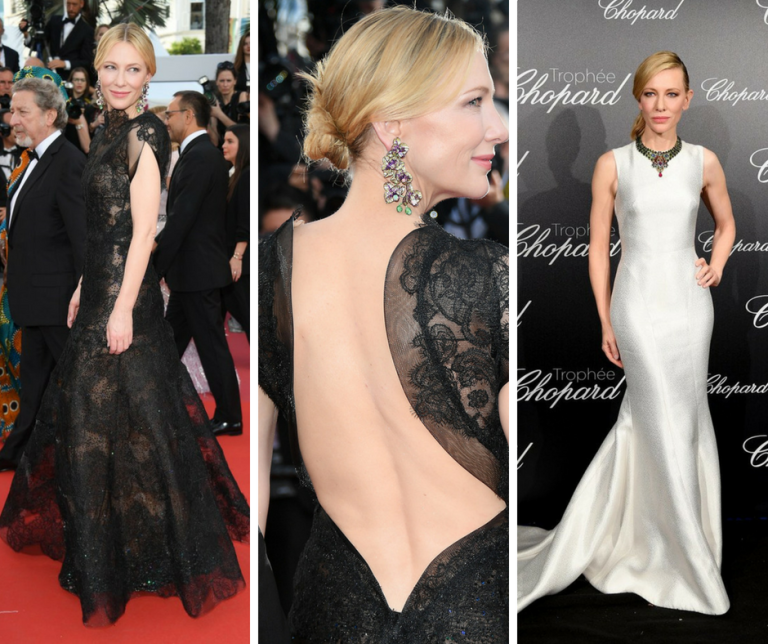 Marion Cotillard was a vision: her French sense of style was always on point. Her looks were refined but still playful and different. For the screening of the movie "3 Faces", she opted for a risky look. Just like Cate Blanchett, she chose one of the most famous and refined Italian Designers: Giorgio Armani.  She wore a white jumpsuit with a big black bow on the waist and pointy heels. The hair, the bare shoulders and the eyeliner gave a retro feeling to the look. What can we say? She is always a style icon! 
For the Chopard's Secret Night she picked out another Italian designer we all love: Valentino. The actress wore a romantic black gown with a deep V neckline, enriched by a fabulous emerald necklace. Super classy!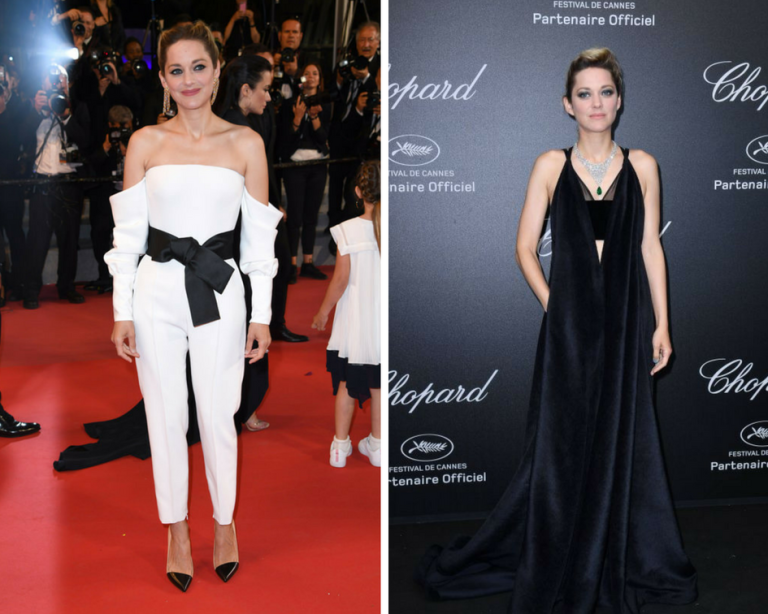 Jane Fonda was one of the most beautiful and sophisticated women of the Festival. Not surprisingly, she chose one of the Italian designers that above all offer class and elegance: Valentino. 
Just admire the shimmery silver gown she wore for the Spike Lee's movie premier: she was a goddess.
And finally a woman: an Italian female designer, Alberta Ferretti. Jane Fonda was so classy in this white suit at the Chopard Trophée event. We must say that white is really her colour!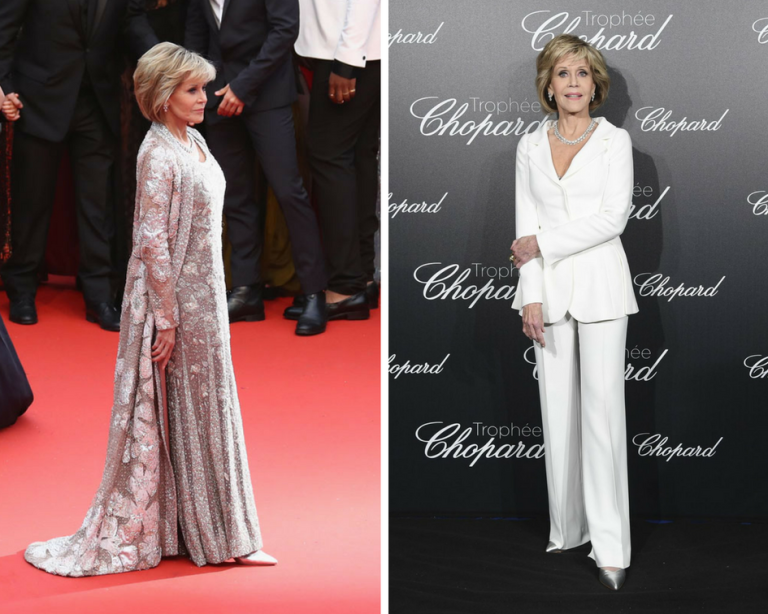 Diane Kruger, gorgeous and talented actress, made an entrance for sure at the Chopard Trophée event: she wore a Prada silk chiffon gown with embellished shoulders.
Firstly, violet is the colour of the year, good job Diane! Secondly, the green embellished shoulders brighten the look and showed off her perfect cleavage. 
She was stunning: another reason why you cannot go wrong with Italian designers!
Let's end this list with a model (and a stunning one!): Elsa Hosk.
It is easy to be gorgeous when you are a Victoria's Secret angel, but this time she was incredible. She chose the talented Italian designer Alberta Ferretti and, on the occasion of the Girls Of The Sun premiere, she went for an original pink outfit, with two bows on the front and a fitted gown, enriched by another open rounded gown on top. The dress, along with the old Hollywood curls and the natural make up, gave a modern Marilyn Monroe vibe to the look. So chic!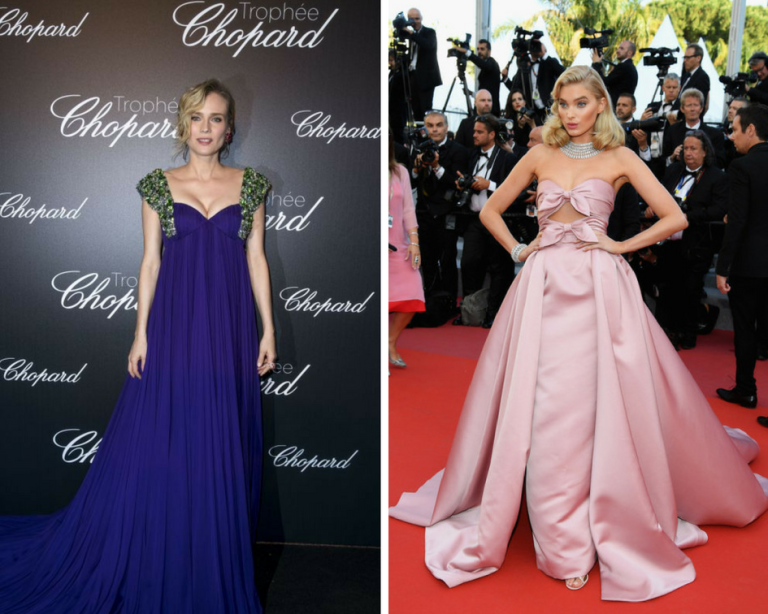 These were only some of the many Italian looks we saw on the red carpet. Amber Heard, Irina Shayk, Liu Wen, Chiara Ferragni and many other celebrities chose Italian designers too!
What can we say? Just like every year, Italian designers dominate the scene. And it doesn't surprise us. Yes, because Made in Italy is always on point: quality, elegance and refinement are some of the values that characterize the label. That is why we from GLENI are proud to share our vision as a 100% Italian company. 
What was your favourite look? Leave a comment and share with us your opinion!