February 25, 2009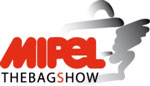 MIPEL: THE BagsShow – The best shop window for producers and sellers of Made in Italy leather products
Next month, from March the 4th to March the 7th, Milan will host the 95th Edition of Mipel, the world-famous bi-annual appointment for both producers and buyers of genuine luxury leather
February 24, 2009
A photographic exhibition, by the world famous Italian photographer Oliviero Toscani has been set up in New York on products made of vegetable tanned leather, according to the old traditional workmanship promoted by leather manufacturers from Tuscany!
February 20, 2009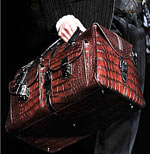 It wasn't very long ago that men were expected to keep everything they needed in their pockets. Keys, wallet, phone: all would have to find a home in a jacket or trouser pocket. The only permitted accessory for work was a uniform briefcase or attaché case, boxy, boring and black or brown. For casual carting around of equipment a sports bag with a sporting logo showed its manly purpose with no style achieved or intended.
Yet in 2009 it now seems that men have almost as much choice as women when it comes to bags: messenger bags, tote bags and there were even some men's clutches shown on the catwalk by top designers for autumn/winter 2009/2010.
February 13, 2009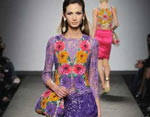 Elegance and Style Made in Italy!
No sooner had the spotlights dimmed on Paris fashion week, than Paris was once more the stage of another important fashion event: the Paris haute couture, a very prestigious fashion date for the most important world-famous designers, as well as for some younger talents who, thanks to this show, have had the opportunity to present their collections and gain popularity[…]
[…] If the Paris haute couture show gained a lot of success, the Alta Roma show, which took place in Rome from January the 30th till February the 3rd, successfully defended its prestige and its importance…

SEO Powered by Platinum SEO from Techblissonline