August 25, 2008
The world looks to Italy for the prestige of its luxury fabrics and the renowned skill of its artisans. Sabrina Giannini's investigation gave her severe concern that the luxury fashion market is losing sight of the value of this aspect of their Italian heritage.
August 22, 2008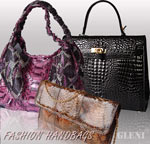 60% of women own more than 10 handbags and 3% have at least 25, according to international statistics recently published! Are you one of them? Or do you have a different approach to handbags?
The Gleni staff has used our experience of the world of handbags to put together a light-hearted look at different philosophies of bag ownership.
Try this fun quiz to see which bag personality sounds most like you, then turn to the results below to see if you and Gleni are a perfect match!
August 20, 2008
Is the fashion world really as glamorous as it seems? What lies behind the glitter of the catwalk? Can Italy hold on to its heritage of making world renowned luxury goods? We look at an Italian TV report that rocks the foundations of the fashion world and exposes its darker secrets.
July 17, 2008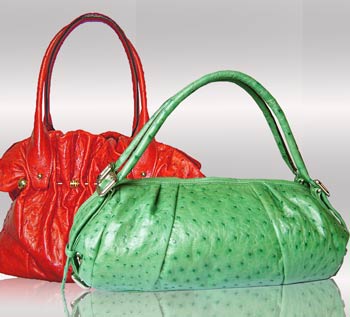 If you are looking for a truly luxury handbag, one of the most exclusive leathers of all is ostrich leather.
Soft and luxurious it is also a tough leather that keeps its good looks for many years and its elegantly patterned texture, spotted with the characteristic quill follicle polka dots, is the epitome of restrained chic.

SEO Powered by Platinum SEO from Techblissonline