The production of our cocco Ligator articles could now be suspended
We regret to inform our dear customers and visitors that the production of our cocco Ligator articles could now be suspended for an indefinite period. We have just received news that the tannery that we have been using for many years has been bought out by new owners, who will be closing it for rebuilding work to be carried out. The production of our cocco Ligator handbags and accessories will therefore be delayed for an unspecified amount of time.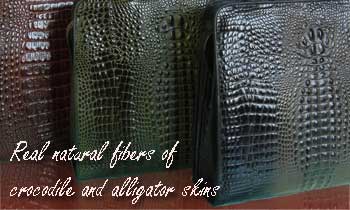 All the cocco Ligator articles on view in our Gleni Boutique, ready made for immediate delivery, are of course still available for sale, but we are reserving them for our private customers. Our wholesale customers can still order cocco Ligator articles until we have used up all the leather that we currently have in stock, but before processing your order, we recommend that you call our office or e-mail us, so that we can confirm that we have enough leather available and in which colors.
We advise any of our private customers that are thinking about buying one of the cocco Ligator bags from our showroom, to proceed with your order as soon as possible, whether it is for a Christmas gift or for yourself, as once these bags have been sold, we don't know when we will next be able to produce them again and even whether in the future the same skin and colors will be available as before.
As you already know, we at Gleni really love cocco Ligator leather and for years have been promoting it for its extraordinary beauty, but even more for its practicality and usability. cocco Ligator has a wonderful texture and in looks is very similar to genuine crocodile, but is considerably less delicate and much more affordable.
This leather, created through the Ligator process, using natural crocodile fibers combined with calf skin, has nevertheless caused us not a few problems over the years, because of its unusual composition not being accepted by USA. Many of you will probably remember that in 2007 sales of our cocco Ligator bags to the States were suspended for nearly a year, as the American customs authorities, not recognising the type of leather, insisted that it should be included among the types of exotic leathers that required a CITES certificate to be exported from the EU.
cocco Ligator was initially not classed as an exotic skin, and so did not require a CITES certificate by European law, but it then became the subject of much debate in the Geneva headquarters of the CITES authorities, where they discussed the leather over a period of many months, and looked for solutions to make it easily exportable to all parts of the world. In the end it was decided to increase the percentage of genuine crocodile fibers in the leather and include it in the category of exotic skins, deriving from protected and endangered species, so that in future all articles made from cocco Ligator would need a CITES certificate.
This we did and are still doing, but it seems that the misfortunes that trouble our adoption of this special leather are not yet over, as now its production has been suddenly and unexpectedly halted, a situation that we hope with all our hearts will only be temporary.
However as soon as we have any further news on the progress of this situation we will let you know immediately what is happening, so check our blog regularly for further updates.
The Gleni Staff