Cocco-Ligator (Ligator croc) – what does this mean exactly?
The questions that we are most frequently asked by our customers, even though our site does explain in detail, are the following:
What does Ligator Croc or Cocco-Ligator mean?
Is it genuine crocodile skin or just embossed leather?
And what is the main difference between Ligator croc and Cocco Hornback?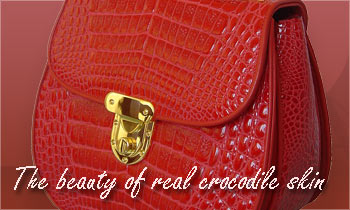 Our customers really want to understand what they are getting – they often can't believe how affordable our Ligator croc bags are and how good they look, so they want to make certain that they actually are getting the top quality that they expect from our products.
We have tried to answer all these queries clearly in our site, but as they are still being asked regularly, now we would like to give you a detailed explanation of Ligator croc skin (cocco Ligator is the patented Italian name for it), its characteristics and the two varieties of it we use, to help all our clients have a better idea of what it really is and to reassure them of its excellent quality.
First of all we need to emphasise that Ligator croc is absolutely not an embossed leather. proof that it contains real crocodile is that we have to obtain a CITES certificate to export our Ligator croc products from the European Union overseas, which is the certificate necessary for exporting any article made from exotic skins (with the single exception of ostrich).
At the same time Ligator croc does not indicate that the article is made from 100% genuine crocodile leather.
Ligator croc is made from natural reptile fibres combined with calfskin. It is created using the innovative 'Ligator' process, patented in Florence, a special method of processing the skins to obtain this quality leather. To put it simply, Ligator croc is a leather made with genuine reptile, but it is not pure crocodile. Since January 2008, as we mentioned above, our cocco-ligator items have also required a CITES certificate to be shipped overseas.
But what is the real difference between Ligator croc and genuine crocodile skin?
The main difference between the two types of leather is first of all the price. Ligator croc is much cheaper than genuine crocodile. From a looks point of view Ligator croc is very similar to crocodile and many people actually prefer it.
The important distinction is that the genuine crocodile skin that we use to make our luxury handbags, comes from a top Italian tannery and is of excellent quality, being very soft to the touch. This means it lends itself perfectly to all models of bags even very large ones, which Ligator croc often isn't really suitable for.
Ligator croc leather is thicker and more rigid than crocodile and so should only be used to make bags that have a more structured design. It doesn't usually adapt well to looser, softer bag designs, which does mean that we have a more restricted choice of bag designs that can be made with this leather.
genuine crocodile is very soft to the touch, giving you a feeling of well-being, while Ligator croc is covered by a glossy film, a protective layer that keeps it looking shiny and elegant, so it feels more firm and solid than crocodile.
A fine Ligator croc handbag, if well looked after, will of course last unchanged in excellent condition for many years, but it can't compete with the eternal beauty of a genuine crocodile bag, which as time passes not only remains beautiful and stylish but even gains in value and prestige. Besides a genuine crocodile handbag has always been a prized status symbol, a luxury possession that few can aspire to.
Now let's look at the differences between Ligator croc and Ligator Hornback.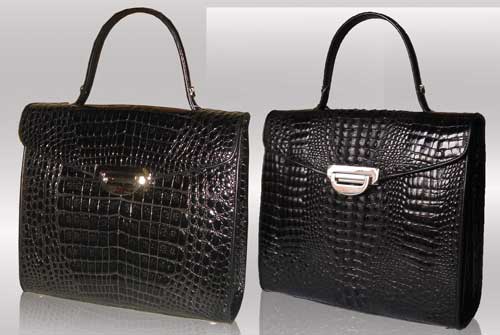 Both are varieties of the same Ligator croc leather, but the difference lies in the patterns on the leather itself. Ligator croc has the typical look of the skin from the crocodile belly and its design is very classic and elegant, making for a very refined handbag.
Ligator Hornback, on the other hand has a wilder look, coming from the skin of the crocodile's back, with the characteristic horny scales that give the bag a more exotic look. Ligator Hornback is particularly suited to making larger bags where the pattern shows up and the scales are more visible.
The choice between whether to use Ligator croc and Ligator Hornback for a bag is entirely down to each customer's personal preference and what they intend to use the bag for. We are sure of one thing: by changing the pattern of the skin, the whole bag subtly changes its feel and style. The choice is up to you!!!!
We have translated the Italian ' cocco Ligator' to its nearest English equivalent 'Ligator croc'. In our site you will find frequent references to cocco-ligator, which is just the Italian term for this leather.