Color and light at the 78th edition of Pitti Immagine Uomo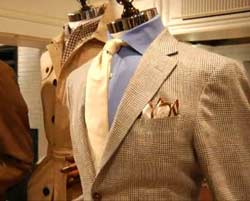 To prolonged applause and the general satisfaction of the numerous buyers and  international press who attended the event, the curtains closed on the 78th edition of Pitti Immagine Uomo, long considered one of the top events of the fashion calendar for both experts and public, who know that they will be presented with the very best of international production in the men's fashion world.
Even though, as mentioned by Alberto Pecci, president of the Italian Fashion Center, the economic crisis still weighs heavy on the fashion world, Pitti Immagine Uomo, in bringing hundreds of brands to the catwalks, has successfully put forward the latest trends of a sector which is always looking for innovation and evolution, new ideas and new openings.
So, what will men's fashion be looking like for Spring Summer 2011? Colors, technology and light clothes will be the basics for the new men's wardrobe, more targeted towards a younger market, that likes technologically advanced, but environmentally respectful casual-wear. A more dynamic figure is presented in motorcycle jackets with built in airbag as proposed by Brembo; or there is the environmentalist look, all hand-dyed of Keep Wild. One thing is sure: the well dressed under 30s like technology, and love Schneiders' reefer jackets especially designed with an internal removable pocket for an iPad, made of fabric with silver lining to protect from the electromagnetic waves.
But the young techno-dandy goes wild for collections in natural fabrics, like the informal outfits proposed by Brunello Cucinelli, with slim jackets and trousers, perfect for men of all ages to wear with a classic white shirt or buttoned  up polo shirts.
A must for next Spring/Summer 2011 will be the classically striped or checked shirt with contrasting collar: Eton proposes them with the business man in mind, who livens up his look with pink, blue or green shades.
For leisure time and a casual chic style, Doriani has conceived a pullover of super-light cashmere with zip closure or V neck, choosing light and fresh tonalities, with a lot of white, beige and sand colors, ranging through grey and all the denim shades.
Elegant jackets evoking the "DolceVita" with satin linings in contrasting colors, or sporty sweatshirts with floral prints is what Lapo Elkann proposed for his Italia Independent brand: a man who cares about style and who is never banal. The collection is made up of three different lines: Urban Craftsmanship, with jackets and bombers with waterproof hoods; the Tailor Chic line with classical suits in a retro style; and the Easy line for the young man who wears satin or linen jackets with Hawaiian designs printed on them.
This year's 78th edition of Pitti Immagine Uomo marks the debut of Carlo Pignatelli Outside, with its youth line, bringing to the catwalks a collection where the emphasis is always on refined tailoring with a contemporary feel, careful attention to detail and an exclusive style. The line offers the Twin Jacket, symbol of the entire collection, which is a chic dandy on the one hand and formal on the other, a jacket with a double soul, perfectly reversible.
Aida Barni demonstrated the triumph of handmade quality with the invention of a tailored cashmere jacket that can be packed into a small box without creasing.
Even accessories found an ample arena at Pitti Immagine Uomo, with a variety of ties, scarves, cufflinks and hats, such as the Borsalino collection that depicts a wish for a serene and quiet life in total freedom. For this reason, men wear elegant straw hats either in natural tones or in brighter shades ranging from orange to green, thanks to a new finish that, as well as enhancing the color, prevents water damage and stains.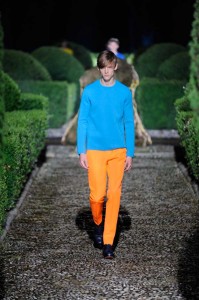 Presented in the lush green atmosphere of the magic gardens of Villa Gamberaia, Jil Sander's collection, as guest star of this year's Pitti edition, with the extraordinary Raf Simons as creative director, was a real tribute to nature and the tropics. Wonderful strong tonalities characterized a collection that mixed tradition with technology: bright colors expressly used to reinterpret and reinvent the tailored suit, symbol of man's elegance. Simons colored  contemporary man in orange, salmon, purple and turquoise, putting shorts on him and showing off his legs. Bold combinations celebrated electric and fluorescent colors, improving their strength and coloring a series of summer clothes which have all of the minimalism and precision that has always characterized the brand.  A celebration of nature underlined by floral prints on fluorescent shirts or refined with tropical embroideries.
With this prestigious event, held in original locations and planned with a careful eye on the aesthetic choices, Pitti has reconfirmed itself as the leading event on an international level for those dedicated to the men's fashion world,. An event always on the look out for the new and original, framed in the amazing setting of the city of Florence, where fashion and art unite in perfect harmony.