Dear Men, Will your tote bags still be fashionable next year?
Milan  fashion week.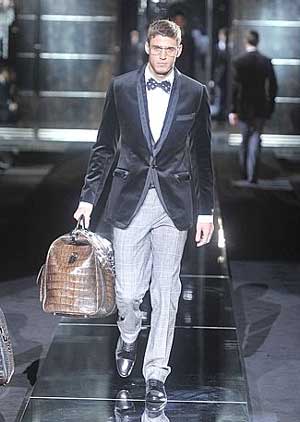 In our previous article, published on our Gleni blog a few days ago, we focused our attention on the very latest in colors and styles proposed by Italian and international designers at the Milan Fashion week, one of the most prestigious fashion events where the new men's autumn-winter 2009/2010 collections have just been presented. Many of the top, world famous fashion houses took part in this show and it would be almost impossible describe each of them in detail. So we have decided to concentrate just on those designers who, more than others, have prioritized the usage of prestigious exotic leathers in the making of their masterpieces or have re-proposed the use of handbags and suitcases for men too, because, in our opinion,  they are more relevant to our business and to our projects than the others.
Trussardi dresses his man in black, white and bordeaux. His style is very elegant and each detail is finished with meticulous attention. The brand promotes the re-discovery of the classic waistcoat and of the leather jacket. Coats are rigorously black and knee-length. However Trussardi also includes metallic colors such as gold and metallic green for the trousers to go with practical men's shoulder bags with the strap matching the trousers in the same metallic shade. Man bags are the main rediscovery of these collections and Trussardi semds every model down the catwalk wearing his own bag. Tote bags or smaller shoulder bags, it doesn't matter! What is most important is that the man of 2010 wears a bag, a simple leather bag or a wonderful and expensive tote bag made of genuine crocodile leather, which certainly enhances his look and is not only comfortable and very easy to wear (crocodile skin is absolutely soft and very light) but also incredibly chic and gorgeous.
Roberto Cavalli, on the other hand, proposes using luxury genuine crocodile leather to make comfortable crocodile jackets which will give a man a touch of the wild, like an urban cowboy. Belts too are much in evidence and come with big brass buckles. However, Cavalli's man too is elegant and his look reveals his masculine physique.
Iceberg's man is elegant but colorful. He wears electric blue, red, black, grey and green and he always wears a slim tie to complete his glamorous look and carries a bag, which can be a very big, stylish tote bag carried by the handles or a simple shoulder bag worn across the body to go with a casual look. A bag is, for Iceberg, a fundamental accessory in the new stylish man's life, a symbol of elegance and the ultimate in comfort and dynamic looks, no matter whether it is made of fabric or of leather.
Versace promotes a strong, virile image of a self made man. He studies every smallest detail of his look and aims to be elegant, refined and stylish. His physical structure and his perfect shoulders are further enhanced by wonderful jackets, while attention is drawn to his waist with luxury belts.
Gucci creates a collection which is in perfect harmony with the autumnal season. His men wear dark colors such as black and blue suits, but they give their look a touch of color using bright purple ties or electric blue trousers. Bordeaux is also present in this collection while fabrics are often shiny, to further enhance the style of the suits which have a very classic line. This brand also sees the man of 2010 wearing his own tote bag or his shoulder bag with ease and pride, as a mix of necessity and pleasure. He wears it when he goes to work, perhaps to carry his laptop or his  MacBook more easily but this bag is at his side in the evening too, when he goes out with his friends.
Ferré, thanks to its new creative directors Tommaso Aquilano and Roberto Raimondi, proposes a style which is not only architectonically perfect but also very emotional. The collection is inspired to 50's and men's suits are very elegant and classical, with narrow trousers and the use of shiny fabrics and shirts covered by rhinestones to better enhance the concept of luxury and elegance. Black and white, typical tonalities of this brand are now mixed to grey, blue and navy. Tote bags are absolutely wide and provided with two handles. Their shape is not completely squared: the upper section is rounded and more comfortable to open thanks to its wide zippered closure.
Emporio Armani in this collection too, shows all the ability and elegance of a brand long considered the absolute symbol of refinement. Giorgio Armani is the king of high fashion and his creations are the perfect result of many years of experience and skill in this sector. This men's collection is mainly centered around the color green which, according to Armani, is the color of hope and, above all, of Nature. So this color emerges throughout the collection, contrasting with more classic shades such as black. Trousers are now high-waisted, combined with fitted shirts and jackets to emphasize the perfect silhouette of the body. The bags favored by Armani's man are so big and wide that they look like leather suitcases or sports bags and are carried by the handles. Scarves are very wide, in typical  Renaissance style.
Dolce & Gabbana propose a return to origins, through the use of classical colors such as white and black with some explosions of strong pink. This collection recalls the old Sicily's landscape and the typical craftsmanship of the isle. Style is classical and extremely elegant even if Dolce & Gabbana don't give up to the Must have of this fashion season: their man wears slim shirts, matelassé tuxedo trousers and very comfortable tote bags provided with handles and many practical zippered pockets, made of very high qualitative leathers. Through this collection, both the stylists desire enhancing the concept of craftsmanship as a precious value and as undisputed symbol of an unforgivable luxury style.
Bottega Veneta portrays a man who is fully aware of his charm and sensuality and who chooses soft cardigans and handmade jackets as essential components of his look. The main element of Bottega Verde Men's collection, however, always remains the bag which is by the man's side at every moment of his day. They are very soft, made with very high quality materials, ready to follow the metropolitan man everywhere: at work, when he goes to the gym or during a relaxing evening with his friends.
Through this short analysis we can point out a very important concept, which is a huge testament of the evolution of fashion trends: the handbag, until recently just considered an exclusively feminine accessory, is now becoming a fundamental component of the man's look too. Styles and dimensions might be different according to individual usage and preferences but next autumn-winter season too, our men will continue to wear their own handbags.
What do you think about these new style trends? Do you agree with these new fashion developments or are you more inclined towards the traditional vision of the man? Leave us your feedback!