Delicate women in sheer 50s style at Paris Haute Couture
Talent, hard work, humility and sacrifice are always rewarded, even in the world of Paris Haute Couture. The latest shows dedicated to high fashion took place January 23rd to 26th proposing fabulous models and designs for the Spring/Summer 2012 women's wardrobe, especially addressed to well brought up women of taste.
Particularly well received was Giambattista Valli's collection, perhaps the most beloved Italian designer in Paris. Having arrived there only fifteen years ago  at a very young age, he is a living proof that with determination and ability, you can climb even the Olympus of elegance, just as he did.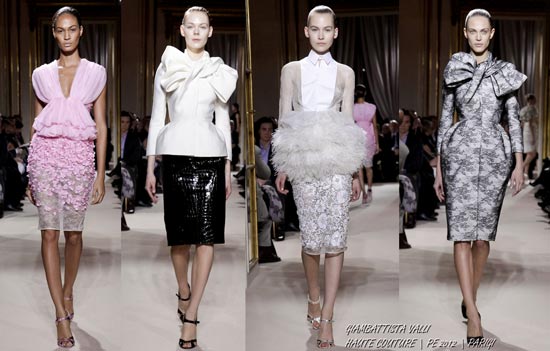 His young fashion house was only accepted in to the elite plans of the Chambre Syndacale de la Haute Couture last December, after a strict selection process by the French Minister of Culture, along with giants such as Dior, Givenchy, Jean Paul Gaultier and Chanel.
And during these 4 days dedicated to the ultimate expression of elegance, the style proposed by Giambattista Valli was a huge success thanks to the white cloak and garlands of flowers, dresses adorned with embroidered light pink and black petals, the delicate long lace dress fastened at the neck with a big bow, black crocodile jackets and tops over white lace skirts exclusively manufactured in Lyon: a great number of feminine designs as delicate as a hydrangea, the flower symbolizing the whole collection.
The body-corset was the leitmotif of the collection proposed by Christian Dior, which was presented in the atelier at Avenue Montaigne, the very place where the mythical New Look was born. And Bill Gaytten – the English designer who replaced John Galliano – took inspiration from vintage Dior and old Hollywood glamour. On the catwalk, dresses evoked the style and fashion of the 50s, made of white silk embroidered with black flowers, floaty skirts and small bustiers, in a symphony of black and white sheer fabrics and layers, composed and seductive, with stunning mosaic decorations in crocodile, and waves of organza characterizing the sumptuous ball gowns. Gaytten focuses on transparent sheer fabrics, using silk tulle to lighten shapes and volumes, revealing petticoats and underlying construction of garments.. The second part of the show, dedicated to evening gowns, was a parade of long dresses with the classic mermaid shape or with maxi skirts: pleated effects and flounces enriching the dress for such an important occasion.
Donatella Versace's models were like cyber vestal virgins, enriched by moon-colored lace, bare backs sculpted by waves of metal, biker-jackets full of embroideries and metal cuts, over shoes with impressive heels that were so highly appreciated by Hollywood star, Cameron Diaz. A triumphant return with sexy bustier dresses, at the same time both sensual and futuristic, where legs were emphasized by long skirts slit to the thigh and very short minis. Lace, the principal fabric of the entire show, is embellished with sequins and metal discs that circle the waist or neckline. Only gold, silver, orange and fluorescent green are used for designs that have all the flavor of a tribute to the great Gianni Versace.
Tributes to Marie Antoinette and Amy Winehouse were seen on the catwalks of Paris Haute Couture created by the talent and freshness of Pier Paolo Piccioli and Maria Grazia Chiuri for Valentino, and by Jean Paul Gaultier, always full of determination and unbridled imagination. Two images and two icons of femininity so far away from one another, but yet connected in representing the many faces of femininity.
Pastoral, full of grace, a countryside luxury sprinkled with bouquets of roses and milky cotton lace excel in Valentino's fashion house, which is experiencing a real golden age.
A masterful fashion show, opened by a long dress with a delicate clover print, continuing with taffeta ball gowns that seem to bring back Marie Antoinette, the numerous outfits made of many secret and seductive layers of organza and embroidered tulle: this collection includes all the flavor of times past combined with the desire for naturalness expressed by the women of today.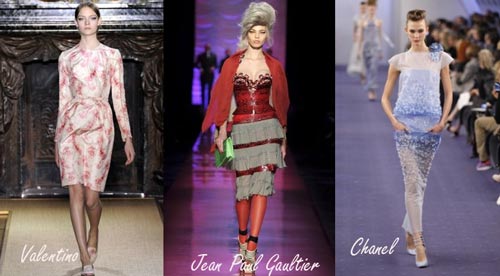 At Jean Paul Gaultier we experienced a tribute to the memory of the great singer – Amy Winehouse who disappeared too young. In his collection for next summer, the designer has styled his models with rock star hair, a great variety of leather biker jackets worn as evening capes and lots of smoking, in addition to the great classics of the fashion house, from trench coats to corsets and bustiers, in flesh colors and as tight as ever.
The scenario of the Chanel fashion show was simply amazing and unique: it took place in the interior of an aircraft designed in impeccable style, where every detail was reproduced, even the blue carpet showing the two Cs, symbol of the house.
Models paraded in all the shades of blue, from lighter hues to the darker ones, in a crescendo of simple clothes, almost inspired by the first flight attendant uniforms, ending up with embroidered dresses enriched by decorations of great artisan work, but never too excessive. A fashion show without any form of severity, but made of many different styles tied together by the strong and steady hand of Karl Lagerfeld.
These were the most interesting proposals and ideas from our point of view … but for lovers of high fashion, you can hardly miss the events in the Italian capital with Alta Moda – Alta Roma.
So follow us and do not miss our next article.