Earthquake shock in Aquila
An endless tragedy touching the whole of Italy on the raw.
A few nights ago on April the 6th, Italy was hit by a dramatic tragedy which has left everybody at a loss for words: a tremendous earthquake shock destroyed l'Aquila, a beautiful historic city in the Abruzzo region and the seat of one of the most important Italian universities and artistic monuments.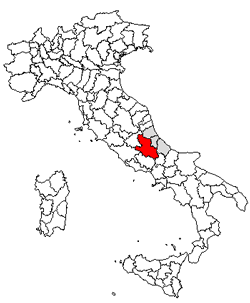 On Monday morning at 3:32 a.m. (Italian time), while everybody was sleeping, a loud rumbling followed by an incredible earthquake shock, estimated at about 5.8 on the Richter scale, (according to other sources it was 6.3 on the Richter scale) provoked a complete apocalypse in Aquila and in neighbouring areas. Apartment buildings and houses collapsed like card houses and social urban structures such as hospitals and museums were severely damaged by the violent earth movements. Many people were able to get out into the streets and save their lives, while others died, killed in the rubble of the collapsing buildings. Among them, there were many young students, living in the student dormitories in Aquila, and many children caught by the Earthquake shock in their sleep.
The first images transmitted on TV by the first local and national morning news were really shocking: people crying on the street, just wearing their pajamas, desperately asking for their family or their friends, lost goodness knows where among the rubble. Thousands of families have been evacuated from their houses, declared dangerously unstable, and they are now staying in emergency tent camps set up for them by the Italian Civil protection department, in order to guarantee them food, water and medical assistance in this difficult time of fear and suffering.
The terrible Earthquake shock was felt over a range of about two hundred kilometers, including other regions of Central Italy such as Lazio, Umbria, Marche and Emilia Romagna. Almost everyone living in the central part of Italy suddenly woke up last Monday at 3:32 a.m. realizing that their beds were moving, lamps were swinging and the floor was unstable.
We too, here in San Benedetto del Tronto, more than one hundred kilometers away from the town of the tragedy, noticed these earth tremors and all of us, after this shocking movement lasted more than 20 seconds, already knew inside that something dramatic had happened not far from us, even if we would never have imagined that the earthquake would have provoked such a terrible catastrophe. After having seen the images on TV and on the web, we understood that what had happened some hours earlier, had not been a simple earthquake but the total destruction of a city, of its history, and cultural style of life but, above all of an entire population who in just few seconds had lost their houses, their cars, their children, parents and friends.
Every time we switch on the TV, we inevitably see scenes of destruction, stones and rubble everywhere and we suffer in watching all this tragedy, because we each have our own house which is for us not just a simple place to sleep, eat or relax in; it is our protection, our shelter, the container of our life and emotions. If we lose it, we lose our identity, our point of reference, an important part of our life. So when we try to comprehend that there are now more than 50.000 people who no longer have their own house, we really feel very sad and powerless.
However, even more tragic than the loss of a house, is undoubtedly the loss of a family member, especially if it is a child or a brother or sister or your own parents. How terrible to suffer the uncertainty of waiting for hours, praying that your child or your father is alive and when he is found, discovering that he is dead and that there is nothing you can do but mourn and grieve as he is put into a coffin, among many other coffins and people as desperate as you are.

Everybody at some stage in their life has to overcome many sad experiences, but to lose all the most important coordinates of your life, your home and your beloved family, in just 20 seconds is, in our opinion, so great a tragedy that there is no knowing how you can get through it.
We know that, despite economic help, there is nothing we can do to alleviate the suffering and the extreme desperation in the hearts of these poor people hit by the earthquake, but through this article, we would like to let them know that we are near them in our hearts and that we share with them this terrible moment of deep suffering they are going through. We hope that, with the help of political and urban institutions, through more severe regulations on the structure and the building of houses and apartment buildings, these huge tragedies might be averted in the future or at least the damage limited.