Easter Day: how do Italians celebrate this Christian feast?
Discover with us the traditional cooking and customs of Easter Day here in Italy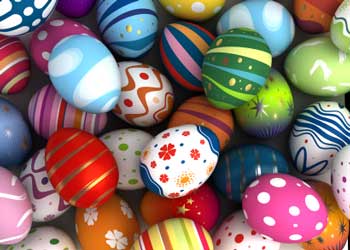 In a few days, next Sunday, April the 12th, most Christians will celebrate Easter day, a very important religious feast in which the death and the Resurrection of Jesus Christ is celebrated. Unlike Christmas Day, which is kept on December the 25th in most of the world, Easter day is not celebrated by all Christians on April the 12th, but this date changes according to the different countries and branches of Christianity.
However, whenever your Easter Day is, we wish you all a joyful and peaceful day, full of harmony and wonderful surprises.
You probably know that, some days ago, Italy was hit by an enormous tragedy, the terrible earthquake in Abruzzo which caused more than 250 deaths, about 1000 wounded and destruction everywhere. It is especially to those poor people who are preparing to spend their first Easter Day on the road, hopeless and completely consumed by desperation, suffering and death, that we would like to address our sympathies, hoping that they will find soon the necessary courage to carry on and to forget this terrible time.
Let's now see how Easter time is usually celebrated here in Italy!
Easter celebrations, unlike Christmas time, last just a few days here in Italy and the atmosphere too is different. People don't stop working, except for Easter Day and the following day, which in Italy is called "Il lunedì dell'Angelo" (Angel's Monday), and is considered by the Catholic church an important day of celebration, the natural continuation of Easter.
From a religious point of view, Easter is a more important and longer festival for Italian Catholics, than Christmas because the religious celebrations last for five days here in Italy, starting on the Thursday before Easter day, called "Holy Thursday" and finishing with the "Angel's Monday", the day after Easter. We can consider it a sort of historical-religious commemoration, summarizing the most important events of the last days of Jesus' life.
On Holy Thursday, Italian Catholics meet together in church to take part in "Jesus' last supper with Apostles", followed by the so called "Santi Sepolcri". Every church, after the celebration of the Holy Thursday mass, displays a symbol recalling Jesus Christ and his death. People visit the churches of their own towns to pray before this holy symbol. On the evening of Good Friday, after dinner, there is the Good Friday procession: Catholics, led by nuns or priests make a procession through the town's streets, remembering the last moments of Jesus Christ's life, up till his cruel death. Churches are all closed, as a symbol of mourning and the bells are silenced. On Holy Saturday, masses are not celebrated and churches are closed till Midnight when the Easter Mass is celebrated and ringing bells announce Jesus' resurrection. The midnight Mass is usually attended by many people even though it is very long because many babies are baptized on this occasion.
Easter Day, like Christmas Day, is usually spent with family, relatives and friends, even though there are many people who take advantage of this holiday to go on vacation, just for a week end. However, whether people are at home or on vacation, they like spending the best part of Easter Day sitting around a table, drinking good Italian wine and eating typical Italian traditional dishes.
It's not Easter if you don't eat lamb! It can be roasted (accompanied by roast potatoes or fresh green salad) or fried (in this case it is always accompanied by "Olive all'ascolana", green olives filled with minced chicken or pork and then fried), a typical dish of our province Ascoli Piceno, now famous all over the world. There is also a typical Italian Easter cake called " Colomba Pasquale " (Easter dove), whose name comes from the white dove, symbol of peace and harmony. Traditional Colomba is similar to our Christmas panettone, decorated with raisins and candied fruit, but there are many other variants of this Easter cake, made with cream and chocolate or entirely covered with almonds and nuts. A real temptation for eyes and the figure.
Children look forward to Easter day just to receive their Easter egg: a big egg made of milk chocolate with a special surprise inside for them. Every year is always the same: the children, very excited, open their eggs to discover their surprises, then they immediately go into their room to play with their new games and leave their chocolate eggs on the table, untouched. So what do their parents do? They take advantage of the situation to devour the eggs within a very few seconds!!!!
"Angel's Monday", the day after Easter, is traditionally spent by Italian families going out for a picnic or for a one-day trip. Italians leave early in the morning, preparing sandwiches at home. Where to? The mountains or the beach, a peaceful place where they can spend a day in total relaxation, breathing fresh air, playing football or volleyball with friends or visiting some artistic monuments. The key words of this holiday day are Peace and Relaxation.
Some old Italian people, especially those living in the country, remember this day as one of the most fun days of their childhood because on this day, their parents used to boil eggs and once they were ready, they allowed their children to paint them with water-colors. The child who made the best decoration won a prize, a very small present, which however, made all these children competitive and extremely joyful. Adults on the other hand didn't paint their eggs but they boiled them and then used them to "fight against their friends". They let their boiled egg crash against their adversary's egg and the egg which lasted longest and didn't break, crowned its owner as the absolute winner of this game called "scoccetta".
Now this game, like the painting of eggs has fallen into disuse, but we think it's good to remember them because, even if they are outdated, they are still part of our history and our traditions, symbol of another era when people were certainly poorer but also happier than today, because they were able to enjoy themselves for hours and hours just using very simple things and, above all, to share their joy with others. Probably the authentic meaning of Easter was exactly what was expressed by our forefathers; how could we rediscover it?
Through this article, we have recounted the main Italian traditions and customs concerning Easter time. Do you have different traditions from ours? Perhaps a characteristic special Easter dish that you'd like to describe to us? Leave us your comments! Your experiences are most welcome!!!