European Fashion Shows Men's Autumn/Winter 2016/2017
Refined and eye-catching colors and the welcome return of a valuable accessory such as the handbag, in all of its shapes and most various sizes, will make the man of the next cold season 2016/2017 a true icon of style and glamour
This past January 24, 2016 concluded in Europe the fashion shows of Men's Autumn_winter 2016/2017, after two weeks of frenetic activity and streams of reviews on the part of fashion bloggers and accredited journalists who, again this year, through their meticulous work, have allowed us to taste a bit of that adrenaline fueled atmosphere, without having been seated in the front row.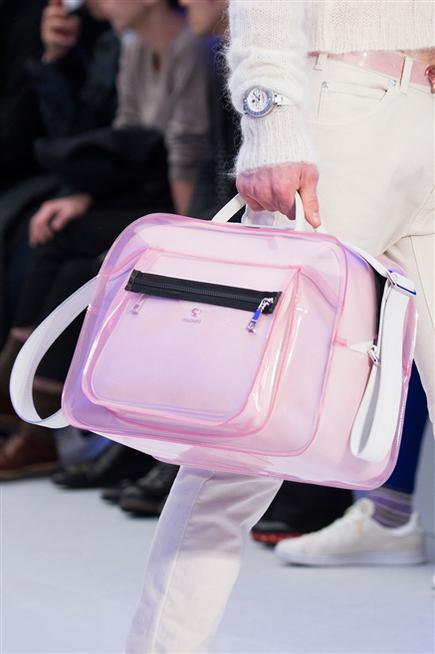 As always, comments at the shows were mixed: if some industry insiders have called these men's fall-winter collections 2016/2017 simply beautiful as they put on display the man's desire to regain possession of his identity, of his own style and his concept of elegance, others have found these collections a bit surreal, contrary to the actual condition of contemporary man, almost as if the male figure wanted to be a bit mocked and teased, by making them wear silver suits or purely pink and blue bags.
One thing is certain: for better or for worse, these fashion collections made conversation and for many fashion designers this is what counts.
What then will be the look of the new man in autumn-winter 2016/2017. How will he dress? Which clothes will mainly characterize him? What accessories will complete his style? And which trendy colors will embellish his wardrobe?
Looking at the collections of some of the biggest names of italian and international fashion, emerges the figure of a man aware of his appeal and of his male identity who, nevertheless, loves to take care of his look down to the smallest detail, paying attention to every finishing and to the choice of the most suitable fabric and the garnishing of quality accessories, capable of fully satisfying his every need.
The coat is the garment Must of next winter, let out in all its versions: knee-length or nearly to the ankle, in fabric, knit or covered in fur, solid colors or decorated with prints and frills, elegant or casual.
If the businessman opts for the classic double breasted coat, slightly oversized, the young wear the parka, the sportier and more casual version of the coat, for a look decidedly more dynamic and comfortable. Pants are rather soft and wide (except those worn by the Versace man which will continue to be very tight), made of fabrics and colors that recall a bit of '70s fashion.
Fundamental are accessories, from a wool or structured hat to leather gloves, from shoes of exotic leather or with decorations and bolts on the sole to the handbag, let out in all shapes and sizes. And it is precisely to the bag as the IN accessory of the masculine look autumn-winter 2016/2017 that nearly all the designers dedicate a particular attention. It is no longer seen as a quirk or as an added element but becomes a fundamental part of the look, an accessory which not even a man can do without. For each is matched the model of bag most suitable, chosen and combined with skill and taste, for better enhancing the style, yet without weighing down poise.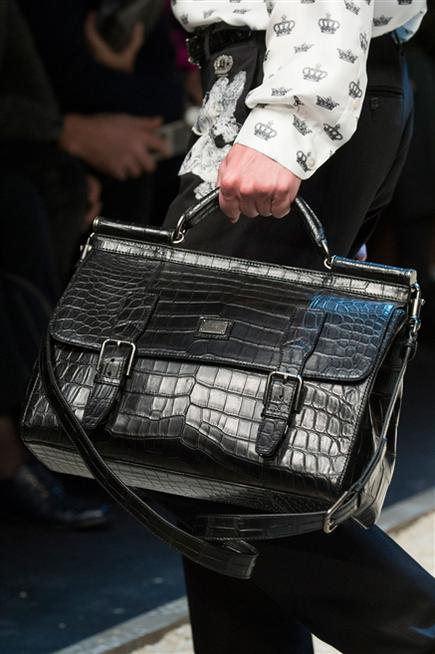 The elegant man, attentive to his image, presents then with a briefcase clutch in hand, held in hand with refined composure, created perhaps in the same color and leather of the shoes, or, if it is a businessman who, for work or pleasure, spends much of his day away from home, the best solution lies in the classic tote bag made in the classic shades of black, green, burgundy and brown, provided with handles and held elegantly in hand. There are those who dare, embellishing their bag with decorations and designs or those who choose for their office portfolio a prestigious leather like crocodile, repeated, in some cases, also on the shoes, as in the case of the man dressed in Valentino.
For all the men that rather love to be always in step with fashion but prefer a more casual and sporty style, the ideal bag is the messenger, carried across the torso, practical and large in size, where everything can be put, from work documents, to I-Pad, from books to their personal belongings.
A valid alternative to the shoulder bag is the backpack, worn on the back, practical and discreet, perfect for those who love to feel free and at ease on every occasion, among friends as well as in the workplace.
Are you curious to discover in more detail some of the most attractive proposals for Men's fashion Fall/Winter 2016/2017 presented by some well known world famous designers?
Then do not miss the second part of our article which will be published here in a few days and …. happy reading!