European fashion weeks: What is in? What is out?
2008 is coming to an end and a new year is about to begin! It's time to weigh up all the trends that have been proposed during the European fashion weeks of the last few months, so that we can get an overview of the new fashion trends for 2009. What are the new color trends? Which models of handbags are the most fashionable? What is in? And, what is out? Let's have a closer look at the details through this in depth analysis.
If you read our previous articles focusing on the Milan, Paris and London fashion weeks, you already know that the most important fashion houses have created their collections thinking of a woman who is claiming her rightful place in society and always needs to appear extremely elegant, gorgeous and refined, wherever she is and whatever she does. She is no longer seen as a simple creature but as the center of her world. Everything revolves around her so she must pay attention not only to her body but also to her look, to every detail creating her style. Accessories too now have a particular importance because they complete the look, enhancing the woman's intrinsic style. Handbags and shoes are essential elements of a truly stylish look. Everything must be put together perfectly.
All the top European fashion houses agree in creating a brighter and more refined look for women next year, giving her very elegant handbags embellished with crystals, pendants and rhinestones which are not only extremely beautiful but also comfortable and high quality. Many designers, especially Italian designers, propose handbags and purses made of genuine exotic leathers, such as crocodile, ostrich and python skin, because these leathers are extremely prestigious and long lasting and they perfectly embody the idea of a luxury accessory which will enhance a woman's natural charm and refinement.
BUT WHICH ARE THE MOST FASHIONABLE STYLES OF HANDBAGS FOR SPRING-SUMMER 2009?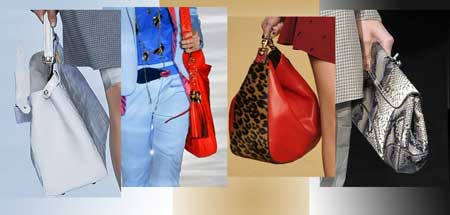 Spring-Summer 2009 will be characterized by the return of classic elegance. Most European fashion houses propose the classic "Clutch" as the trendiest bag of 2009. Made of high quality leather and decorated with pearls, rhinestones and pendants, this model is considered the best to set off a woman's style, giving her a touch of undisputed glamorous sensuality. It often comes with a medium length detachable strap made of fine silver or gold chain and it goes perfectly with formal wear, where elegance is a MUST.
However, there are three different ways proposed to "wear" this clutch, according to what was presented at these European fashion weeks! Italian fashion houses give women the choice of wearing this clutch with its chain strap on the shoulder, if she likes, or of clasping it in her hand, keeping the strap inside the bag. British designers send their top models down the catwalks dangling this clutch from its strap, as if it were a simple bag with a handle, while French designers "decree" that women should always hold their clutch in their hand. Whether it is a special occasion clutch, decorated with shining crystals, or a simple clutch, which could easily be worn as a shoulder bag, according to French fashion houses, you are only fashionable if you clasp it in your hand.
The other style of handbag which will be incredibly fashionable next year, is the "tote bag", a very comfortable model with a large internal compartment and many pockets to keep all your things organized. Totes go with every look, from the most casual to the most elegant, because these handbags too can be very refined and enriched by decorations and pearls which make the woman's look more stylish and glamorous.
However, the proposed ways to wear them differ from one nationality to another. Italian fashion houses combine totes with their daytime looks, because these bags, being very wide and practical, can be certainly used by the business woman for work or a business lunch. They can fit business papers and documents but still have room for everything a woman needs by her side to appear fresh and dynamic. Totes are very often made of genuine python leather and are provided with internal and external pockets. Thanks to a comfortable strap or two long handles, Italian tote bags can be worn on the shoulder, so that you can move more easily and keep both your hands absolutely free. A few Italian designers, however, prefer sending their top models down the catwalk holding their bags, (not just totes) from the handles, especially when they have short handles that don't allow the handbag to be worn on the shoulder. But, they have a new twist in this way of wearing your bag: designers propose that you dangle the handbag from just one of its handles, leaving the other side completely open. You might risk someone stealing your wallet but at least you'll know that you are in fashion…..and you have to run a few risks to be fashionable!!!!
French fashion houses, at Paris fashion week, also proposed the tote as the second trendiest bag of 2009, but dictate that you absolutely must clasp your tote in your hand, as if it's a small clutch (not by the handles at all!). French fashion is very definite on the subject of handbags: you can certainly use them but not wear them on the shoulder. Whether your handbag is a purse or a tote bag, the rules don't change: you absolutely must hold it in your hand. British fashion also recognizes the importance of the tote style for the dynamic business woman but, unlike Italian or French designers, the British ones let the woman hold her tote by its handles or its strap, even if this bag is quite bulky.
British fashion houses also propose a third style of handbag for the dynamic business woman: a sort of medium-sized rigid suit-case to hold in your hand and which has plenty of room for all your daily needs. They are made of leather or of fabric, according to personal tastes and the individual labels. This fashion alternative to the classic tote bag is also proposed by some French stylists, whose top-models walk the catwalk holding these suit-cases by the handles, as they were luxury handbags to display with pride. While Italian and French fashion houses pay more attention to the external perfection and every detail of the handbag as a luxury accessory British designers propose this item which is certainly simpler and more prosaic than Italian and French styles but is extremely practical and absolutely comfortable. Woman, according to what emerged at London fashion week, must be perfectly in order, trendy and gorgeous but she must also be practical and her handbag should give her total comfort and support.
AND COLORS? WHICH ARE THE NEW TRENDIEST SHADES FOR SPRING-SUMMER 2009?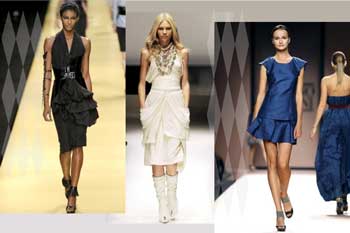 According to what emerged from Milan, Paris and London fashion weeks, spring-summer 2009 will be characterized by an explosion of vivid colors which infuse your heart with harmony and happiness.
Classic tonalities such as black, dark blue and brown are very fashionable next year too, in particular for formal wear and women's evening dresses, because they perfectly embody the colors of elegance and prestige. After these perennial shades come the very trendy, typical, light colors of summer such as light grey, beige, pink or sky blue, adopted by almost all the designers for fresh and youthful summer dresses to wear during the day, and stay cool in the hot summer weather.
As far as the hottest color of spring-summer 2009 is concerned, we can easily affirm that there's not just one trendy color. There is the re-discovery of some shades such as emerald green, turquoise (above all in Italy) or electric blue which are featured by almost all the most important designers who see these tonalities as the typical intense summer colors, bringing to mind the depth of the crystalline sea or the wonderful colors of leaves and plants.
Summer evenings are then brightened by metallic colors such as gold or silver, used for accessories made to match metallic evening dresses, which together with more sober shades such as black, blue or brown, enhance the perfect form of the woman, giving her look a prestigious touch of refinement. Wearing a golden blouse, with a black skirt and a python clutch in the same golden color as the blouse, you will look like a shining star and your look will attract the admiration and the eyes of everybody around you. There is nothing more amazing for a woman than being appreciated not only for her intelligence and her beauty but also for her style and elegance and now you can finally reach your goal!!!!
Next year will be also characterized by the return of white: trousers will be white, shirts will be white, accessories will be white….It is the color of freshness, purity and light and through this tonality, most of the European fashion houses wish to emphasize the natural beauty of woman as a pure, ethereal creature. Many different kinds of white fabric are used by designers for their creations (some fashion houses base their entire collections around white) but the result never changes: the woman in white has something different from others, a special light which sets her apart and makes her sublime.
Italian fashion houses are still deeply in love with purple, the trendiest color of 2008, and they are proposing purple dresses and accessories for next summer too. Purple will be trendy in all its shades, from Lilac to Fuchsia, from purple to dark violet. Each tone of purple will be fashionable next year, also combined with pink or light grey. French and British designers too have been captivated by vivid shades of purple, especially fuchsia which makes each dress, each accessory look young, elegant and absolutely original. Woman is the centre of the world and the brilliance of this color helps to keep that in mind. Wearing such a color, nobody can help noticing you and your incredibly trendy look.
The other "hot" color, according to French and British spring-summer fashion collections, is Red, typical color of love and passion. Its brightness will make you appear extremely charming and seductive. It is the perfect color to wear both at work, to combat the monotony of the working day or in the evening to attract and seduce someone with your natural beauty and elegance.
Typical summer shades such as orange and yellow never go out of fashion and they are present in most of the spring-summer 2009 collections, combined with lighter colors such as white or beige or contrasting with other strong tonalities such as purple or red.
Spring and, above all summer are the seasons of bright color, vivacity and the re-birth of nature. Why not bring this positivity and harmony into the fashion world? The European houses of fashion have attempted this and the results are really…..astonishing!!!!
Which is your favourite style of handbag and your favourite color for spring-summer 2009? Leave us a comment!!!