EVENING BAGS: SHINE AT NIGHT!
Do you wish that you had something exclusive and glamorous to wear with your evening dress but every time you look for it, you can never find an appropriate accessory which goes well with your look?

Don't despair, because you are not alone! Many women experience the same problem as you every day: finding the right purse, a beautiful and refined evening bag to go with an elegant dress and look wonderfully attractive without being over the top..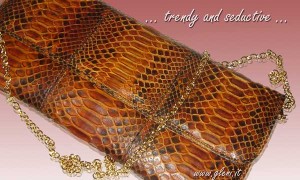 A woman today has to fulfill many different roles: she has to be a patient mother and a good wife, she has to keep the house clean but also run a business and use her business skills. She is playing an important social role in society but, above all, she is growing her career, becoming more indispensable in the world of business every day.
Her life is active, dynamic, fresh. She is always on the go, dividing her day between family and business, taking advantage of her spare time to think about her physical well-being, jogging or going to the gym.
The image of this self reliant woman, always busy at work and with her family, is very often reflected in her look, impeccable and perfectly put together, with special attention paid to details and accessories. At work and in her spare time, our woman is never in disarray, but always appears fashionable and stylish, both when she wears casual clothes and when she adopts a more glamorous and elegant look.
We'd like to focus on this particular point to let you understand how women have evolved over the years in their tastes and the way they use evening handbags and purses to wear for an elegant evening event, where refinement and glamour are a MUST.
Many years ago, a woman's traditional evening wear for parties or special evening events would have been a classic long black dress and a simple black evening clutch. She didn't need to spend too much time thinking about the accessory which completed her look because the most important thing for her was appearing elegant and well-groomed, it didn't matter whether the handbag was old fashioned or stylish. Evening dos or special occasions for dressing up in a glamorous look, were few and far between, so our grand-mothers usually bought just one classic elegant bag to wear with her refined evening look and wore it only for these special occasions so that it would last for years.
Today the situation has completely changed. A woman, thanks to her job or to her more active social life, undoubtedly has many more occasions to go out after dinner or for dinner with her partner or with her colleagues, perhaps for a special party or just for a relaxing evening! Her wardrobe therefore needs to contain a certain number of elegant luxury dresses, refined clothes not only in black but in various styles and colors according to the occasion and absolutely trendy and seductive, often enriched by decorations and plunging necklines. But, as well as very gorgeous evening dresses, her wardrobe also needs elegant evening bags and clutches, in many different colors and shapes. Yes, the new woman won't be satisfied with one elegant purse to go with all her elegant dresses, as our grandmothers were, she needs to have an appropriate elegant bag for each evening dress, matching it in style and color.
Imagine going to two different evening parties in the same week! What would your colleagues think of you, seeing you arrive at each party in a different gorgeous seductive long dress with its own matching clutch? They would certainly be impressed, toasting you as the most elegant woman in the room, making you feel happy and proud of yourself and your impeccable taste!!!!
Times have changed and the modern woman needs to feel that she is always perfectly dressed and absolutely gorgeous! Why not satisfy her needs, presenting her with seductive, exclusive accessories which will enhance her style and her natural sensuality?
Which of our evening bags will go best with a refined luxury evening look?
Click here to see Gleni's luxury evening bags made of selected exotic leather!!!