Exotic leather: a must for the fall-winter season 2012-13
Winter this year brings a welcome reprise that, we are sure, will gladden the heart of every woman who loves luxury and refined accessories that express her strong and dynamic personality.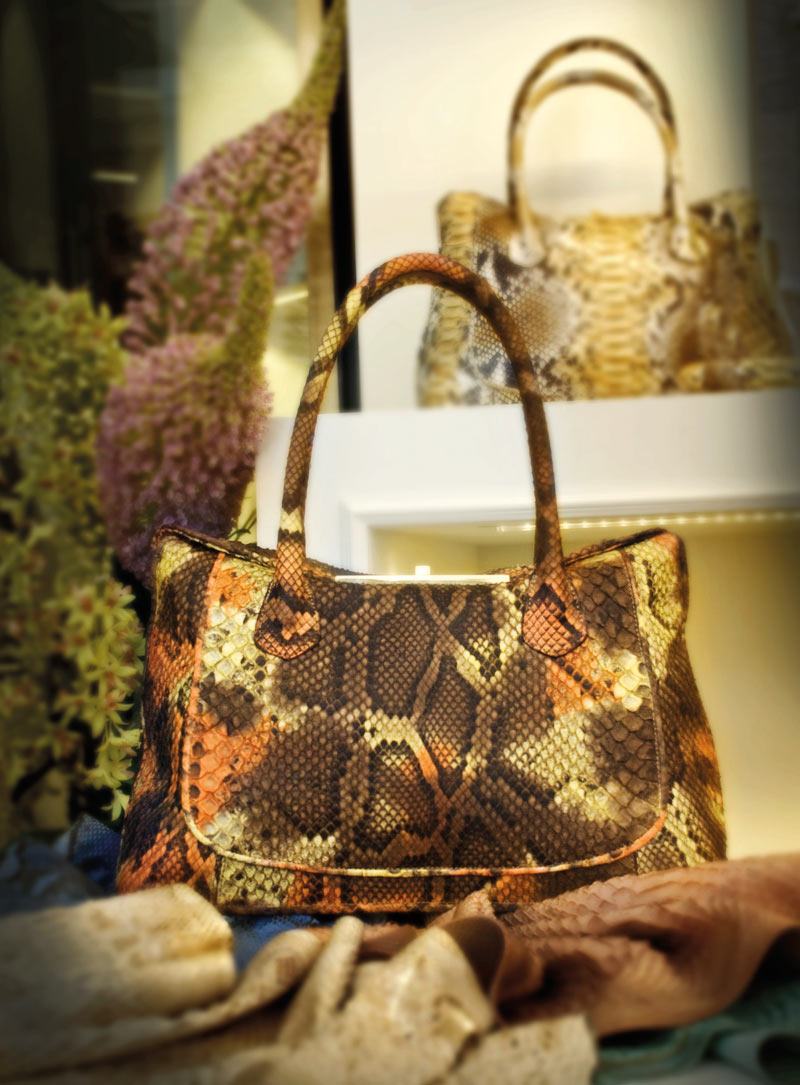 While previous fall-winter collections have seen the triumph of natural leather in all its many shades and nuances, handcrafted or smooth, enriched by decorations and beads or linear in its structure, the coming season will be dominated by a veritable "passion" for exotic leather, in particular for python, crocodile and ostrich skin.
Fashion collections for the coming fall-winter 2012/2013 season, proposed by our designers at the exciting "European fashion weeks" indicate, in fact, a real return to the genuine essence of beauty, glamour and luxury; styles are very refined, lines elegantly detailed and everything is finished in a way to enhance woman in all her charm, so she looks strong, dynamic and trendy, but at the same time, elegant and graceful.
Accessories also play an important role in enhancing this new women's look and what, better than a delicious exotic leather bag, to fulfil this prestigious task?
This was the main idea inspiring most of the top Italian and foreign designers at the official presentation of their creations for fall-winter 2012/2013, creations that  were a big success with buyers and fashion critics from all around the world., Thanks to the classic and simple lines, designers created exclusive, high-class dresses of undisputed prestige, framed by many luxury accessories (including many exotic leather bags and clutches).
Today, we'll focus on these accessories, given that, the exotic leather world touches us very closely, as producers of python, ostrich and crocodile handbags and accessories, so that we can guide you, as best we can, towards the new fashion trends, new styles and even help you choose the bag that will characterize your winter and reflect your personality.
The pentagon shaped bag conceived by Gianfranco Ferré, is made of genuine crocodile leather in aviation blue but with a gold metal structure, and matching gold chain strap, a really exclusive and fashionable bag to wear on the shoulder or carry as a clutch. Crocodile is also used by the renowned Italian fashion house for the classic clutch, perhaps brightened by a strong shade such as electric blue, but, for those who aren't crazy about this exotic leather, an alternative to crocodile is white python skin, used for a maxi clutch with gold chain gorgeously twisted around the wrist, transforming even the simplest shoulder bag into a delicious evening clutch.
Roberto Cavalli, for winter 2012/2013, proposes an office bag (that, if necessary, transforms into a practical shopper) made of genuine crocodile in classic black brightened by silver metal buckles. Python, on the other hand, in the fall-winter 2012/2013 fashion collection presented by the Tuscan designer, is used in an unusual spotted version mixed with natural leather, applied to an irresistible bucket bag that is held by the handle.
Plays of colour and subtle shading are the theme of the python leather used by top designer Giorgio Armani for his maxi clutches that, with or without strap, should be clasped in the hand, to further enhance the already glamorous style of exotic leather.
In Emporio Armani's new Fall-Winter 2012/2013 collection, on the other hand, king Giorgio focuses attention on the classic design of his bags, making them even more valuable with exclusive leathers such as crocodile, and highlighting the horned aspect of the animal's back.
Trussardi adopts exotic leather not as a principal element of his line of accessories but combined with natural leather or, simply to enrich and exalt a special detail, for a restrained but unmistakable look.
exotic leather and crocodile in particular, in a glossy finish and in very bright and seductive shades, is also embraced by Bottega Veneta,, above all for bucket bags with short straps, while Versace adopts this leather for the production of very original and  unmistakable clutches, enriched by a side chain strap with the Versace logo in the middle.
Blumarine uses plenty of python for its Fall-Winter 2012/2013 collection. The famous fashion house uses, this leather not just for handbags and accessories, but also to make delectable women's dresses. In style and colour these match large handbags that, despite the size, are clasped in the hand.
Among the most fashionable colours of next winter, according to Blumarine, there is a return to metallic shades of silver and antique gold, which create sensational plays of light and shade when combined with the natural beauty of python.
The Etro house of fashion also focuses its attention on crocodile for its bags, really gorgeous clutches with a soft line (assured by the suppleness and softness of exotic leather) and defined edges. The classic clutch too is made of genuine exotic leather.
Fendi combines exotic leather and natural leather, applying crocodile to the front section of a black leather shopper, to make even an everyday item exclusive.
For a more refined look, the Fendi shopper in crocodile is even enriched by fur decorations.
The clutch proposed by Alberta Ferretti is made of genuine crocodile in a glossy black finish and has a side handle to make it more easily held in the hand.
The same classic style is also adopted by Gucci who opts for a glossy black crocodile clutch in a rectangular shape, perfect for women of all ages.
Genuine exotic leather handbags are therefore destined to become the new Must of the coming winter season: colourful and chic for the younger, trendy women; elegant and restrained in tone for women of all ages who love luxury and refinement.
Which genuine exotic leather bag will you choose to accompany your long winter afternoons with elegance and verve?
Visit our Gleni Boutique at www.gleniboutique.com and make your choice from our vast range of exclusive models, created by our designers especially for the new Gleni Fall-Winter 2012/2013 collection.
Enjoy browsing!