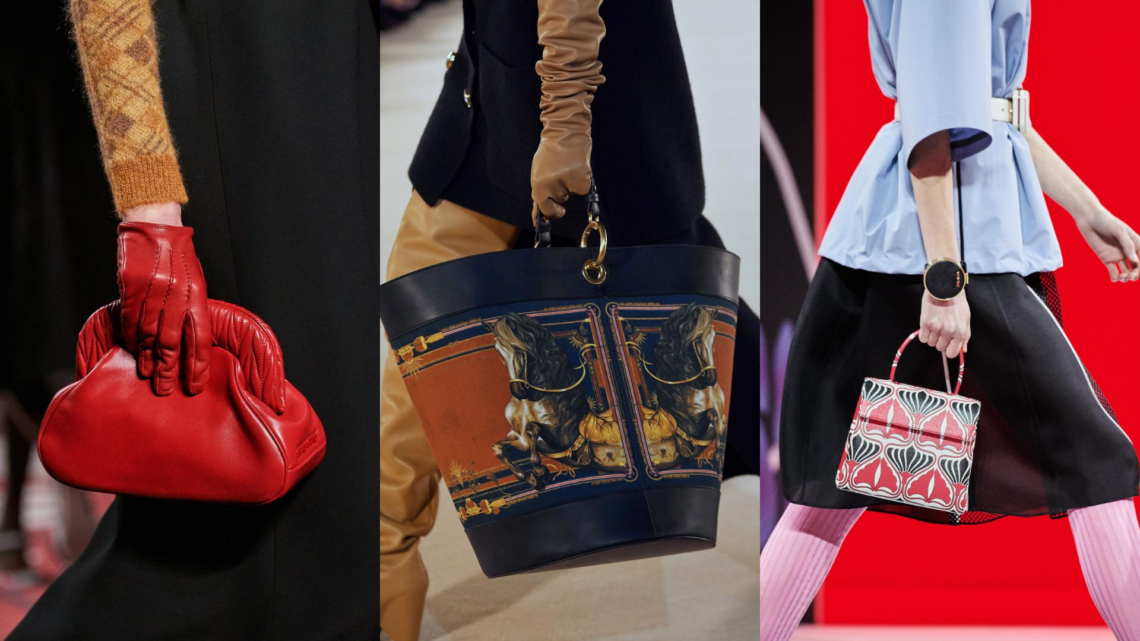 Fall-Winter 20/21: 6 must have bags
It's summertime and we are still surrounded by the sweet melody of waves crashing on the shoreline while we are lying on the beach, sunbathing and maybe drinking a fresh drink.
Our main goal is surely the one to have fun and to spend our summer holidays as best as we can, above all this year, after a very long period locked down at home because of the pandemic. We just want to hurry up and to feel free to move and the image of winter days, staying at home with frozen temperature and cold weather is not contemplated in our mind.
However, you know, fashion trends, don't respect the ordinary time table but they are always ahead to inform us in time about the new trendy styles we will be adopting next winter in order to always appear in step with fashion.
So, how can we distinguish from the crown next winter in a matter of fashion accessories? What style of bag will allow us to appear gorgeous and trendy? Which is the Must Bag of the next fall-winter 2010/2021 according to what proposed by stylists in the occasion of the latest Fall-Winter 2020/2021 European fashion parades?
Let's discover them together!
The woman of the next cold season will wear soft big clutches, wide bags having a flat and soft structure, to clasp in hand as they were classic pochette. They have been thought to be worn all day long, combined on tailored suits or overcoats. Many designers have adopted this style of bag as Must accessory of their winter collection, such as Isabel Marant, whose maxi clutch, realized in brown leather, is enriched by decorative studs, or Givenchy, whose maxi pochette can be considered as the focus accessory of his collection. The maxi pochette branded Bottega Veneta, instead, is made of interweaved leather provided with long fringes.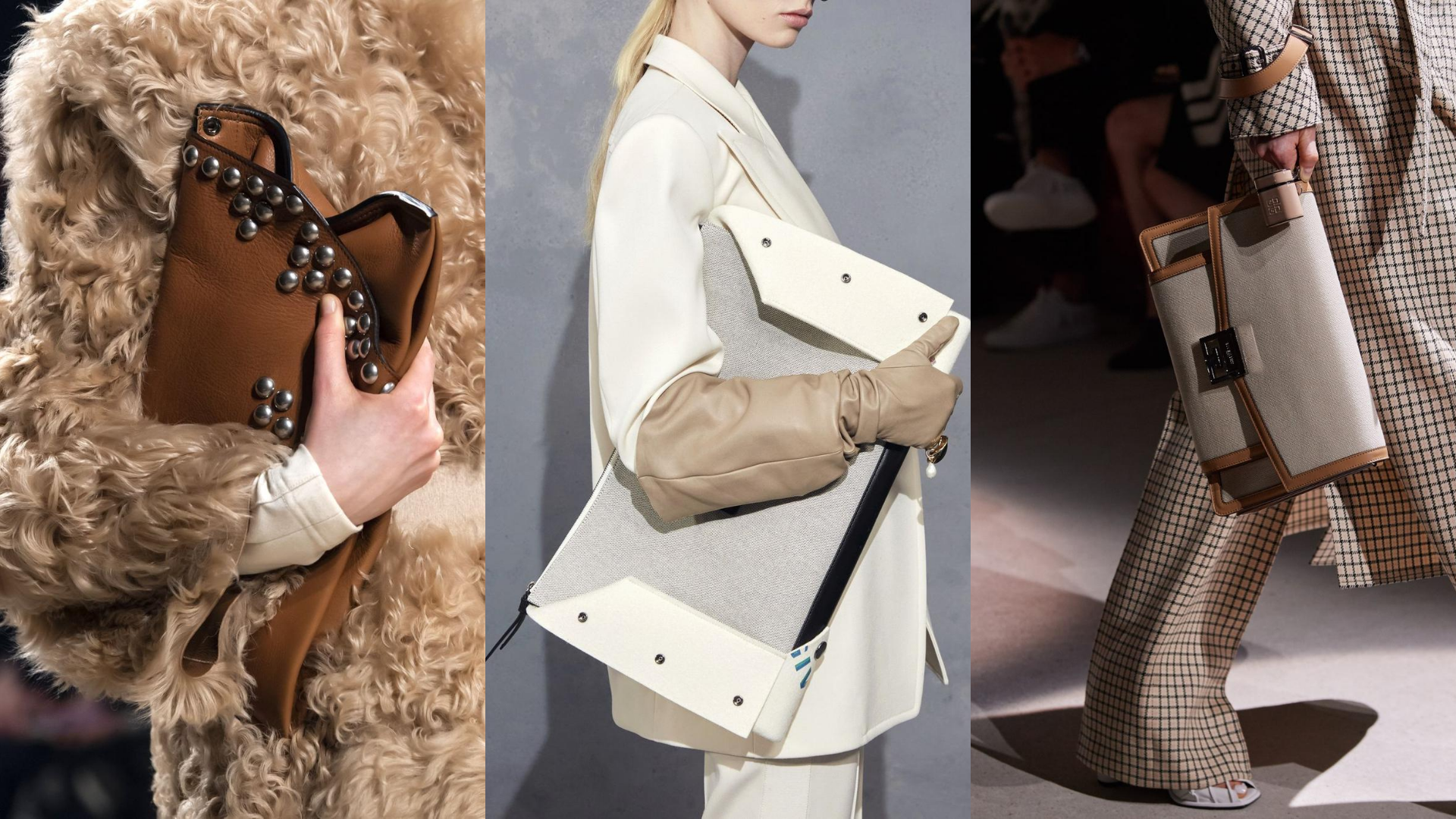 Next to the maxi flat pochette, the other model of a handbag that will be incredibly in vogue next winter is the Bucket bag, closed by a drawstring or fully opened (in the most audacious and original versions). This bag, simple in structure but roomy and comfortable in its inside, will perfectly fit with every look and style. The easiest and most classic version is the one proposed by Loewe, a classic bucket bag with drawstrings realized in black and olive green leather, while Max Mara proposes a mini bucket bag with drawstrings to combine on a big fake fur bag, as it were an extra added pocket for keys or smartphone. Gabriela Hearst transforms the classic bucket bag with drawstring in something gorgeous, eliminating drawstring and realizing it in tapestry fabric. Balmain offers an unusual version of this bag, completely opened in its upper section and provided with a very small strap acting as a handle, with paintings on leather creating a three-dimensional effect.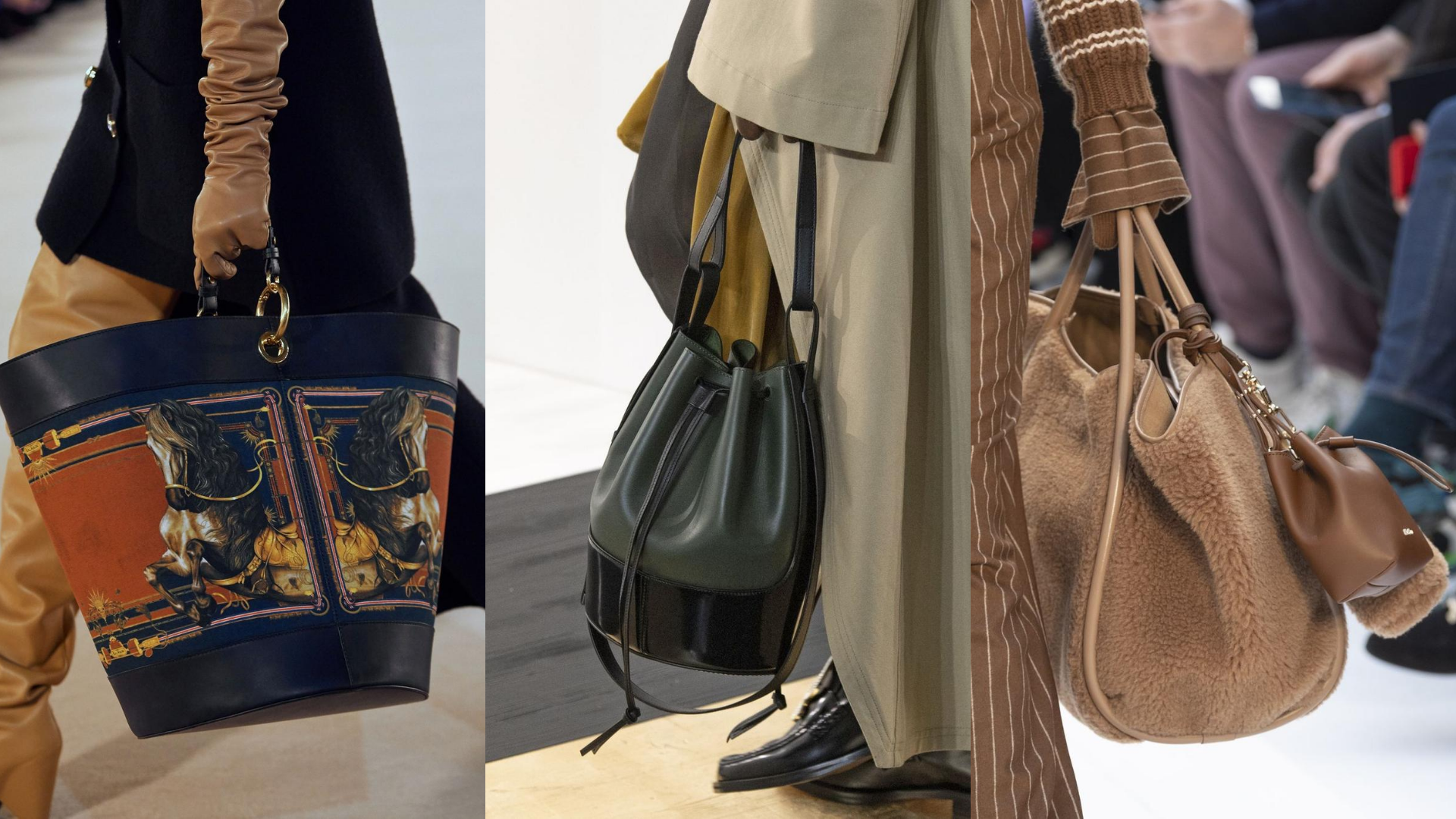 The other star of the next Fall-Winter 2020/2021 collection in a matter of accessories is the Pouch bag. This model will no longer be used only as a day bag but it will transform into a Must of luxury and elegance to wear also at night, thanks to the application of crystals and stones on leather and fabric. The Pouch Bag branded Miu Miu is very simple, made of leather, in combination with gloves, while Drome chooses a particular leather, such as exotic leather (don't care if genuine or printed) to make its Must model of Pouch Bag. The one ideated by Erdem, on the contrary, is made of black fabric but it is all decorated with shining stones and pending crystals.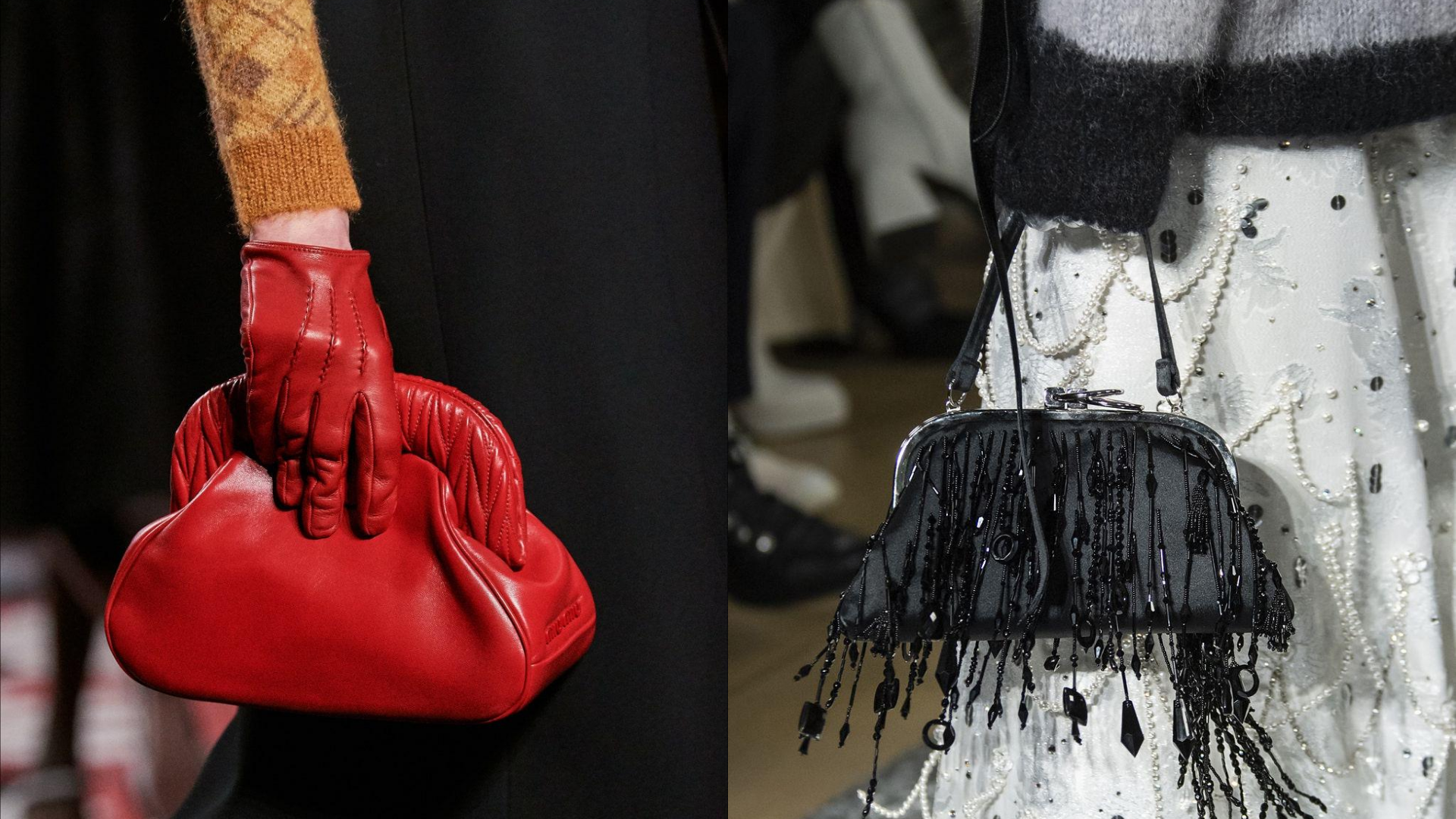 Do you need a small bag, particular in shape and extremely gorgeous, capable to enhance your look and let you appear special? Don't worry because the incoming cold season will satisfy your many tastes and desires with the coming back of the ladylike bag, the small, structured bag having a geometrical shape to clasp in hand or to wear on the forearm thanks to the small strap. If Prada proposes this model in a total white version, Gucci realizes it in combination with gloves.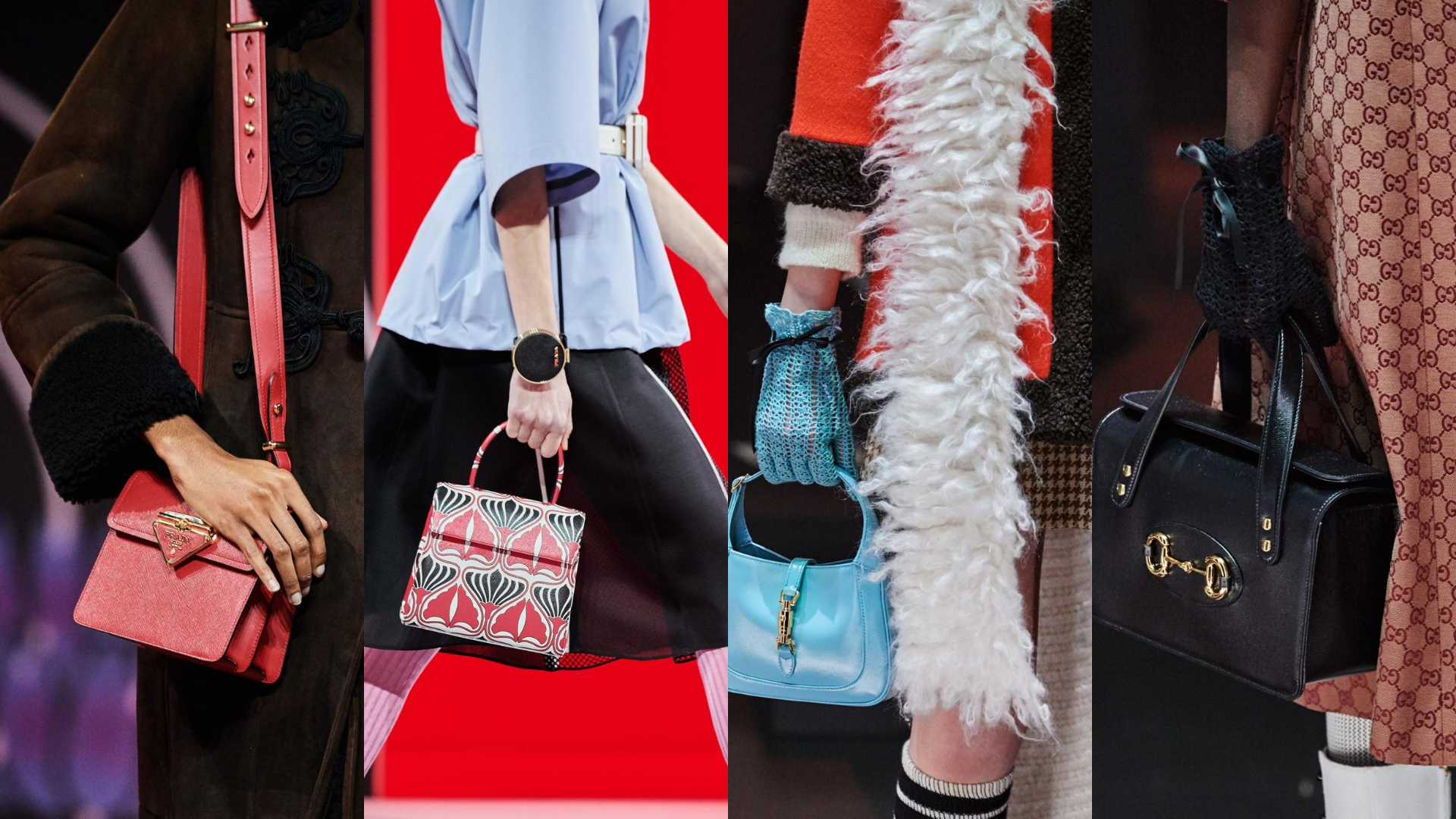 Fashion designers, however, have not only thought to the woman-loving small, beautiful bags for daily life or evening sparkling events. They have also reserved attention to the woman in her working place, to the businesswoman spending a lot of time at work, among her customers and, for this reason, desiring appearing always fashionable and at her own easy also with her office bag. She is a modern and dynamic woman and her bag must absolutely meet her needs: it has to preserve her business documents, her laptop but also her personal effects, her make-up and, maybe, a cloth change for her gym class. The bag ideated for this kind of woman is an XXL bag, larger and wider than a shopping bag, provided with more compartments and many different pockets. This maxi bag is so wide that, if necessary, could be the perfect solution for a short getaway out of town. The XXL bag branded Christian Dior is a classic big shopper, simple and linear in style, made in the typical Dior printed fabric, so as the XXL bag proposed by Fendi, an enormous maxi squared shopper in powder tonality with the black Fendi logo on evidence.
A tribute to the hand craftsmanship is expressed by the return in vogue of the knitted bag, created by the interweaving of coloured threads. Some stylists, such as Simone Rocha, suggest mini knitted bags realized with net workmanship, better if using laminated threads giving the item itself more allure, while others, such as Johnathan Cohen, in its Fall-Winter 2020/2021 fashion collection, proposes maxi soft knitted bags to clasp in hand, enriched by very long knotted fringes, to realize in the same tonality as the coat or the dress.
---
Here at Gleni, you can find the above Must models of bags, skilfully handmade by our Italian craftsmen with the task to astonish your senses and conquer your soul. Many gorgeous models, realized in many different combinations of exotic leather and colours, are just waiting for you to let you appear gorgeous and unique but, at the same time, in step with times and never old styled.
Any suggestion?
For what concerns the Bucket Bag, we can propose you, two different models:
Model 5113 available in the new turquoise tonality with silver metallic spots or in classic nut colour ( for all those women who love a classic, evergreen accessory);
Model 5052 in Molurus Roccia python leather, a wider bag than item 5113 but always preserving the same "bucket" structure.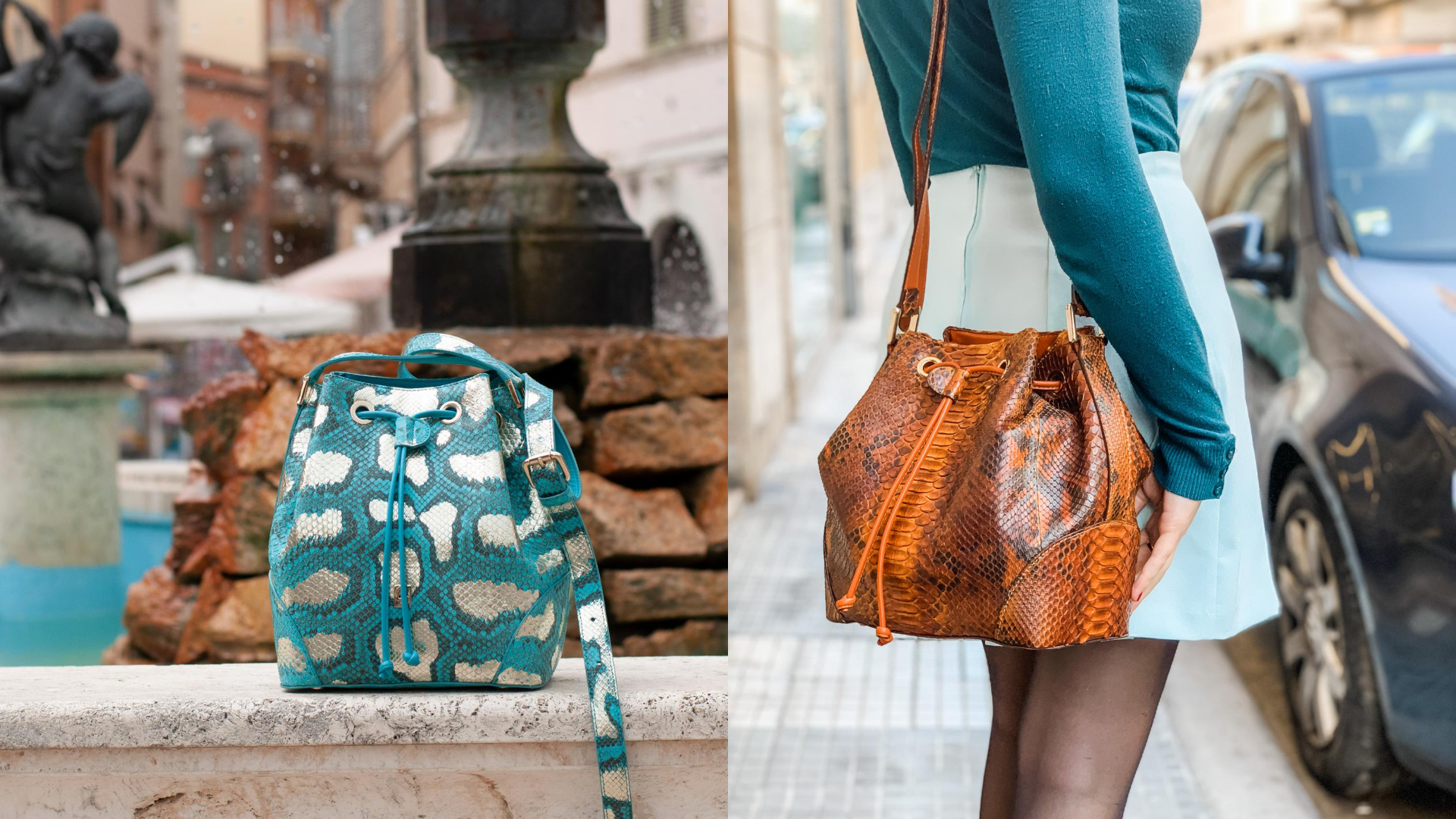 Among our XXL bags, we can suggest to you:
Wanderer: a wonderful enormous bag realized in Giant Back Cut python leather. It can perfectly be used either as office bag, thanks to its large internal compartment or as travel bag if you have to make a short journey and you just need a comfortable bag capable to keep all the essential for your wellness.
Model 4967: a wide, comfortable bag realized in genuine brown ostrich leather "brushed effect". This model, provided with two middle length handles and a single wide internal compartment will give you all the comfort and the ease you desire without depriving you of luxury and high quality.
Model 5034 could be the perfect model of Ladylike bag, having a structured line, a little rounded in its upper section but really gorgeous and comfortable. Then, if you really want to bewitch and distinguish yourself from the crowd, we suggest you our beautiful version of Dalia in genuine python leather with printed coloured butterflies, an explosion of vivacity and harmony concentrated into a middle-sized structured bag.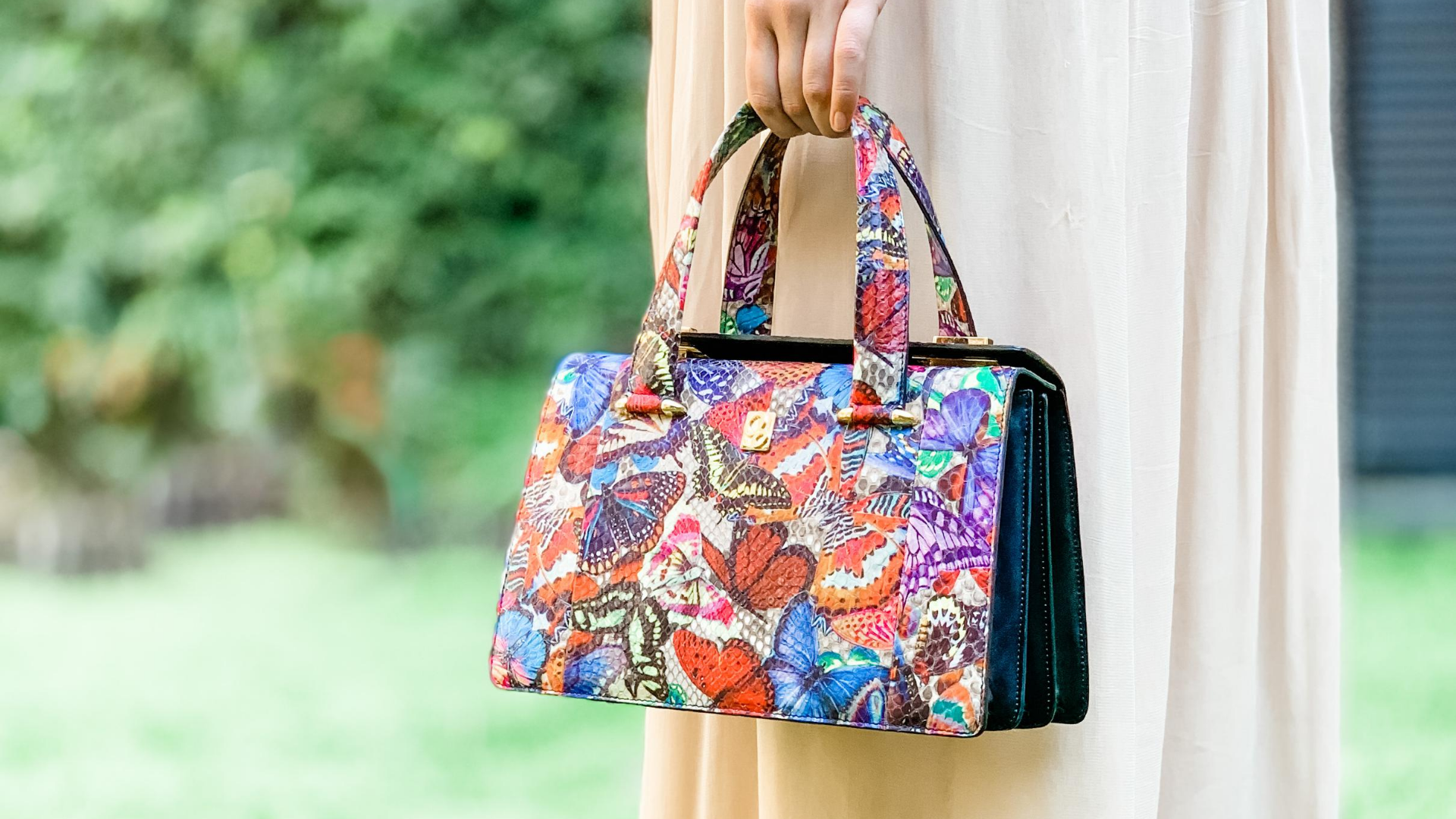 Don't you like our proposals? Check yourself your most appropriate Gleni bag, the one capable to capture your heart since the first sight or just the one you consider the most appropriate for your style.
Enter now our Gleni Boutique and take advantage of the very convenient discounts applied on a waste range of exotic leather bags; you could find here your Must stylish bags for the incoming Fall/Winter season 2020-2021 and update your wardrobe with new products paying them at a reduced price!
Written by Cristina.
Reference: