Fashion Houses' Crush on Ostrich Leather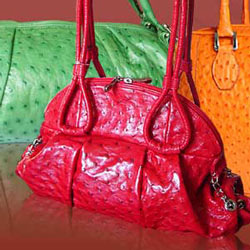 Are you one of those compulsive shoppers who goes around collecting exotic leather products such as ostrich leather hobos, python leather clutches or crocodile leather purses? If that is you, then you are not alone, you have plenty of company. People with exclusive taste and finesse go for exotic leather products, as they are not satisfied with the ordinary and the regular leather purses or hobos. It is not only you and I who are crazy about these exotic python, ostrich and crocodile leather products fashion houses themselves have a special place in their collection for these leather products. Amongst all the other forms of exotic leather products, ostrich leather products attract both consumers and the fashion houses alike. We can even say that fashion houses have crush on ostrich leather; you will hardly find any fashion house without at least one ostrich leather product in their exclusive collection.
There are many reasons to this crush; primarily, it is easy to work with ostrich leather. Top designers enjoy drawing products using ostrich skin. Ostrich leather hobos are more than just good looking. It reflects a lot about the person who carries around an ostrich leather purse or hobo. It reflects their rich sense of taste. Designers find it easy to work with ostrich skin because it is suppler than all the other leathers. How does suppleness help designers? When the leather that you are working with is supple, the designer can create any shape out of it without having to compromise on their creative style.
Those who have not used ostrich leather clutches or other exotic ostrich leather products presume that ostrich skin is not durable because it is too supple. However, as soon as they feel the touch of an ostrich hobo, they immediately admit that they were wrong. Contrary to many people's misconception, ostrich skin is one of the toughest leathers. exotic leather products made of ostrich skin lasts a lifetime. This is another reason why fashion houses love ostrich leather; if the product is durable then the value of the item increases in the consumers' assessment and hence the value of the brand name. So all top brands make sure that they have at least a couple of exotic ostrich leather products.
The extraordinary texture is another reason why people love ostrich leather. The natural dotted finish makes almost all the designs look extremely attractive. Moreover, ostrich leather absorbs the colors well, so you can have ostrich handbags in wonderful shades. You can get your clutches in colors that you cannot imagine in the other original leather products.
As you can guess, you have to pay the price for the quality of these products. Moreover, the increasing demand makes it all the more expensive. As fashion houses are able to come out with highly innovative, original designs using ostrich leather, they price their products high. Popular designer brand name and exotic ostrich leather make a killing combination; here one complements the other.
Never miss an opportunity to own your ostrich leather hobo.