Press release: Gleni Launches New Luxury Python Belt Collection
Launching their new range of luxury fashion python belts, Gleni is confident in the growing demand for top quality leather fashion accessories. Current trends in high fashion have put the spotlight on belts and even in times when the economy is slow they make excellent long term investments.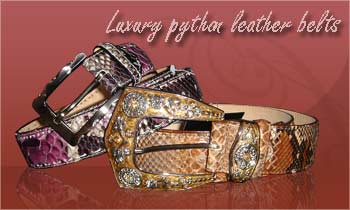 Fashion python leather Belts
San Benedetto del Tronto, Italy, July 4, 2008 — In response to growing demand in the luxury market, Gleni, the Italian specialist makers of exotic leather handbags, have just added a new range of luxury python leather belts to their online Boutique at www.gleniboutique.com.
Known for their impeccably hand-crafted handbags that are guaranteed 100% Made in Italy by skilled artisans, Gleni have launched a new fashion belt collection, which continues their tradition of fine craftsmanship and is expected to appeal to their discerning customers, who can now match the quality of their handbags with top of the range, luxury belts.
"Our customers are elegant women, who want to be perfectly groomed both for work and leisure," said Gleni director, Arben Qoku. "They appreciate the best quality and look for really gorgeous and exclusive handbags that reflect their style and personality. Our dynamic new belt collection provides them with the perfect fashion accessory to finish off their look."
The latest fashion trends make this a perfect time to be launching this new range of belts. With top designers focussing on the waist in recent collections, the belt has become an important fashion accessory, defining and personalizing an outfit, giving a classic dress a more individual look.
With economic uncertainty in parts of the world meaning a tightening of belts for some, luxury belts are feeling the pinch far less and the demand for these luxury fashion accessories remains buoyant.
"Luxury belts are an extremely affordable way to add some luxury and elegance to your look," said Tatiana Miroshina, of Gleni's team. "A gorgeous python belt can totally transform a plain, classic outfit and those who crave the buzz of a luxury purchase, but are on a budget, can add some versatility to their existing wardrobe by investing in a couple of python belts in different styles, instead of splashing out on an expensive designer outfit that may only last one season."
Well-made leather handbags and fashion belts are indeed luxury accessories that can be seen as investments, which explains why the demand for them remains high even in slower economic conditions.
A professional woman needs to create an image that inspires confidence in both her skills and her business sense. By investing in the best quality handbags and belts she puts out a subtle message of calm success. Top quality exotic leathers such as python, crocodile and ostrich will last for many years in excellent condition and retain their perceived value, withstanding the vagaries of fashion far better than designer clothing and shoes, so luxury belts and handbags make solid investment choices for those who need to dress to impress.
For more information on Gleni's luxury python belts visit http://www.gleni.it/ and view their new python belt collection at http://www.gleniboutique.com/US-python-belts.html.
# # #