Fendi baguette celebrates its 15th birthday
The Fendi baguette is now fifteen years old but it doesn't look its age!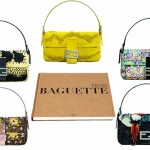 This exceptional design was created by Silvia Venturini Fendi in 1997 in response to a movement towards minimalism that was developing in those years not only in the fashion sector but also in the field of art and culture. Despite the passing of years, it seems to have steadily maintained its position among the top ten most classic and stylish handbags. Its simple and clean line makes it go perfectly with any look, and any style, from the most casual to the most elegant and this is the reason why every woman goes crazy for it and would like to have at least one in her wardrobe.
The Fendi Baguette has already captivated half the world and many people have even proposed that this accessory should be counted  as a genuine masterpiece of Made in Italy, equal in stature to the sculptures, paintings and historic buildings that make our beautiful country famous all over  the world, attracting thousands of tourists every year.
This handbag design reproduces the tricks of city style and represents pure appreciation of form, given that, Silvia Venturini Fendi herself created it with the vision of a hi-tech and linear handbag adapted to the frenetic life of a woman who never stops and, above all, to the shape of her body, so that it could be worn without any encumbrance in everyday life.
The Fendi baguette (named after the traditional long and crispy French bread, usually carried tucked under the arm), with its standard measurement of 25×15 cm, its double F acting as a buckle and its short strap allowing it to hang just under the arm (hence the association with the French baguette), has, since its birth, immediately become an icon, imitated and sought after not only by the big stars of cinema and entertainment, but also by ordinary women who will do crazy things to get their hands on one and to show it off as a "cult" object over the years.
The unexpected success achieved by this model from the very first months of its production really threw the Fendi fashion house, who were totally unprepared for such a stellar success. Despite substantial stepping up of the production process, interminably long waiting lists formed but, instead of discouraging the customer, these lists made this small masterpiece even more of an object of desire.
Owning this handbag was an achievement, not owning it was absolute torture.
While remaining minimalist in size, the Fendi baguette, has constantly renewed itself over the years, assuming an almost baroque spirit, made up of colour, sequins, spotted effects, graffiti decorations, flowers, buckles, fur trims, abstracts, Renaissance style hand weaving, recreating itself each time as a new and always authentic celebration of Made in Italy and of its craftsmanship.
More than 700 different versions of the Fendi baguette have been made over these 15 years, each with its own history and its own distinctive qualities.
Every piece, in Fendi's house tradition, is still entirely handmade even today and, for this very reason, the company can only produce a limited quantity of items per season: this, however, doesn't affect the product negatively in the least, but, on the contrary, it makes these items absolutely unique, very difficult to find and to collect and, consequently, really precious and valuable.
To celebrate the first fifteen years of life of this icon-bag in the manner it deserves, a book entitled "Fendi Baguette" edited by Rizzoli has been published. Through this book, the Fendi fashion house outlines the history of this bag, from its birth to its inauguration as a real it-bag. This status was confirmed when this model was chosen to run for a few episodes of the successful TV series "Sex and the City" where one of the main protagonists, interpreted by Sarah Jessica Parker is a real fashion aficionado of the Fendi baguette.
Sarah Jessica Parker herself was also invited to write her personal comment on the Baguette phenomenon in this book, together with many other celebrities such as Banana Yoshimoto, Sharon Stone (who conducted the amfAR charity auction with a Fendi baguette) and Paola Antonelli.
This book then illustrates, almost like an art catalogue, a good 250 full size pictures of the most significant models of the Fendi Baguette.
The launch of the book took place in Rome on June the 14th, and was accompanied by a big party organized by the Fendi fashion house. During the celebrations, 15 symbolic models were presented, 6 of which were revisited exclusively for this special event.