For the perfect summer look….the best of fashion shows
All it takes is a few days of sunshine and the thermometer rising a few degrees for our longing for vacation time and the beach to reach new heights!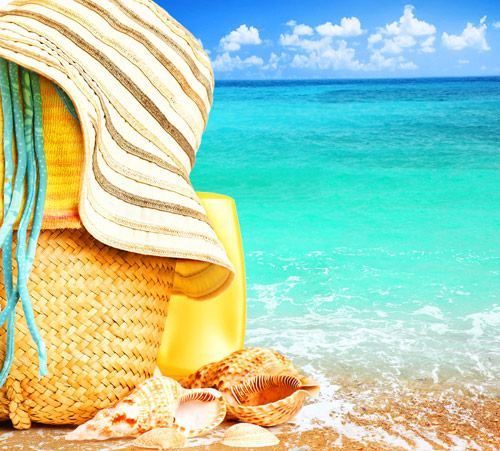 Although summer is only just beginning, don't let it catch you unprepared, at least on the "wardrobe" front: handbags, shoes, mini dresses, all fun and colorful, are just waiting to be  discovered and chosen to give a dash of energy and vibrancy to the coming summer….are you ready to pack your bags and go?
First of all, load your suitcase with plenty of swimsuits: striped, printed or with romantic ruches, so you'll have plenty to choose from.
Don't forget a light mini dress in vivid colors; a t-shirt – either basic or in bright and sunny colors – to go with a pair of shorts; a sailor style skirt and a belt to emphasize your waist.
As for shoes, it has to be flat sandals for the day: fluorescent colors, or a more ethnic feel and, for the beach, classic rubber flip-flops are always a must-have.
What about a beach bag? It should be chic, perhaps made of transparent pvc to have everything to hand, or in printed fabric with a colorful design….but for the very latest proposals, we will give you useful tips and advice in our next article.
Inside your bag put colored headphones to listen to music while sun-bathing, teamed with fun sunglasses and a panama hat to protect your eyes from harsh sunlight.
And for evening? Just opt for a pair of wedges decorated with luxury details to match the bright colors of your clutch bag. And don't forget jewelry: a pair of '60s-inspired earrings or a sparkling necklace with a Hawaiian appeal.
When it comes to updating our look, we can't do better than to cast an eye over what was proposed on the European Fashion Week catwalks for the new  Spring/Summer 2012 collections…so, just let's refresh our minds with the most acclaimed trends and new ideas: you can never have too much advice for a new look!
New York was in a cheerful mood, with bright patterns and an eye to  past traditions – everything mixed with joyful colors and more elegant sportswear than ever – for a new season full of optimism and trust. London preferred the surprise element, the many catwalks being dominated by pure creativity, visionary prints, original contamination and rich doses of humor.
Say goodbye to plunging necklines and skin-tight dresses: the new style is all about '20s and '50s details, such as deco embroidery, glamorous lace, chic foulards. But basically there are two main pieces that you simply cannot do without: the short mini dress and the jacket.
The fashion revolution in fact, never forgets the jacket: for this summer it is presented in a mini version, with high-waisted, baggy pants, or as a bolero, but also in a tuxedo cut even over a long evening gown.
There is plenty of room for experimentation, and this year this also applies to fabrics: in fact the new couture combines silk and vinyl, pleats and ethno-chic decors, modernist influences…..because now pleasure becomes a mental game.
Are you firmly convinced that to look seductive and sexy you only need a skirt slit to the thigh or the skin tight vamp look? It's time to reconsider, because this summer's woman is looking for a new sensuality that is more refined and feminine:  this is why we should go for elegant mini-dresses, flaring slightly at the knee, that bring to the fore a style made up of basic and functional clothes, even though the result is always glamorous, thanks to golden inserts, ornamental prints or transparent engravings.
While baring all is no longer in vogue, sexy special effects are still to be found, such as the lace that shows up again and again: this summer, however, it appears in a pop version, or in  shades of sorbet and pastel hues or brighter and more fluorescent colors, in micro net with a 3D effect, but also white and a little bit surreal, or even mixed with plastic.
Bright colors prevail, like passion red for clothes and accessories, but also the tones of emerald green and yellow in their various shades; some pastel-colored mini-dresses, not to mention the elegance of black and white, the classic play of contrasts where dress, jacket and blouson become synonymous with sophistication.
These are the main proposals that have most captured our attention and on which we are basing our wardrobe update. Are you ready to change your look?