Spring-summer 2010 men's wear: french proposals
Let's focus our attention on some of the most famous French brands presenting their spring-summer 2010 men's collections at Paris Fashion week in order to get a better idea of what the French man will be wearing next summer and which accessories will be fundamental to his summer look.
Yves Saint Laurent proposes a quite simple and linear men's style, characterized by one-button jackets and ankle length trousers. His elegant suit is essentially black or dark grey and the fabric used is shiny in order to give the man a further touch of charm and prestige. The tie, if worn, is black. His casual look, on the other hand, combines wide, comfortable trousers with maxi pullovers or knee length trench coats, or else with short jackets, similar to a bolero. The most popular colors are white, light brown, black and grey, while bright colors are not present in Yves Saint- Laurent's collection. There are no bags either, probably considered superfluous and not so trendy for next summer.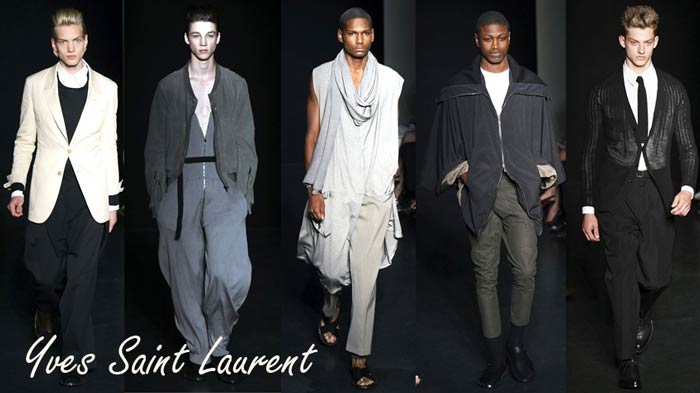 Dior Homme envisages for the man of summer 2010 a youthful tailoring style where elegant suits are worn over t-shirts and ultra light shirts. Dior's man is proud of the perfection of his body and enhances it with transparent suit jackets or sexy, sheer shirts. Trousers are soft and ankle length; their casual look enhancing the masculine figure. For evening wear, Dior Homme's stylist Kris von Assche proposes wide jackets, kimono style to superimpose in layers, according to the perfect Dior style. As for colors, Von Assche uses very sober shades like beige, white, grey and black, typical summer tonalities. The Dior Homme collection is complemented by accessories such as the man bag, wide totes with a practical strap to wear across the body or on the shoulder, even for an important event, where the "elegant suit" is obligatory. Jackets can be knee length or cropped to the waist, and the elegant trousers can be either long or Bermuda length to just below the knee.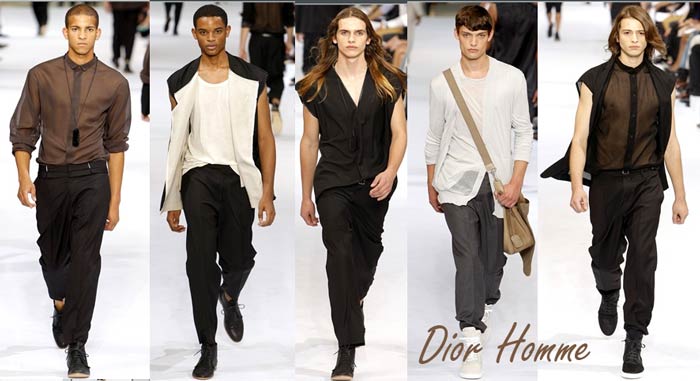 Hermes focuses his own men's collection on warm colors such as brown, grey, blue, beige and white, brightening up his creations with a T-shirt or a tie in a vivid shade such as purple, bright green or military green. The proposed look is very simple and linear, characterized by ankle length trousers and a jacket worn over a T-shirt or a light shirt. Very trendy is the brown leather jacket or the shocking green hand-knitted pullover worn over a pair of Bermuda shorts. Shorts too can be green if worn with a dark brown shirt. Moccasins are perfect worn with an elegant look while for everyday wear, Hermes proposes comfortable sandals. The man of next spring-summer 2010, according to Hermes, will wear very particular wide belts, which can be black or brown but are always made of leather. The bag is useful but only if it is a tote, preferably made of leather.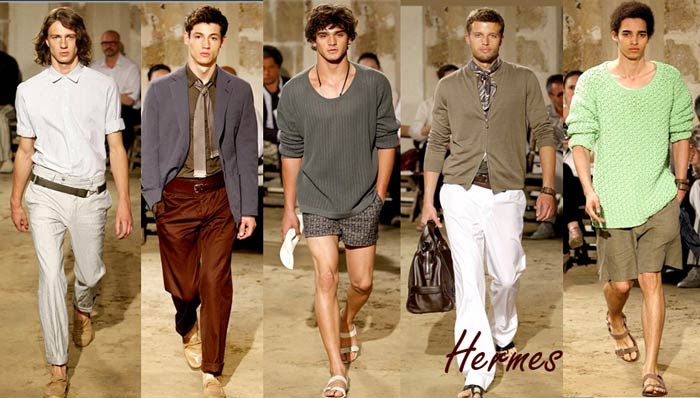 The typical summer colors of next summer, according to what Hugo proposed, are white and sky-blue, with a touch of red, even though black is always present, as a sexy evening look. Some suits are completely white, from the jacket to the matching shoes, others are entirely sky-blue. Red is used as a bright contrast for shorts or ankle length trousers, which become really gorgeous if the fabric is shiny. Sleeveless jackets are worn over slim trousers, while shirts are sheer, almost transparent, sometimes even non-existent. Trench coats are made of hi-tech nylon. Wide blue stripes contrast with thin white stripes for casual-elegant suits, while the evening look imposes a total blue look enriched by gold sequin sleeves. Shorts are very trendy both in the casual style or in the more elegant version. The Hugo man, next spring-summer will wear white or black sandals, and he will hold his usual tote bag in the hand, a tote bag which is almost as big as a suit-case.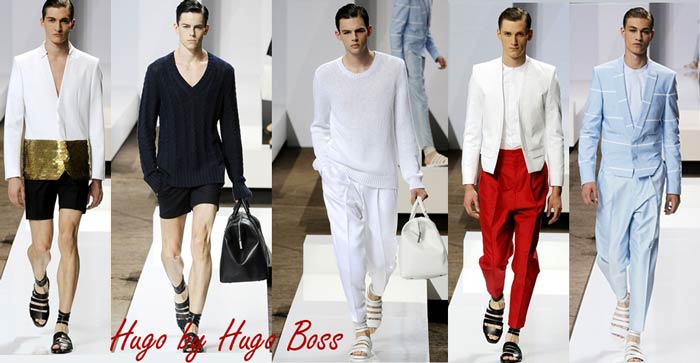 Kenzo sees the man of next spring-summer 2010 as a celestial being covered in flowers. Fabrics are mainly decorated with printed flowers in sober shades tending to grey-sky-blue and even when they are not patterned, the colors remain the same. Particular care is paid to the details: jackets are like shirts, cinched at the waist by a belt and trousers can be ankle length or just on the knee. Waistcoats are worn under the jacket while the hat plays a prominent role, and very often matches the genuine python leather tote bag and the boots, those too often made of python skin. T-Shirts, worn under the jacket are sheer, enhancing the perfect men's figure and going perfectly in style and color with the other elements of the man's look. Kenzo uses subtle colors for his collection such as grey, light beige, light green, brown or white with some electric blue highlights which give vitality to a monochromatic look. Bags are very wide and comfortable, worn on the shoulder or held in the hand, like clutches or, simply held by the handles. They are made of grey natural leather or of genuine python skin, but always in very light colors such as grey or beige. For a more elegant look, Kenzo proposes an ivory colored suit in shiny damasked leather.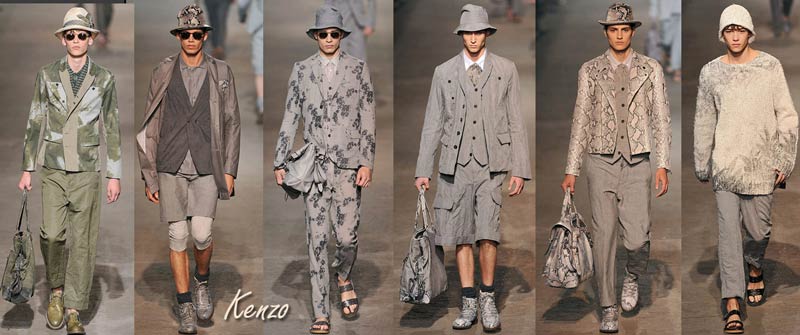 Givenchy too uses neutral colors for this latest men's collection spring-summer 2010, basing it on white and black, either all one color or mixed together. The man proposed by Givenchy pays tribute to a typical North African style using printed fabrics. The main aim of designer Riccardo Tisci is to transform sportswear into a sexy look. This is the reason why shorts and leggings are combined with the tailored jacket, and hi-tech fabrics are used to give a new image of the man's figure.  Red is used for the most fashionable elements of this collection, while black outfits are enriched by a touch of gold both on the jackets and on the shoes.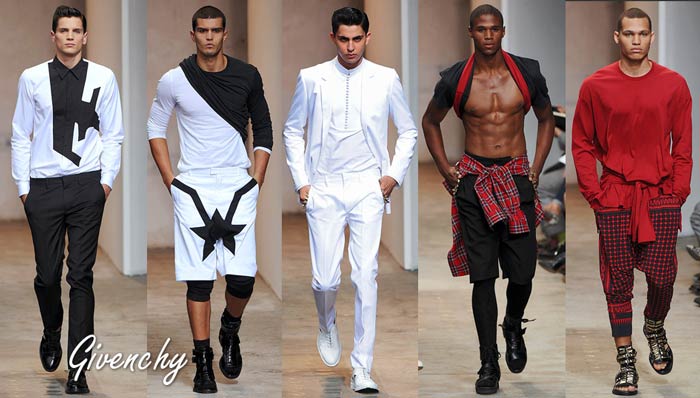 Jean Paul Gaultier goes for the androgynous look sending some of his models down the catwalk wearing a bustier and skirt. Special attention in fact is focused on the skirt, available in many different lengths and colors, worn with a jacket or a vest, for a more informal look. The vest and the trench coat are, for Jean Paul Gaultier, the Must-Haves of next summer. Beige, white, black and orange are the main colors chosen by the French designer for the creation of his models, accompanied by a sports shoulder bag to wear on the shoulder or across the body. Much used are the striped black/white or white/orange fabrics for the casual look, both for the jacket and for the trousers, while in the evening, the Jean Paul Gaultier man will wear elegant suits over a gorgeous bustier top (black or orange) glittering with sequins. And, for day wear, a denim top is worn under a white suit.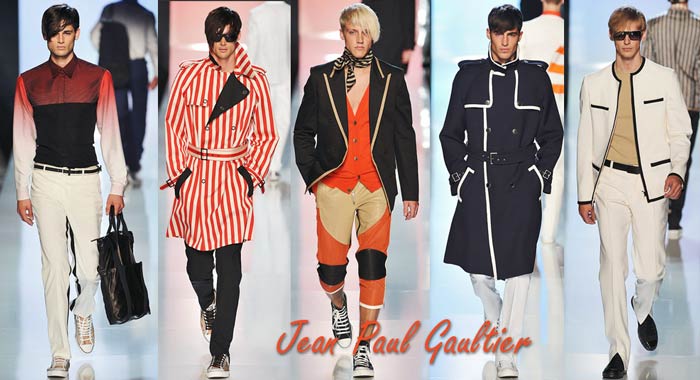 Louis Vuitton's collection can be considered a tribute to sport but also to haute couture. The Vuitton man, next spring-summer 2010, will wear hi-tech, tailored clothes: nylon jackets, silk and cotton trousers with hi-tech accessories and small cardigans to wear with shorts and sneakers. This collection is animated by very vivid summer colors such as yellow and orange, even though he still uses the more sober colors such as white, beige and grey. His preferred bag is a tote bag made of leather, even though he also uses mini man bags attached to the belt or classic shoulder bags to wear across the body. Sometimes bags are so big and wide that they look like suit-cases. The evening look is blue or wine red colored, if possible, using shiny fabrics and enlivened by quirky leather shoes in electric blue, fluorescent green and gold. Very chic is also the leather jacket in brown or black.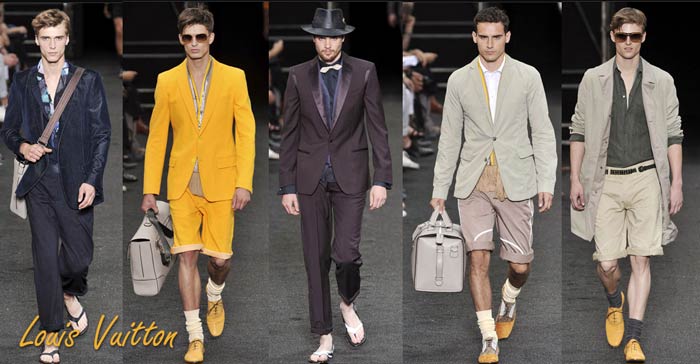 Paul Smith presents a very classic menswear collection but it is rich in color, with red, periwinkle, sky-blue, grey, electric blue, orange and light green next to more sober tonalities such as white, dark blue and black. His elegant evening style is very refined and linear while the casual look is original and young, mainly based on combinations of contrasting colors such as vivid blue and green.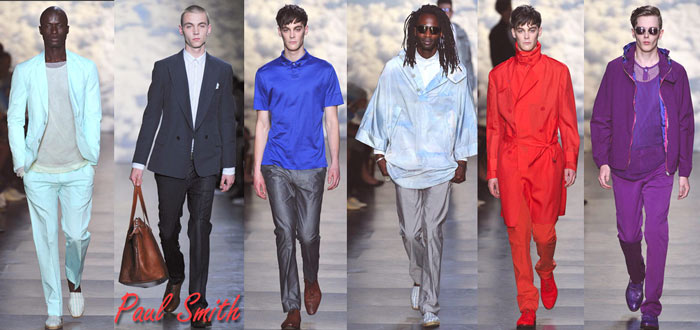 As we can see, each designer has a different vision about the new man of next spring-summer 2010: some designers imagine the new man as an ethereal, refined being, surrounded by light clothes in subtle shades, while others promote the idea of a strong rebel who creates a look to enhance his masculinity and his virility.
Which kind of collection do you like most? Do you agree with a more sober look or do you prefer a casual, non-conformist style?
Let us know your comments and we will be happy to hear from you!