Gleni – always full of new ideas and surprises!
The air here at Gleni is sparkling with energy… as a series of new ideas and future projects are taking shape. We've kept quiet about them till now to allow all those working on them time to define the smallest details, and shape the form and content, but now we can keep the secrets no longer and have to share them with you..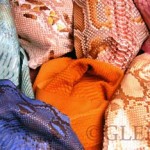 With the new year just around the corner and people starting to think about their New Year's resolutions and expectations and hopes for 2012, what better time to share with all of you, dearest and loyal readers and customers, all the amazing new ideas that are brewing at Gleni? Yes, because there are plenty of new plans and projects underway….so, be careful not to miss our latest updates.
With the approach of our Autumn-Winter collection 2011-2012, all the staff Gleni is looking forward to surprising and welcoming its customers with creations that are brand new in design, shape, color, and – listen carefully – even in leather! So, we are proud to introduce our first project planned for 2012: the creation of a new and amazing collection of bags that are absolutely breathtaking!
But, let's start in order, from the short-term projects….
As usual, the highest quality exotic leather will play the leading role: from ostrich to python and the most precious crocodile…but this year a new entry will join our leather portfolio, the prestigious and rare anaconda leather.
An elegant and refined leather, with a high value, not only in price – remember that every year, relatively few licenses are approved for the use of this kind of leather – but mainly in terms of quality: for this reason we had to include it in the Gleni collections, which are already renowned for our luxury and refined products.
What mostly impressed us about this leather is its extraordinary accuracy, especially in the front-cut – the part of the leather which has the smallest scales and a rounded shape – in which the disposal of the scales appears to be almost geometrical, if not strictly perfect. This leather comes in very generous dimensions, thus allowing the production of bags and accessories in the most varied forms, in which a delicate refinement always predominates, with only solid colors and a tendency towards neutral and sober shades, from black to gray to brown.
In short, we will create a series of products that will not go out of fashion at the change of season, but will remain in vogue for years so you will be able to show them off at your side for a long time!
Of course, next to anaconda, we would never neglect python leather, always present in our thoughts, with which we have created a great variety of models of bags to please every taste and meet the needs of every woman: we will alternate more structured models with the softest ones, rounded lines or more angular ones. In short, it will be a collection that will enrich the already numerous proposals of our Royal Line (Linea Regale), characterized by all those bags that every woman, who gives thought to the details and her personal image, couldn't do without.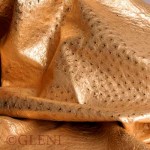 Ostrich and crocodile too will be highlighted in a small but well-designed collection that will delight and ensure the ultimate in luxury and splendor. Regarding ostrich leather, as well as classic colors ranging from brown to cognac and cobalt, we are proud to present some of the new trends we discovered at the most important trade fair of the leather industry: ostrich leather with a satin effect; it comes in black, beige and cream, with an extravagant metallic finish, that recreates the effect of the satin. The models proposed in ostrich are very feminine, high-quality, well designed and especially conceived for career women, who want to project their self-confident and refined image at work, as well as in their own time.
What about alligator? It will be characterized by a totally new look, compared to the models that we have proposed so far. The collection will consist of approximately 7 or 8 models, from the softest to the most rigid and structured designs, but it will be more youthful and dynamic, and most importantly, specifically designed to highlight the precision and mastery of artisan craftsmanship, taking care of the minutest details with absolute devotion and meticulousness. In addition to more traditional tones, like brown with its various darker and lighter shades, we also propose some original and outrageous colors, like red or blue with black shadings.
The greatest news regarding the leather processing consists in the combination of crocodile leather together with ostrich and python: just as it surprised us, this collection will also arouse enthusiasm in all of you, since it will be enhanced by really original designs as well as being refined and fine as usual!
Let us now turn to our second and no less ambitious project!
Thanks to the meeting and introduction of two Italian designers, with great creativity and inventiveness, we at Gleni had the idea of achieving something special for the business itself, something that would allow our activity to be distinguished and easily recognizable in the national and international markets,  and that would allow us to make that leap in quality after years of hard work and strong dedication to our work. In this way, we have provided the foundation for our second working project, slightly longer term than that indicated above, of which however we could enjoy some anticipation and inspiration by the end of February.
Are you curious to know in detail what this second project consists of?  As you might guess, it will again focus on our wish to pamper and astound all of you, dearest customers, with unique accessories that reflect the sophisticated image every woman wants to convey!
What do you think of a line of python, ostrich and crocodile specifically designed to exalt the hallmarks of our Gleni brand? This is exactly our second commitment: the creation of various completely new designs of bags different from anything in our previous collections, with which we continue to meet your tastes, designed especially according to the specific type of skin used. So we will have one line – the most numerous and consistent – designed specifically for python skin, as well as two other mini-collections designed exclusively for ostrich and for crocodile.
Of course, nothing is left to chance and every detail will be followed with meticulous care and precision: the hardware and decorative details will follow new lines and designs, always retaining the most important features that have always distinguished the Gleni brand in the market. It will be a collection that enhances our aim to develop a brand of classic elegance that knows no end with a strong sense of prestige.
Since these articles fully reflect the Gleni image, of course they will be sold exclusively in our online Boutique, available to all those who aspire to be surrounded by an aura of absolute extravagance and uniqueness; we inform all our wholesale customers who wish to order this set of items that is not possible to receive the Private label service on them.
And now we arrive to the last project, but certainly not the least!
When we speak of luxury, high quality and outstanding value, what are we generally referring to? Everything that has to do with jewelry or precious metals like gold and silver, of course!
Now, imagine an amazing combination of precious metals and genuine stones applied to bags and accessories made in prestigious exotic leather: the result would go well beyond the common "jewel-bag" we often hear of!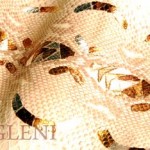 In collaboration with a famous Italian artist, already renowned for her amazing works of art working with precious materials and genuine and original stones, the idea came about of creating handbag designs, already refined in themselves, that will become the ultimate symbols of luxury and sophistication, epitomizing the true meaning of craftsmanship, through the application of stones of the most varied colors.
With this project we aim at distinguishing ourselves in the luxury market, by creating something truly original and unique, that perfectly expresses the art of artisan work: it goes without saying that these bags will be one-of-a-kind pieces;, in the event that it should be decided to reproduce a design already made, you can be sure that it would never be anything like the previous one, as all the work is carried out by hand, guaranteeing class and uniqueness to the item. You can easily guess that these products will be very expensive, but they will encompass the prestige of all those who love to surround themselves with unique and beautiful pieces, so rare in the world!
Well, did you wish for a quiet and calm new year, without too much news that could turn your daily routine upside down? Of course, ordinary and calm are not words that you associate with the Gleni brand, where we are constantly looking for new ideas and initiatives!
Will these projects be enough to toast to a new year of success and satisfaction with you?