Gleni Boutique online shop by now open also for our retailers!
Luxury, prestige and refinement have always been the most important aspects of Gleni's philosophy, fundamental concepts that, day after day, have turned into our life style that, with passion, patience and goodwill, we tried to convey through the creation of our exotic leather items, distributed and appreciated for they reliability and manufacturing: an infinite variety of models, artisan-crafted by true masters of the profession, who are custodians of a tradition that can only survive thanks to the skill and passion for their art that, even nowadays, is still passed down from generation to generation.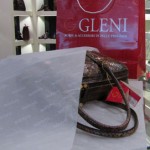 To appreciate the quality and sophistication of these accessories are not only private clients, constantly looking for the object of their desires able to satisfy their needs in any moment, but also a large number of retailers and wholesalers who can put together an impressive collection to display in their stores, showrooms and retail outlets, thanks to the wide range of items in production and infinite shades that can be applied to the type of leather required, to attract their loyal customers.
It is to our retailer customers that we turn our attention this time, offering them a really tasty and succulent proposal! Do we not want to celebrate as best we can these final summer days and the beginning of the new season? Here is what Gleni has to offer to all of you!
Generally, up to now, wholesalers planning to place a wholesale order followed a well-established procedure, which consisted – in addition to the method of contacting us via e-mail when you already knew the item codes and colors to order – in visiting our electronic catalog at www.gleni.eu. This catalog has been designed exclusively for our wholesale customers, who can analyze and then select their favorite items, in the kind of leather and color that most arouse their interest, always in accordance with the needs of their customers, after careful market research.
As these items are made to order, the delivery time Gleni staff can guarantee is about 40-60 working days, which we need to find the appropriate leather for the bags and accessories, and for the careful craftsmanship whose timing cannot be rushed, after all no-one wants defects or errors caused by hurried work!
Obviously this procedure is still valid and very active, for those who plan and organize their job well in advance, and are therefore happy to accept our delivery times, knowing that they will receive the supply requested by the time it is required!
And for all those who, on the other hand, simply cannot afford to wait for these delivery times?
Obviously Gleni cares about all our customers, making every effort to meet the needs of all those who show interest in our business and production …. so, do not despair if you have left it a bit late and are worried that you will not be able to include our sensational exotic leather articles in your next collection, due to timing issues! The solution is just around the corner.
In fact, it is with great pleasure that Gleni opens the doors of its online Boutique, www.gleniboutique.com, not only to private clients, as was our initial plan, but also to those who intend to place a wholesale order, and who unfortunately cannot afford to wait the typical 40-60 days required for processing.
As these are items ready for quick delivery, when you place your wholesale order at Gleni Boutique, you can be sure they will be dispatched within 7-10 working days, in the exact color, tonality and nuance depicted on the site.
The only possible methods of payment are credit card or bank transfer.
How to place a wholesale order at Gleni Boutique?
Wholesalers who wish to place orders directly from our Gleni Boutique at www.gleniboutique.com, choosing and selecting from the innumerable articles and fashion accessories in genuine exotic leather and, of course, paying for them at their wholesale prices just need to check their membership level:
At the time of registration to our site, request assignment to the "Wholesale" membership level: assignment to this level is not automatic, but requires the Gleni Boutique administrator's acceptance.
If you have already registered with a different membership level, change your profile to the Wholesale membership level, as above.
A fundamental prerogative to be assigned to this level, is that the customer has to indicate its own business VAT Identification Number into the special box "Note" otherwise it is impossible for the system to identify him as wholesaler.
Once assigned to this membership group, the registered user will be able to view our entire range of goods displaying their wholesale prices instead of their retail prices.
Since these goods are displayed at their wholesale prices, all the various discounts and promotions that Gleni decides to apply to private clients from time to time, will not apply for wholesale orders.
The minimum quantity required to place wholesale orders directly from Glen Boutique remains unchanged: 10 items for assorted bags or shoes and 20 for assorted accessories.
However, keep always in mind that Gleni Boutique has to be considered as an online shop specifically thought for private customers, who will have always priority over wholesalers.
How can you confirm your wholesale purchase at Gleni Boutique?
Once you have placed your chosen items in the cart, you need to confirm the request by clicking on the PRE-ORDER button, so that the administrator can consider your request and analyze it in detail.
Clicking on PRE-ORDER button does NOT mean that an actual order has been placed. It simply means that you have chosen some items from our Gleni Boutique that you are interested in buying. Once you click on the PRE-ORDER button, the electronic system  will see these items as no longer available for immediate purchase by other customers (no matter whether they are wholesalers or private customers). This status will then be carefully taken into consideration by the administrator, who has the right to decide whether to accept the wholesale purchase request or reject it. This decision is taken bearing in mind that Gleni Boutique is an online shop primarily created for our private customers, who will always be given precedence on the purchase of items available in the shop.
When, after a careful analysis by the administrator, your purchase request is accepted, the administrator will prepare an official pro-forma invoice detailing all the costs (shipping costs included) and send it to you, proposing the payment of the goods listed by wire transfer or via credit card. You, at this point, will have three working days at your disposal to either confirm your order and pay for it or to cancel it.
This special service has been introduced so to help all those wholesalers who feel the need of placing an order quickly and receiving it quite soon, without waiting the normal 40-60 working days for made-to-order goods.
For this reason, each wholesale order received through Glen Boutique will be evaluated by the administrator and, if the above conditions are not respected or for whatever other reason, we reserve the right to cancel the order outright, or else to request changes to the order, via email communication at gleni@gleni.it
For more information we suggest you to visit the following link: https://www.gleniboutique.com/membership.html
So, what do you think? Come and try out this new service offered by Gleni for our wholesale customers?
Happy browsing …. and good wholesale purchases!