Gleni's New Selection of Exclusive Ostrich Handbags
A new selection of luxury ostrich handbags just in at Gleni's showroom, gives wholesalers an opportunity to purchase some of these sought after bags for immediate delivery. The hand-crafted bags made with prestigious ostrich leather from a renowned Italian tannery are much in demand by fashionable women world over.
San Benedetto del Tronto, Italy (PRWEB) August 1, 2008 — A new selection of exclusive ostrich leather handbags has just arrived at Gleni's showroom and Gleni are now making them available to their wholesale customers as well as their private customers.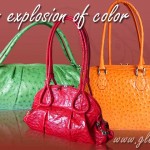 Gleni, the Italian specialist of exotic leather handbags, have recently added a range of ostrich handbags to their online Boutique, http://www.gleniboutique.com/, where private customers can order them from stock and have them shipped immediately without waiting for them to be made to order.
"Our ostrich handbags have always been in demand at the top end of the market," said the director of Gleni company, "and until recently we have made them exclusively to order, but now demand from our customers has persuaded us to keep a line of ostrich bags in stock, so that there is no waiting period."
One advantage of ostrich over other exotic leathers, as far as customs regulations go, is that it is not classed as an endangered species and does not require the CITES documentation that python and crocodile do, so can be exported from Europe to anywhere in the world without delay.
The difference between an average ostrich handbag and a truly luxurious ostrich bag lies in the whole production process, from the selection of the skins right through to the actual making and finishing of the bag. To produce the wonderful soft, supple ostrich leather, beloved by top designers, ostrich skin needs the services of an expert and experienced tannery. The tanning process is crucial to the final feel of the leather, as well as the look of it and how well it takes and holds its color.
Gleni take advantage of Italy's generations of expertise in the leather industry and have selected an excellent tannery, which also serves some of the top name Italian fashion houses, to supply their exclusive ostrich leather.
"We believe in sourcing the very best materials for all our luxury handbags and by using this renowned Italian tannery for our ostrich skins, and then having them meticulously hand-crafted by our experienced Italian artisans, we are able to produce luxury ostrich handbags to be truly proud of," said the director of Gleni company.
Ostrich leather has long been one of the most exclusive leathers, sought after by top designers for their signature collections. Ostriches are only farmed in a few areas of the world, the best skins considered to be from the Oudsthoorn area of South Africa, where ostrich farming was born, and there is a limited supply of top quality ostrich leather available. Together with ostrich leather's qualities of suppleness, durability and the chic look of its quill pattern texture, this makes it an extremely prestigious leather that commands high prices, and ostrich leather handbags get snapped up by fashionable women world over, who can't get enough of their elegance.
Gleni's made to order service is of course still available to both private and wholesale customers at http://www.bags-italy.com/, where they can choose both handbag design and color according to their preferences and have a luxury bag made especially for them.