Gold Handbags – Style and Glamor all Year Round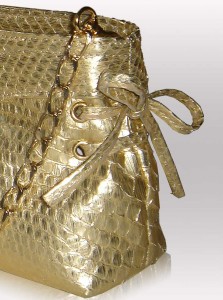 Now is the perfect time to invest in a gold handbag!
Gold and metallics are incredibly chic right now and featured in many of the top designers' spring/summer 2009 collections, so they are set to be very fashionable next year too. If you buy one now you will be able to enjoy it throughout the holiday season, where it will shimmer and sparkle at your side, adding light and style to your most elegant little black dress, completing a glamorous party outfit, or just adding some life and fun to dull winter days. Then there is no need to store it away for the next Christmas season, as it will look great with your spring and summer outfits too.
Invest in a top quality gold bag as you will be able to use it for many years, being one of those classic colors that are always stylish and elegant. Gleni's gorgeous gold python handbags are all handmade in Italy by skilled artisans and are made to last, so that your gold handbag will sparkle at your side undiminished for many years to come, looking as bright and new as the day you bought it!
Our Boutique has several styles and shades of gold handbag available right now, all of which are elegant and beautiful. Depending on your preference choose from:
A shimmering gold clutch in an elegant envelope shape is an investment that you will use for years. Metallics have been favorites for evening wear for a long time for their warmth and glamour and that isn't going to change any time soon. Some of the hottest clutches this season have detachable chain straps that can tuck away inside when not needed but will then allow you to wear your clutch over a shoulder, so you can dance the night away hands-free and care-free!

A big tote in gold python

is a wonderful statement piece – luxurious soft leather in this rich and warm shade can take you through sun-kissed summer days in enviable style and brightens up the dullest winter day bringing light and warmth into your life. Use it for your Christmas shopping companion to get you in the mood, wear it to cheer you up in the gloom of the New Year and then match it to the spring and summer bright colors that will liven up the new season.
A dynamic and youthful handbag design in gold python gives you a really individual look wherever you go, enlivening a smart black outfit and adding energy to your casual weekend dress. You can't help but feeling in a mood for celebration with a gold bag on your arm!
If you are already looking towards next year why not add some fantasy to a classic handbag design by having it custom made for you in gold python at our Craftsman Laboratory. We have several stunning shades of gold available at the moment: the more restrained shades of antique gold are perfect for wearing in the day, as are the shimmering tones of muted jade gold, that is incredibly elegant right now; our bright gold shines beautifully at night for evening purses and clutches that become precious jewels in your hand as you sparkle at parties and special events.
Purchase your gold bag from our Boutique now to have it in time for Christmas and enjoy it throughout Christmas and New Year or order the gold handbag of your dreams from our Craftsman Laboratory for wonderful energizing surprise to dispel the gloom of winter when you receive it early next year!