Handbags that go down in History
Everyone knows how much us women love our handbags, whether they are small or large. We never want to be parted from them, even though these 'devoted friends' often get old and lose their natural beauty and style, in some cases becoming downright obsolete.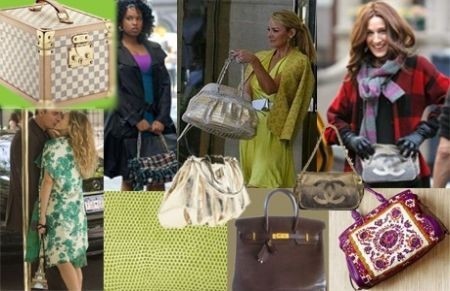 How many times have we opened our closet intending to throw away anything that is now out of style (handbags included) but, then, finding a bag that was perhaps bought for a special occasion we hold dear, or purchased abroad during a lovely vacation with friends or partner, we feel like it would be too much of a crime to toss it in the garbage. So, we abandon our intention of ruthless de-cluttering and pack the bag carefully back in our closet, even making sure that it is well-protected, hoping to wear it again some day when it comes back into fashion.
While some handbags survive over the years purely because we hang on to them (because we can't possibly let them go, although they are no longer wearable), there are other bags that live on indefinitely because of their timeless style. These bags moreover, with the passing of the years, continue to appreciate in preciousness and value, becoming genuine "pieces of art and history". We are referring to all those accessories, large or small, created by the best known Italian and foreign designers for some of the most important women in the world: world famous movie stars or the first ladies of State presidents. These handbags over time have become icons of style and refinement and, despite the passing of decades, continue today, to influence current fashions.
In this article, we will go back in time and celebrate some of the most beautiful and important handbags which officially top the list of the most desirable "cult bags" for their fame and style,. These are bags for which women are prepared to pay thousands of dollars and to wait  months (or even years) just to have them at their side.
On the list of women's most desirable handbags, the top position has to go to the KELLY bag  by Hermès, inspired by the classic sack used by knights of old on hunting expeditions.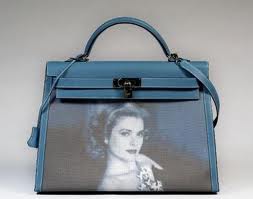 This model, apparently designed solely with the aim of providing convenience and practicality to those wearing it, rose to celebrity and prestige thanks to the Princess of Monaco, Grace Kelly (from which the bag then took its name) who, in the 50's was often photographed with this handbag elegantly worn on the forearm and strategically positioned to hide the curves of a not yet announced pregnancy .
The Kelly bag is still considered an "IT-BAG" today, despite the passing of years and the developing of new fashion trends, and its waiting lists are endless. Made in many different versions, from the natural leather to the most "luxury" variant in crocodile or in python skin, it represents the perfect icon of style and elegance, which is sometimes very hard to resist.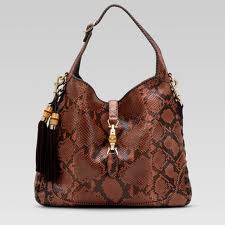 Alongside to the legendary Kelly bag by Hermès, we have to remember another cult design, this time 100% Made in Italy: the NEW JACKIE by Gucci, which, as the name suggests, was inspired by the beauty and the extraordinary elegance of another famous woman, first lady Jacqueline Kennedy, who with her refined poise and style transformed a very simple and functional bag into a real icon of luxury.
The NEVERFUL by Louis Vuitton, on the other hand, as indicated by the name, is a generously proportioned handbag, perfect to hold and keep everything a business woman constantly needs to have by her side, without lessening the beauty and style of a high class bag.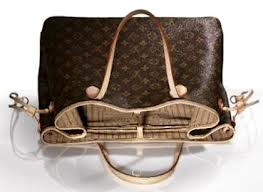 A prestigious place on the list of the most sought after bags in the world, is held by the BAGUETTE by Fendi (to which we dedicated a whole article some weeks ago, on the launch of the book celebrating its first fifteen years) designed in 1997 by Mrs. Silvia Venturini Fendi, aiming for a unique and exclusive item that is, at the same time, practical and not too showy. This model, in fact, is very small in dimensions and has a short strap coming to just below the armpit (hence the association with the characteristic French bread and the name "Baguette").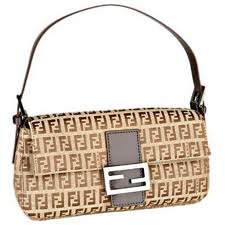 Available in many different variants, this handbag is one of the designs that is most in demand, especially by major movie stars and celebrities. Almost all the top actresses have at least one Baguette in their wardrobe and they are often photographed with their Baguette tucked under the arm, stimulating demand for it even more, so much so that, (as with the Kelly by Hermès), waiting lists for it are endless. But as you know, if you want to look absolutely perfect in style and elegance, even waiting for years isn't too much to ask….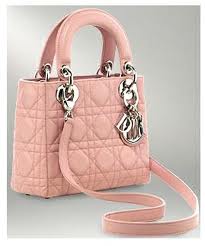 The LADY DIOR by Christian Dior, on the other hand, was created in 1995 by the French designer as a tribute to Princess Diana and to her regal elegance and it is mainly characterized by a special leather workmanship that makes the whole item even more chic and glamorous.
Let's return to artisan Made in Italy style with MISS SICILY, the handbag created by the two Italian designers Dolce & Gabbana, which, thanks to its classic, wide and refined style, evokes the beauty of the typical handbag worn by the seductive Sicilian woman of the past, whose charms as she walked along the country roads were enhanced even by such a simple accessory as a bag.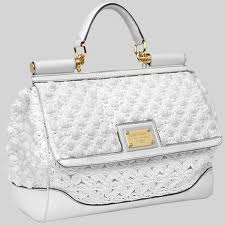 This model has been updated over the years and proposed in many different versions, from one made of lace to an animal print style, from one covered by sequins to one in floral prints but, every variant always preserves its unique distinctive mark: the metallic gold label with the logo of the famous Italian fashion house.
We certainly can't wrap up our list of the top IT-Bags, that is those handbags that have appreciably influenced fashion trends over the years, without mentioning another "Must" from the very famous French fashion house Hermès: the BIRKIN.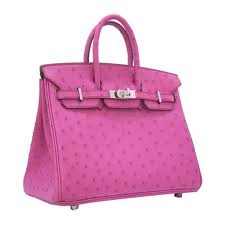 This model was created in the 80's, inspired by the style and the personality of the singer and actress Jane Birkin. As beautiful as a Kelly but more practical and wide, this bag offers the maximum of comfort with really impeccable structure. Like the Kelly, the Birkin, has  been created in many different versions, also using precious leathers such as crocodile, python and ostrich or focusing on shocking colours or on personalized finishing.
These are bags that women dream of and fall in love with; bags that are sometimes out of reach because of price and waiting lists but, nonetheless, magic and unique handbags, items that have influenced the trends of an age and that, despite the passing of years and changing fashions, will always live in the collective imagination of each of us, given that, they are by now part of our history and of our lives.