…
After the controversy and the high level of stress which surrounded this year's Milan Fashion Week, the lights have finally gone down on the numerous catwalks which transformed Milan into an elegant and extremely refined fashion capital from February the 24th to March the 2nd.
Although the usual big names and iconic designers were obliged to concentrate the presentation of their collections into just a  few days, it can be proudly said that the aim of this fashion show was triumphantly achieved: "Made in Italy" is still alive and with its co-operators shows the whole world how well the Italians create elegance and quality, summarized in a product that is the envy of all. Despite those who thought that this fashion event would have been an abject failure, the figures speak clearly: the many collections have pretty much wowed the press and buyers, both national and international, underlining how wrong it is to underestimate Milan on the fashion circuit, because  it's here that real quality and exemplary craftsmanship can be experienced.
A lot of issues animated the Milan Fashion Week Fall/Winter 2011, which, unfortunately, opened with the fashion world in mourning, due to Alexander McQueen's suicide:  a great and talented man whose creations have been the dreams of many women for many years, but who perhaps couldn't bear the weight of reality. Much controversy was unleashed by Anna Wintour, the extremely powerful director of Vogue USA, who requested that the most important collections should be condensed into just a few days because of her tight schedule. Obviously, many of our renowned Italian designers reacted against her, firmly underlining how arrogant and intrusive such a proposal was. They have asked Mario Boselli, chairman of the Italian Fashion Council, to extend this fashion event to a whole week for the future editions, so that everyone who comes to Milan, can appreciate the spirit of this city and the culture of our country.
As usual, Milan Fashion Week too has been the perfect stage for a number of charitable campaigns, like the one promoted by the brand Elena Mirò, renowned for its comfortable sizes, together with Humana People ONLUS that raised funds to provide education to Mozambican women. And the "Charity for Haiti" conceived by a group of young designers who created a limited edition of T-shirts to be expressly sold during the fashion shows.
But let's now concentrate on the latest styles proposed by Italian designers at this important fashion event!!!!
Legs, which have recently been hidden away in very chic but long trousers, next year will be revealed in all their sensuality for, as the king of Italian fashion Giorgio Armani says, "legs are a sensual element of the feminine figure and if they are beautiful, they should be left uncovered and shown in all their splendor". So skirts become very short and extremely sensual, worn with tailored jackets or refined waistcoats, very often used instead of the classic shirt. You don't like short skirts because you find them too uncomfortable when you go to work? Don't worry: you can wear very nice shorts so that you can show your legs without hampering your freedom!!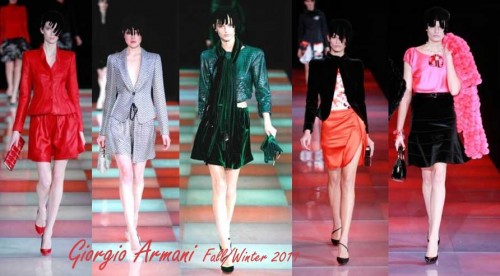 Fur coats and jackets will enjoy a second youth next fall-winter 2010/2011, never mind whether the fur is 'ecological' or genuine. Many designers, like Dolce & Gabbana also adopt fur as a trim for bags or for classic after-ski boots, to give their models a further touch of seduction and elegance at the same time as ensuring a beautiful sensation of warmth and comfort for their feet
Shoes should be absolutely chic and enhance the beauty of the woman's legs. Almost all the designers agree on classic high heeled shoes, as heels confer a more sensual aspect on the feminine figure, even though there are also many designers who send their models down the catwalk wearing ultra flat shoes on their feet because, in their opinion, women can still be sexy even if they don't wear uncomfortable high heeled shoes. However, if you really want to appear chic and fashionable next year, you absolutely have to wear very glamorous platform bootees made of genuine crocodile skin, like the ones proposed by Gucci.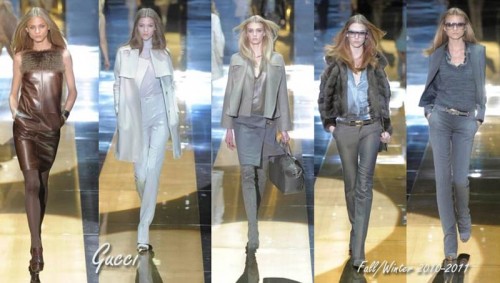 The fall-winter fashion season 2010/2011 will be characterized by the re-discovery of that important natural fabric, wool, whose softness and warmth will accompany the woman all through the cold season, feeling harmonious and pleasant against her skin. Dolce & Gabbana designers focus their entire D&G collection, aimed at the younger generation, solely on wool, proposing gorgeous wool knits with typical Nordic designs such as snowflakes and elks which evoke a cold winter image to contrast with the agreeable sensation of warmth given by the wool itself.
However, as well as wool and fur, many other luxury fabrics will be incredibly fashionable next winter: taffeta, velvet, macramé, sheer tulle, organza and black lace contrasting with vividly colored pants and skirts.
Evening dresses can be short or long, according to the situation but, if they are long, they should always be made of fluid fabrics which reveal the woman's legs a little to enhance their beauty and the woman's perfect silhouette. If they are made of velvet, like the ones proposed by Mr. Armani, evening dresses are ankle length but the legs are revealed by skirts slit to the thigh.
While the day look is quite classic despite the use of very short skirts rather than classic pants, the evening dresses next winter will be characterized by the use of shimmering and glittering or metallic fabrics which make woman shine like a star, focusing attention on her sensuality.
Shining stones and pearls will also decorate elegant purses and ultra flat clutches, elegantly clasped in the hand and possibly made in the same color and fabric as the dress. Clutches also accompany the woman through the day, clasped in the hand or held by the short strap, but always at her side. They are not enriched with glitter but are made with top quality leathers such as crocodile and ostrich, whose plumage is also used by Gucci as a decorative element for dresses and waisted jackets.
However, if you prefer a large bag to keep all your things in, don't worry because you won't look out of style next fall-winter, as long as you are wearing your tote on the shoulder or across the body. Made of chamois or of natural leather, it will always be there for you in every situation thanks to its capacious interior and its many internal and external pockets.
As for the fashion colors of next fall-winter 2010/2011, we notice that many designers focus the major part of their collections on classic winter shades such as white, black, light grey, camel, brown and beige, even though vivid colors continue to have their relevant role in Italian fashion, thanks to designers such as Giorgio Armani and Versace who create really gorgeous evening dresses in orange, blue, yellow, coral red, dark green and purple. These strong colors are then further enhanced by the fabric used which, reproducing the metallic effect, like the one proposed by Mrs. Versace in her latest collection, gives the woman a more sensual and intriguing aspect.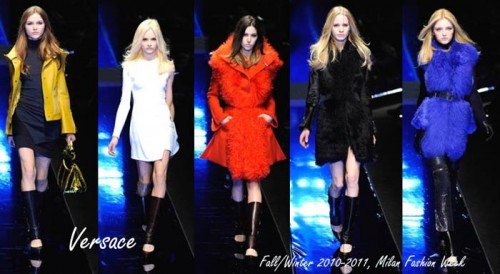 So, has Milan Fashion Week satisfied your own needs in terms of elegance and refinement? Let us know what you think about this fashion event which has recently concluded, and don't forget to keep updated with our next fashion articles!!