How and when did "Pochette-Mania" arise?
Women are always looking for beautiful and refined accessories to brighten up their everyday life and look gorgeous and simply stunning: it may be a pair of fashionable shoes, an elegant and sophisticated hat, a pair of sunglasses that make you feel like a film star, but, most often, it's the handbag which tops most women's wish list. They can be wide, large, maxi, colorful, made of leather, fabric or other materials: on the market there are an infinite variety of options to satisfy the most demanding feminine tastes.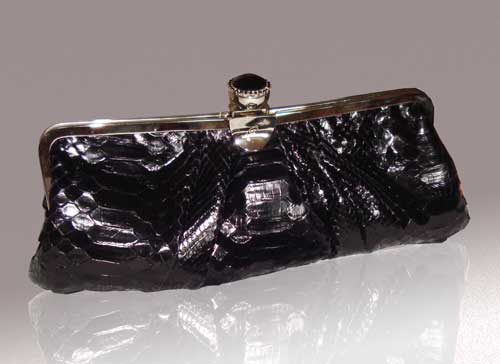 Although nowadays women, either for work or for their routine duties, tend to spend hours and hours of their daily life away from home, it's not always true that a roomy and comfortable bag is the perfect answer to their needs!! Market research, in fact, has recently identified a new trend in demand for handbags that is now occurring, and a new "pochette mania" is starting to sweep the fashion world.
Call it a "clutch" or call it a "pochette", it makes no difference, since the final result is the same: we are talking about those micro-bags which are now really taking over the scene. Small, exquisite and chic, the pochette-bag has, of course, always played an important role in our life, being used as a decorative extension of our pockets on all those occasions where big bags, however beloved, are inappropriate!!
In fact, bags are no longer seen just as containers to store the things that we need: on the contrary, they have become a vital accessory to give the wearer, a sophisticated and glamorous image. It doesn't matter that they are small, just large enough to slip in a lipstick or a credit card and keys: what really counts is that they perfectly match our dresses and that they are appropriate for nights characterized by luxury and worldliness, so that we can feel really special.
Loving your "pochette" means that you are ready to sacrifice capacity for lightness, practicality for highly fashionable style: beauty and comfort don't always go hand in hand, and, for this reason, this accessory, over the years, has lost its original function, becoming a typical feminine habit.
Symbol of the modern and independent woman, free from the usual clichés driven by a masculine society, the name "pochette" has its origins in France during the 18th century, when pockets (poches, in French) were not sewed onto women's dresses but were substituted by small bags, generally made of leather or fabric, that women used to hang around their waist. However, the real success of this accessory arose between the 1920s and 1930s, an important historical period of huge change, which heralded a real revolution in women's dress. At the end of the First World War, women, who had started working in factories while the men were away at the front, became aware of opportunities for more freedom and practicality in their dress. No more Victorian corsets but light and snug dresses; no more hair confined in rigid buns but short and impish crops. It was the period of the so called "Flappers": young women who didn't accept the conventions of the time and criticized the older generation while flaunting their own youth. Women now loved to drive, smoke and drink in public, took no notice of disapproving looks and cheerfully disregarded the rumors provoked by their scandalous habits. Becoming more aware of her own feminine strength, this new image of woman would no longer stand male violence or being considered inferior and constantly dominated by men.
This feminine revolution has created new fashion legends and icons: cosmetics, rayon, silk, cigarettes, and, of course, the icon of the "pochette". These new usages affected both history and industry, and, despite the years that have since gone by, these micro-bags are invading the market once more, showing themselves as fresh as ever, not aged at all!! After all,  it is well known how, in the fashion world, past trends always comes back in: especially during this delicate period of social balance, when men are suffering from excessive female independence and total liberalization of customs, the "pochette" becomes a must, an accessory which no woman's wardrobe is complete without.
The most famous designers and fashion houses are responding to this new need, by creating new designs, and competing with one another in the name of originality, without forgetting to pay attention to the details. From a symbol of emancipation to a fashion choice, it is possible to find a great variety of pochettes on the market: made of velvet or luxury exotic leather, with rhinestones or precious gems attached to them, showing the most innovative and modern shapes, they are seen as amazing jewels which perfectly match the dress of your dreams, and will enhance the most elegant outfit.  
A completely feminine accessory and an extraordinary object of desire which will be a firm fixture on the catwalks and in shop windows for a long while!!
So, are you finally ready to compromise comfort and practicality in order to clasp a real jewel in your hands? Go for an amazing fashionable "pochette", then!!