It Is Time To Get Ready For Valentine's Day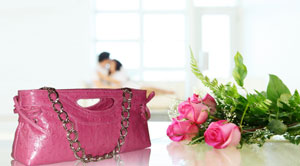 We are just settling back after grand Christmas celebrations and entering into the New Year with filled with great hopes. It looks like that it is already time to get ready for Valentine's Day. We have just 4 weeks left for the Valentine's day and it is time to start thinking about the perfect gift for our girlfriend to make it a special day.
When it comes to selecting gifts for our girl friends, not all of us are that gifted. Some of us have to start thinking about our gifts weeks ahead and only then we will be able to come up with something nice and different. We would have already run out of ideas picking our Christmas gifts. If you think you are stuck and you have already run out of ideas, then here is a great Valentine's Day gift idea. You can pick an exclusive exotic leather purse as the Valentine's day gift for your loved one. This gift will not only show your refined tastes but it will also make your girlfriend or partner feel special.
Leather purses are always one of the safest choice of gifts for women. You can be sure of impressing them when you gift them a leather purse. It is something they love to use and when it is going to be an exotic leather purse, then you can be 100% sure of impressing them. This will pave way for an exciting and unforgettable Valentine's Day celebration.
exotic leather purses are considered as fashion symbols and most women prefer to use these purses because they are also considered as status symbols. You have a number of exotic leather options including python leather, crocodile leather, and ostrich leather. These exotic leather purses are sure to put a smile on your loved one's face. exotic leather purses is a gift with a personal touch; they are also a practical gift. This is not something that remains a show piece, but something that will be used daily. Every time she picks the exotic leather purse that you gifted her, it will impress her.
Gleni offers a wide range of exotic leather handbags and purses so you will never run out of choices like you run out of ideas for gifts. You will find a number of color options to match everyone's tastes. All Gleni products come with great craftsmanship so even if you are not an expert in picking handbags and purses for women, you can pick any Gleni's purse and be sure that it will impress your girl friend. A number of years of experience has gone into the designing of Gleni products. They are manufactured with great personal care and with great attention to details and quality. Therefore, you do not have to worry about your expertise in selecting the right purse for your girl friend. Moreover, these purses are very reasonably priced. You will be able to find something within your budget.