Italian Artisan Manufacturers: choosing them for Style and Fine Workmanship
Women, who care about their elegance and gorgeous style, always look towards Italian artisan manufacturers as undisputed promoters of high quality and refined workmanship. It is not difficult to tell the enormous difference between a genuine Italian product and an item that just claims to be made in Italy! Genuine Italian products are steeped in tradition that is passed on from one generation to the other and this quality absolutely can't be acquired by others through just a few years of training and experience in the sector. Tradition and Italian craftsmanship belong to the DNA of a person and can't be obtained in any other way!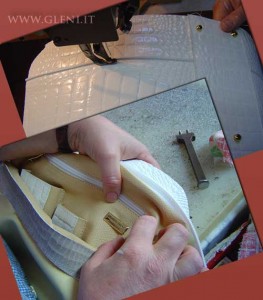 The ability of an artisan is reflected in the excellent taste of the products he creates, a perfect harmonious fusion between high quality materials, very gorgeous shapes and stunning colors. It is not enough to wear a handbag which is high quality and that lasts a life time; it has to express our personality and our style and nothing else can satisfy our taste as well as exceptional Italian craftsmanship.
Italian artisan manufactured products are true luxuries. Their styles are not only wonderful to look at but these items are also practical, functional, perfect to satisfy your every desire and need in the best way possible. This is the reason why Italian brands are so popular all around the world!
You are right! There are many people looking for cheap goods but most of them end up focusing their attention on the quality and the durability of their purchases. When there is a fine blend of quality and competitive pricing then no one can stop the success of such products and this is made evident in the case of Italian handbags.
Italian manufacturers are world-famous for the consistent workmanship of leather products, made of normal calf skin or made of more prestigious exotic leather such as python, crocodile and ostrich. One of the things that makes the Italian handbags, purses and accessories absolutely special and gorgeous is the meticulous attention paid by Italian artisans to each smallest detail which makes the item itself exclusive and different from the others.
Though we cannot discount the quality of other products, Italian items are undeniably special and there is no sign of other products winning the market of Italian manufacturers. The fame and the prestige of the items made in Italy continue to grow and spread  far and wide.
However, it is not enough just to claim that a product is made in Italy to consider it the genuine symbol of Italian artisan manufacture; it is important that it is really made in Italy by 100% Italian artisan manufacturers!
In fact, it is not uncommon to see a product, which is the result of mass production and machines, marked with the label Made in Italy. In this case we really can't consider this item the genuine result of Italian craftsmanship but only the further result of mass-production, without any value.
What we consider a "Made in Italy product" is a handmade item, the result of a careful, meticulous handmade production, a product which embodies in itself the genuine Italian craftsman tradition.
You have to pay attention to what you are buying because you can easily risk paying a high price just for a mass-produced item. Handmade products have a class of their own that absolutely cannot be matched by machine made products.
If you want to buy an original Italian handbag or wallet, you must be very careful about where you make your purchases! Don't trust the vendors who offer you very gorgeous bags at a cheap price because they are absolutely not genuine Made in Italy products. The quality will certainly be poor and the item will probably have been mass-produced in a sweat-shop somewhere far from Italy.
Always research carefully online to find the right vendors from whom to buy your Italian handbags and leather accessories and you will be introduced into the fabulous world of genuine Italian artisan manufacture: the best place for you to buy a beautiful leather handbag!!!
If you are interested in finding original handbags made by Italian Artisan manufacturer, you can visit one of the Gleni stores or order your handbags, purses, shoes or other accessories through the online store. Our products: