Leather takes centre stage at Linea Pelle Spring/Summer 2013
Cautiously optimistic was the verdict on the recently concluded edition of Linea Pelle that took place in Bologna, Italy. From April 3rd to 5th Linea Pelle saw the major worldwide operators of the leather sector face to face with their new ideas and proposals for next Spring/Summer 2013.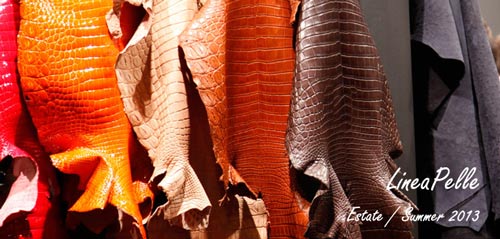 With more than 1050 exhibitors from the world of leather, calf, footwear components, leather goods and furniture, from 41 countries, this was an occasion to restore confidence to an international market hungry for novelty, quality and price diversification.
The increase in foreign visitors during this year's Linea Pelle for Spring/Summer 2013,  further strengthened the international position of our products, confirming known data and figures, especially in relation to Italian tannery turnovers: currently of a total of approximately 4.8 billion, 3.7 comes from exports.
Focused on fashion trends that will dominate Spring/Summer 2013, Linea Pelle showed encouraging prospects for the economy of the leather sector, although in the context of a market still wary of the global economic crisis that continues to have a significant effect.
For this reason, customers have become increasingly attentive to optimizing costs and expenses visiting stands and exhibitions with a more determined focus, not just driven by simple curiosity.
So, the customers arrived with well defined ideas, to the satisfaction of the many companies that had the opportunity of confirming orders – a real breath of fresh air with which to close their winter production and devote their full energies to the new season.
With an early 2012 marked by caution and by unexpected shortage of raw materials, the offering and demand at Linea Pelle remained confident, thanks to the strong assets of technical and style innovation, as well as quality performance.
Linea Pelle is well-known as a unique fair not only for the presentation and display of materials and products, but also for the range of events to which it gives life, providing opportunities for professional growth to all visitors who want to take part in training courses and seminars for those working in this industry, as well as introducing itself as an exceptional showcase for emerging talents. In other words, it is possible to discover the age-old craft of the tannery, composed of technical knowledge and experience, but also seek out tastes and trends, especially among the younger generations, who have highlighted a resurging interest in the tanning industry.
The biggest surprise at this year's Linea Pelle was the presence of the Italian designer Ermanno Scervino presenting  a special collection celebrating Italian leather, on the Teatro Comunale stage, from swimsuits to evening dresses, delighting the Linea Pelle guests and entrepreneurs in one of the sectors that is considered the pearl of Made in Italy.
The designer-artist brought in over 40 runway looks – almost all entirely made of leather –  from the spring/summer 2012 collections, the autumn/winter collections and some proposals from the archives, but reinterpreted in a contemporary way.
These prodigies of the Italian fashion and leather industries, like Scervino, continue to invest in new technological experimentation as well as in craftsmanship: the result is a leather that is enhanced by avant-garde processes, creating inlay motifs and laser-cut fringes.
According to Scervino, this is the way to continue to succeed, stand out from the crowd and capture the best markets in the world. Scervino received a well-deserved award from Salvatore Mercogliano – Managing Director of the Fair – for the creativity of his collections and for the attention he always pays to the leather, showing what and how much progress can be made in manufacturing techniques, in the use of innovative materials and in artistic design.
However, it is the leather itself – in all its possible variations – that was the real star of the fair: the high quality and diverse range of leather for which Italy is renowned.
Among the many Italian exhibitors, 264 were tanneries from the Santa Croce district, an area long known for its high technology and innovation in leather tanning , and we at Gleni couldn't certainly miss such an important event, because the leather with which we give life to our collections comes from these companies.
The new proposals for next season are really interesting and varied, like the calf that comes in a  hand-painted version, from the inspiration of true artists, or the rediscovery of crust leather softened to look like calf, and goat skin, a very high quality leather that is suitable for special finishing details. Making its debut appearance was a transparent leather obtained from a system of tanning with vegetable and animal oils, initially adopted for shoes, but also tested for belts and accessories, furnishings and other interesting applications.
But, what are the most important innovations in exotic leather?
Certainly the world of reptiles could not go unnoticed, especially now it is  the center of so much attention from the biggest fashion houses who are going wild over python, which is enhanced by special finishing and above all offered in three versions: shiny, nubuck and hand painted.
A certain crocodile leather from the skilled masters of the Santa Croce district,was a great success, which has a particular shiny finish given by hot irons.
Great demand was also demonstrated for ostrich leather, where the main new style was the highlighting of the characteristic polka dots in a shiny finish, so that they stand out in relief against a matt leather.
In terms of colors, bright and vivid tonalities triumphed, although white was the starting point of this season's range: dominating all is a light shade that sometimes appears pale and soft, sometimes it becomes more clear and contrasting.
Bold and confident shades prevail, which combined with white, create soft and natural discolored effects; there are also lots of fluorescent effects over pastel shades, or the return of earth tones, from mud to brown with all the gradations in between.
Very popular are combinations of two or three colors creating a flag effect, or the typical multicolored rainbow effect.
These are some of the innovations that impressed and interested us the most, to the point of starting work on samples for next season…. but don't miss the imminent presentation of Gleni's new collection that will really take your breath away.
So, keep on reading our blog and do not miss our next article!