COCCO LIGATOR PRODUCTION TEMPORARILY SUSPENDED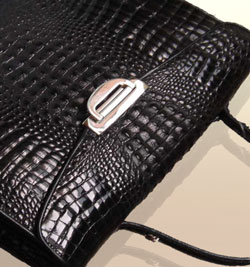 Dear Customers!
Since our announcement of the possible suspension of our cocco Ligator/Ligator croc production (for more details visit the page:
Cocco Lligator articles could now be suspended , we have received many orders from you and we have used up our leather supplies sooner than expected. From now until further notice our cocco Ligator items can no longer be ordered by either our wholesalers or by our private customers through the Craftsman Laboratory.
This whole category is temporarily suspended so that the already famous qualities of elegance, prestige and beauty which characterize this extraordinary leather can be improved even more, increasing the percentage of 100% natural reptile fibers which make up this skin. Our tannery is taking advantage of this transition period to work hard at this leather in order to create an even more prestigious skin which will certainly enhance your style, giving you more brightness and a sensual refined touch.
However, dear private customers, there are still many cocco Ligator bags available which await you in our show room and GleniBoutique and many more will be arriving in our shop within a very few days. If any of you should be interested in purchasing one of our ready to ship cocco Ligator bags, perhaps for the forthcoming Christmas season, we suggest that you buy it now because, once these bag have been sold, it will not be possible (for the time being) to order them to be made for you.