Linea Pelle 2010: trends, colors and latest news from the most renowned tanneries
Last month, from October 12th to October 14th, the second "Linea Pelle" trade fair, which takes place twice a year, was held in Bologna, Italy.  "Linea Pelle" is an important international exhibition of leather, components and accessories, plastics, fabrics and models for footwear, clothes, leather goods and furniture, particularly directed towards designers, buyers and researchers  who operate in the fashion sector and are directly involved with the leather world.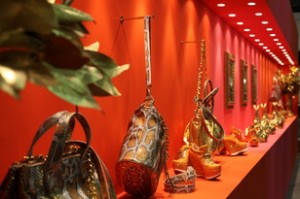 This year the event saw the participation of many Italian companies (mainly from Tuscany, well-known for its concentration of specialist tanneries and leather workshops dedicated to the processing of all kinds of leather, from calf to pony-skin, from ostrich to crocodile, python and anaconda) but also many foreign operators from all over the world.
The fall edition of "Linea Pelle" was primarily intended to present all the latest news in the field of leather goods and objects for next year's autumn-winter season 2011-2012. Exactly 553 Italian and foreign tanneries showed their new trends, located in halls 16, 18, 19, 20 and 22.
Since we at Gleni are directly linked to this event, we could not possibly miss it: so, in this article, you can find our considerations and points of view on "Linea Pelle 2010".
From the moment the exhibition stands opened, the fair immediately saw a significantly higher turnout of customers than last year, but, more importantly, we noticed that the visitors themselves paid much closer attention to materials on display, analyzing every single characteristic, plus a real desire to learn about each stage of the tanning process (in the case of leather) or the assembly of the various pieces and their efficiency (in the case of machinery used to work with leather).
Compared to 2009, where visitors crowded the stands more out of curiosity than for genuine interest in placing actual orders, this year, as well as attracting a wider attendance, the public showed more interest, stronger motivation and a more commercial approach when selecting and purchasing the desired product.
Among the operators an air of optimism and recovery from the international economic crisis was felt anew, as Mr Alessandro Frangioni, president of the Santa Croce Tanners Association stated, also emphasizing the high quality and professionalism of the Italian tanning industry which is considered the world leader, especially in terms of innovation. According to the President, Italian companies offered a wide range of interesting proposals, primarily characterized by the use of high technology, as well as professional mastery and  dedicated research: research and technology will mark the future of the Italian leather goods companies and their operators.
Obviously, our attention was drawn to the many tanneries present at Linea Pelle, specializing in the processing of exotic leathers such as ostrich, python and crocodile. Many original and innovative ideas surround these luxury materials, both in the processing and dyeing phases, aiming to enhance their prestige and high quality, and making these skins suitable for any use. There are also numerous proposals for embossed crocodile and python leather, complete with scales and natural shades, to deceive even the most vigilant eye. If it were not for the regularity of the panels, perhaps we too, from afar, might even have mistaken this for genuine exotic leather!
While the calf leathers seem to take on more of an "exotic" look, the luxury exotic leather ceases to have its traditional classic look, but shows off new and vivid colors keeping up with fashion, and above all gives space for new structural elaborations, so that it is sometimes difficult to recognize the natural texture of the animal. Given the versatility of python leather, there was lots of experimentation with this material: there are cases where the python was processed to the point that it reproduces the texture – smooth or horned – of the crocodile, and vice versa.
While python is perfect to play with both in terms of color – with its many nuances and infinite shades – and design (a patchwork effect is no longer created by the assembly of different types of python, but by the coloring process applied to a single skin) and structure (in some cases it looks like an elastic fabric, or as robust as in the case of waxed python), for crocodile we noticed the tendency towards single colors, even though with variations of matt, glossy or "nubuck" effect.
What about colors? As mentioned above, next autumn-winter 2011-2012 will feature a wide range of tones and shades, with laminated streaks of gold and silver, or special light effects, which, combined with the elegance and prestige of the exotic skins, will win hearts everywhere.
The most recurrent colors will still be gray, blue, dark green next to the warm earth colors  like mud, brown (with streaks of yellow and red), and much more light and soft colors.
Surrounded by these numerous new proposals, during our visit to Linea Pelle, we opted for a bunch of wonderful fashion trends that we will propose in our upcoming collections.
Closing on October 14th , "Linea Pelle 2010" trade fair satisfied and pleased both exhibitors and professionals, deeply optimistic about the success of this important event with the substantial interest shown in the products by visitors and an increase in orders, giving new hope to the economy of many national companies, and also showing a slow but steady recovery of the Italian economy in general.
We look forward even more confidently to the next edition of Linea Pelle in Bologna, scheduled from 6th to 8th April 2011 to solidify even more the desire for recovery and discover new proposals that the world of leather goods will offer us for the spring-summer 2012 season!
For more insights and to hear interviews with the professionals present at "Linea Pelle 2010", we recommend the following link: http://biancofornovolleyenonsolo.rewwwolution.tv/index.htm?v=97d3dc6cbcced88c7123d65739abbdc6