Linea Pelle trade fair: Looking forward to the new trends for summer 2012
Tradition combined with innovative creations: these are the trends characterizing summer 2012 according to what will be proposed by leather producers and exhibiters at the coming Linea Pelle trade show, the bi-annual appointment with the world of leather products and accessories, held in Bologna from April the 6th to April the 8th.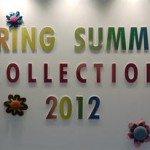 The event,  once again attracting  the attention of many buyers from all over the world, is nearly ready to open its many pavillons and show all the latest trends for next spring-summer 2012 in the matter of leather, the latest styles and the new fashionable colors that will distinguish the woman of next summer 2012.
According to rumors leaked during the presentation of some previews, it seems that the look of the next summer season 2012 will be characterized by a modern reinterpretation of traditional styles; a return to rustic and artisanal roots, but with a look to the future.
 Colors will be light, abstract and really sophisticated, next to stronger, deep tonalities, while leathers  will be softer and have a more natural aspect.
 While color is the essential element to define a gorgeous look, plenty of room will be given to printed fabrics, most of them referring to the world of reptiles.
The patent leathers chosen will be fluid and liquid, and everything will be created to shine and capture the attention. Glistening wires and threads will also be inserted into the texture of fabrics to let the woman of summer 2012 shine like a star.
Future and tradition will meet also in the making of accessories, conceived to satisfy every request of the buyer as well as possible.
Brass will be used in conjunction with natural materials, while metallic shiny finishes will  alternate with satin and distressed ones.
Shoes will be designed with softer shapes and a particular importance will be given to details, even to the smallest ones. Their upper sections will be simple and linear but enriched with full-metal accessories and laces revealing a great attention to detail.
Handbags will have more linear dimensions and shapes and they will be specifically designed for work or for leisure. Patterns will be sober and the materials used will be light, everything completed with metallic hinges and functional metallic decorations.
This news comes from rumors leaked by the media meeting the directors of some of the companies taking part in the next edition of LINEA PELLE in Bologna, so we have to wait for the official opening of the Linea Pelle trade show before making a full and accurate report concerning the "it styles, trends and colors" for the spring-summer season 2012.
 What will be in? What will be out?
We can't do anything but wait for the opening of Linea Pelle, look at all the many different proposals and…..tell you all the latest styles for a glamorous spring- summer look 2012.