LineaPelle for Fall/Winter 2013-14: the best of the leather sector
The Italian leather sector continues to affirm its position among the top Italian manufacturing sectors, where the Made in Italy process excels: and from October 9th to 11th, leather was the focus of the long awaited LineaPelle trade fair that is hosted in Bologna twice a year.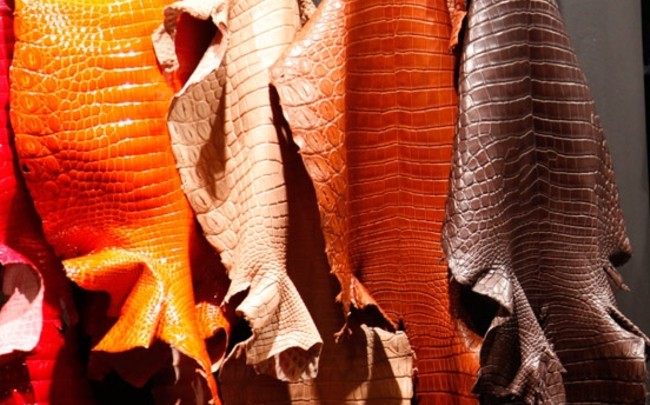 Since 1981, LineaPelle has been considered one of the major international leather exhibitions, dedicated to accessories, furniture and interior components and exclusively reserved to the professionals of this field. Only the best companies from all over the world are allowed to display their collections, enabling them to meet buyers, designers and the most renowned fashion scouts.
As well as being a fantastic showcase for all  companies exhibiting, LineaPelle is also an occasion to discuss and debate new trends and ideas, products, opportunities and processing methods, always while promoting Italian quality and style.
However, calling LineaPelle  a mere trade fair doesn't do it justice: not only can you inhale the fresh energy of new ideas among the numerous stands, but there is also the opportunity for everyone involved in the leather sector to attend a full schedule of the shows and events enlivening Bologna's city center.
Among the many shows that were organized, we'd like to mention the theatrical ballet at Teatro Manzoni on October 10th called "La magia della pelle nelle fiabe" ("The magic of leather in fairy tales") where a group of young talents performed in dance, a series of well-known fairy tales that relate the charm and glamour of leather: a very effective show with plenty of magic, made special not only by the dance, but also by the sumptuous leather costumes and the impeccable scenery.
The most eagerly awaited event took place on October 11th at the Unipol Arena in Bologna where the great Puerto Rican singer Jennifer Lopez gave an amazing performance.
But, let's focus on the trade fair itself now, dedicated to the new trends for the Fall/Winter season 2013-14.
After a period of recession during the first months of the year, the figures are now looking better, with a particular optimism shown towards high-level products. The growth in foreign visitors during this year's LineaPelle enhanced and empowered the international position of Italian producers: Germany, France, Great Britain, Turkey, China and Hong Kong were the main foreign representatives at LineaPelle. These details continue to outline a common trend that is reaffirmed year after year: the most consistent slice in the Italian leather companies' turnover is represented by exports.
From a stylistic point of view, among the most interesting materials presented at LineaPelle for Fall/Winter 2013-14 we noticed a predominance of natural panels, enlivened and enriched by special details such as wrinkling and fading, creating quite charming visual effects; lots of clashing colors and, continuing with the summer season trend, much attention given to laminated leathers and fabrics, all those surfaces brightened with points of light. These effects can also be applied to fur leathers and to sports materials. The more technical materials have gained a more sophisticated look as well, where particular stone characteristics can be reproduced through the use of very thin sheets of mica and slate, for a raw but at the same time luminous effect.
The varnish-effect is back in vogue, this year applied to a pearled base and displaying a softer look with a very thin layer.
Regarding colors and tonalities, there are some shades that we cannot fail to mention: Bordeaux, purple, plum, blue, red and green next to grey and black with all those more neutral and lighter shades; flashes of more vivid colors can be found especially on reptile skins even though, in our opinion, there weren't many new ideas in the exotic leather field that particularly caught our attention.
Python leather was proposed in combination with wool, or embellished with studs to add a more aggressive and rock chick feel to a strong leather. However crocodile leather is only distinguished for its excellent quality, finely tanned to give it an extraordinary softness: one of the few quirky effects permitted to crocodile leather was the "stained" effect or a particular shading distinguishing the centre of the leather from its lateral edges, even though solid colors were confirmed as a basic rule.
Ostrich leather too keeps on enchanting visitors with its extraordinary flexibility and softness to the touch, again revived in its pearl version that allows plays of light and reflections of great significance.
In conclusion this is our report on the three-day LineaPelle event from which we will take inspiration and ideas for our next samples of bags and accessories to satisfy the tastes and needs of all our customers.
Just follow us and find out the news on all our upcoming developments!