London fashion week: handbags dictate a woman's style.
What about the new trends as regards handbags? Which style of handbags will be in fashion next spring/summer 2009, according to what was proposed by the British fashion houses?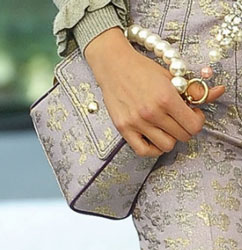 British fashion houses, unlike most of the Italian and French designers, don't often accessorize their creations on the catwalk with handbags. Many top models sashay down the runway empty-handed giving the impression of a woman who is completely free and self reliant. (We'll go into this in more detail in our next article, summarizing the new fashion trends for next spring/ summer 2009 according to what has been proposed by the most important world-famous fashion houses, comparing and contrasting their similarities and their main points of difference.)
Here we have focused on those "few" designers who have decided to accessorize some of their creations with a fashionable bag, so that we can give you the best overview possible of the new British trends for 2008-2009 as regards handbag fashions.
Charles Anastase accessorizes his creations with medium-sized handbags clasped by the woman in her hand. Regardless of whether the handbag is provided with a strap or not, you will be fashionable only if you clasp it in your hand, as a simple clutch. If you just don't like wearing your handbag like that, you have a second option: hold it by the handles, like a business bag.
Topshop Unique proposes a large, rigid bag like a suit-case, obviously to be carried in your hand, like a suit-case, to give the woman ease and absolute comfort in each situation, thanks to its dimensions. For the evening look, Topshop Unique too, like many other European designers, imagines the woman clasping her clutch in hand with pride and security, even though these clutches are often big and cumbersome.
Woman, according to Graeme Black, is an ethereal creature wearing white clothes and white accessories. Everything is white, clutches too, which are always clasped in the hand, conferring on her style a more glamorous touch.
Unlike the French designers presenting their collections at Paris fashion week, British ones see clutches not only as an elegant, classical style of handbag but also as a comfortable, practical item: British clutches are certainly wider and bigger than French clutches, more functional but also more cumbersome to wear.
Luella accessorizes its stylish creations with rigid pochettes and clutches always clasped in the hand, as a symbol of undisputed prestige and refinement, as well as softer shoulder bags, larger bags which are not worn on the shoulder but held in the hand from the strap or the handles. These bags are provided with wide, refined and, without doubt, comfortable leather straps and handles which however are not used. Smaller handbags and clutches, on the other hand, are provided with short straps made of silver or golden brass chains, in order to make these items and your look utterly chic and elegant. Their colors are almost all neutral and very soft, contrasting with the vivid colors of the dresses.
Paul Smith too agrees with the idea of the handbag ( no matter big or small) being clasped in the hand, like a special occasion purse, possibly made in restrained tones of colors such as white, light grey and beige because, these are the most fashionable and elegant colors for a woman of class and style.
His point of view is perfectly shared by Vivienne Westwood Red Label who sends her top models down the catwalk clasping small handbags and pochettes in their hand, even though most of them are enriched with shoulder-straps made of silver brass chains. Colors here are different: electric blue, pink, beige, light grey and white: many different tonalities to match your style and mood!
A more classic style is, on the other hand, proposed by House of Holland, which though it also favours clasping the handbag in the hand, gives the woman the option to wear it on her shoulder if she prefers. Its collection offers small clutches elegantly enriched by short straps made of golden chains, alongside very wide (sometimes exaggerated) tote bags worn on the shoulder as if they were simple shoulder bags. Colors are strong and dynamic because the main task is capturing attention and imposing your own style everywhere you go.
Concluding this short analysis, we can definitely affirm that London fashion too has been captured by the innovative trends which have characterized the other European and World fashion parades: trendy colors, (with some exceptions), are the same, as are the handbags' styles. The clutch is enjoying a new positive era, re-discovered and appreciated by all the most famous designers of the world; the shoulder bag continues to have great success, but clasping it in your hand, despite its shape and its dimensions is a MUST; but the most important revelation, in our opinion is the return of the elegant, classical purse, the symbol of a woman who really takes care of her beauty and style, that precious complementary accessory which transforms you into a bright and shining star.
In a society where everything is temporary and superficial, something solid remains: a deep love of elegance and refinement which reveals a woman's true class.