London fashion week: immersed in color for spring-summer 2010.
New York fashion week has hardly closed the final curtain on its catwalks when over the ocean, it's London's turn to be center of the fashion stage. In fact, from Friday 18th to Tuesday 22nd of September, London was transformed into an exceptional and highly glamorous Fashion capital, hosting a fashion show program full of events, celebrating as memorably as possible the 25th anniversary of British fashion.
The British Fashion Council, the British Fashion Awards and, moreover, London Fashion Week are 25 this year and, to celebrate, The British Fashion Council has chosen a new base, where half the shows were staged this year: Somerset House, the grand 230-year-old building on the banks of the Thames.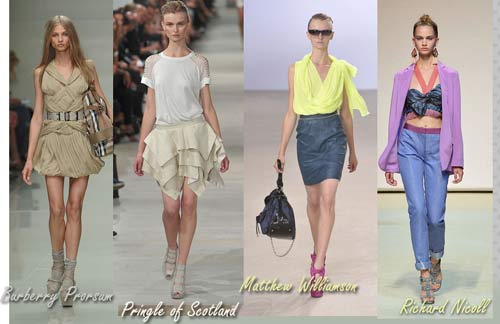 Big brands, iconic names and rising stars were promised by Harold Tillman, the chairman of the British Fashion Council, at the opening of the shows. Lots of resounding names and world-famous designers animated the catwalks showing collections and trends for next Spring/Summer 2010. Well-known names included Betty Jackson, John Rocha, Julien MacDonald, Margaret Howell and Jasper Conran, together with Christopher Kane, Marios Schwab, Richard Nicoll, Erdem, Mark Fast and Mary Katrantzou. This important silver jubilee fashion week attracted the return of several prodigal sons that had preferred to show their collections at other fashion weeks in previous seasons. This season it was in London that big names such as Clements Ribeiro, Jonathan Saunders, Pringle of Scotland, Matthew Williamson and, of course, the iconic Burberry brand (with its Prorsum line), presented their new creations.
This season's London Fashion Week was a really massive event, featuring 59 catwalk shows, the first full menswear catwalk program, 200 ready-to-wear and accessory exhibitors, including 28 companies showing under the Monson-sponsored, eco-friendly "aesthetic" showcase, 17 rising stars in the Topshop-sponsored NewGen project and 13 in the Lingerie Collective. So, we can say that this year's London Fashion Week, in order to celebrate its quarter-century, was truly global, both in terms of the audience of international press and buyers and the catwalk shows they watched: an amazing celebration of fashion and English creativity that is the perfect expression of London's character, melding together its glorious heritage with a bright and avantgarde style.
So, are you curious to discover what the most important English designers are offering us for next Spring/Summer 2010? Let's look at the main news in color, style and materials!!!
Next season we will plunge into a sea of bright and vivid colors: fuchsia, orange, green and many other colors revitalized many collections. The bright colors act as antidotes to the current recession, transforming fashion into something more fun and light-hearted for women, whose mood has been sorely tried by the crisis.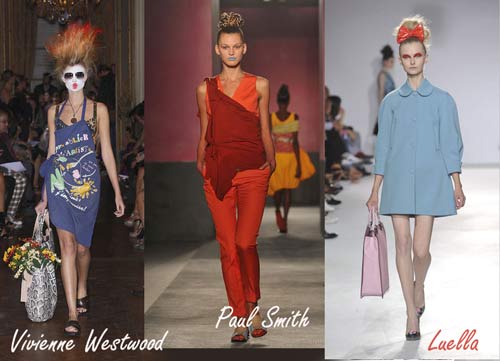 Hence we find the vibrant rainbow color dresses from Paul Smith's collection who took inspiration from the Congolese dandy musical style: showing a pink suit, orange striped shirt, red shoes topped off by an orange bowler, he transformed his women with this unusual collection full of exotic touches.
Nicole Farhi's cocktail dresses are green and orange, while Luella's pastel colors are more subtle. Dresses in shades from light pink to sky-blue with yellow-lemon and bright red dashes are characterized by a heart-shaped cut on the bodice, without any intrusive prints, showy decorations and unnecessary frills, so that the focus is on the cut of the dress itself.
Even Vivienne Westwood has turned her fashion radicalism around to produce the kind decorous dresses, that would be suitable for a garden party: tulip-printed, paired with a white cardigan, draped and polka-dotted with a portrait neckline.
Mary Katrantzou, the young Greek designer, proposed strong colorful dresses, in sharp monochromatic shades and dynamic geometries, thanks to her famous color and print trials with which she painted her silk dresses by creating abstract and asymmetrical shapes.
If New York's catwalks preferred the short dress, many London designers, even though they included mini-dresses and very short shorts in their collections to enhance long, toned legs, were much more oriented towards long dresses, both structured and floaty.
So, Matthew Williamson's evening dresses are voluminous with splashes of fluorescent green and electric blue, while Acquascutum showed more fluid dresses based on the bohemian style.
The materials are very sophisticated, such as laminated tweeds, precious brocades, floral chiffons.
Trouser-lovers won't be disappointed by next Spring/Summer trends: there were numerous trouser models proposed, but all either skinny-leg, high-waisted or else in an Arabian style.
Obviously, the classic trench coat showed up faithfully at this year's London Fashion Week: modified with twists and knots, it was proposed by Burberry, the iconic brand that  decided to return to the British catwalks to celebrate the 25th anniversary of the shows, and its Prorsum line was the grand finale to London Fashion Week. It's the fabrics that make a difference: silk and chiffon are ruched, twisted, pleated and knotted, giving sculptural shape to rounded and puffed- shoulder silhouettes, and to the hems of the mini-dresses which are softly swathed in a flattering balloon effect.
The long month of fashion weeks is just at its beginning: this week the spotlights are now on Milan where the best of the Italian collections are being shown. So, don't miss our next article to discover what the famous Italian designers will propose for next Spring/Summer 2010.